I've been on a major roasting kick lately when it comes to my vegetables. You name it, I've roasted it - broccoli, brussels sprouts, squashes, peppers and potatoes. And yes, carrots too.
Why Roasted Vegetables are the Best Side Dish
Roasting is magical. It coaxes out the sweetness that's lurking somewhere deep inside, and draws it out to the surface to create crisp, caramelized, nearly-burnt edges.
And let me tell you, I'm a total sucker for those crispy browned edges.
It transforms even a hard-to-love vegetable like brussels sprouts into hard-to-stop-eating nuggets of meltingly soft, slightly nutty, hopelessly addictive deliciousness... so just imagine what it can do to vegetables that you actually like.
How to Roast Almost Any Vegetable
Almost any vegetable can be roasted. It's literally as easy as 1, 2, 3:
Cut up your favourite fresh vegetables into bite-sized chunks, and toss with a little bit of olive oil and seasonings.
Arrange on a baking pan, spreading everything out so that you have a single layer of veggies that's not too crowded together.
Pop the tray into a blisteringly hot oven takes care of the rest of the work while you focus on getting the rest of the meal ready.
(Or skip that whole "rest of the meal" step, if that's your thing. I could just as easily eat a whole bowl of roasted brussels sprouts for dinner and call it a day.)
Baking time will vary depending on the vegetable, but I find that tender vegetables like peppers, brussels sprouts, asparagus or mushrooms will be done in around 20-30 minutes, while hardier vegetables like potatoes, yams, parsnips, carrots, or squashes need around 30-45 minutes.
You'll know they're done when the biggest chunks are tender enough to pierce with a fork, and the edges are nicely browned and caramelized.
Honey Balsamic Roasted Carrots: The Perfect Holiday Side Dish
These carrots have been a regular item on my holiday menu for years.
The combination of balsamic vinegar and honey creates a glossy dark brown glaze, and adds a sweet-and-sour flavour that accentuates the sweetness of young pencil-thin carrots. They're the perfect side dish for everything from an Easter ham to a Thanksgiving turkey to a Christmas Eve tourtiere.
It's also a great dish for showing off those bunches of multi-coloured heirloom carrots that sometimes pop up at the market, since it preserves their rainbow bright hues, making for one hell of an eye-catching side dish.
I like to roast the carrots just long enough to get a few caramelized edges without sacrificing their inherent toothsome nature, but if you prefer your carrots to be meltingly soft rather than crisply al dente, simply roast them for 10 minutes longer or so.
Whatever you do, though, just make these. Tonight. Tomorrow. Or even better, tonight and tomorrow.
More Great Side Dishes for Your Holiday Menu
As far as I'm concerned, there's no such thing as too many side dishes when it comes to a holiday menu. The more, the merrier!
Here are a few more recipes that are special enough to serve alongside your roasted turkey or ham:
//
Print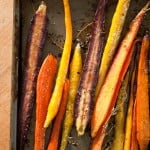 Balsamic Roasted Carrots
---
Author:

Total Time:

40 mins

Yield:

6

1

x
Description
Make sure to use tender young carrots for this recipe - the kind sold in a bunch with their green tops still attached - rather than bagged utility carrots. If you can find them, rainbow-coloured heirloom carrots make a particularly pretty presentation.
---
2

bunches fresh carrots, peeled and trimmed

1 tbsp

olive oil

1 tsp

salt

½ tsp

pepper

5

sprigs fresh thyme

2 tbsp

honey

2 tbsp

balsamic vinegar
---
Instructions
Preheat oven to 425F. Line a large baking sheet with aluminum foil.
Slice the carrots in half lengthwise. In a large mixing bowl, toss with oil, salt and pepper until evenly coated.
Arrange carrots in a single layer on the prepared baking sheet, and scatter thyme sprigs overtop. Roast in preheated oven for 15 minutes.
In small bowl, whisk together honey and balsamic vinegar. Pour over the carrots, and gently roll them around to coat. Roast for a further 15-20 minutes or until carrots are tender and caramelised. Serve immediately.
Prep Time:

10 mins

Cook Time:

30 mins