This is the post I was afraid to write. The post I spent more than a year preparing in my head, over and over again, but never actually wrote down until now. Because part of me believed that I could hold off the inevitable by choosing not to put the words out there into the world, even in draft form.
But even though I chose not to write it down, the inevitable still came to pass.
On March 20th, my father died after a fourteen-month battle with terminal cancer. We had been told at first that he'd have about six months to live, maybe a year at most if he was really lucky. So the fact that we had as long as we did is something I will always be thankful for.
By some small miracle, we arrived in Ottawa the day before he died, having planned to celebrate Passover with The Mister's family and Easter with mine.
It was Good Friday, and there were a dozen reasons not to stop at my father's.
We were exhausted after a bad night's sleep and a long, rainy drive on the 401. We'd left Toronto later than planned, and traffic was heavier than usual because of the holiday. We only had a couple of hours to spare before the Passover seder. We were going to spend the whole of Saturday and Sunday with them anyways.
I was sorely tempted to have a nap instead, but knowing that each visit might be our last, I chose to pop in for a quick hello.
So we hung out in his kitchen, preparing scalloped potatoes for Sunday's Easter dinner while the rain continued to fall outside.
We layered potatoes and onions, and chatted about the usual small, inconsequential things that make up most family conversations - the weather, politics, plans for the weekend. and family updates. We talked about his treatments, and the fact that the cancer was responding well to his chemo, though it did make him tired and short of breath much of the time.
And then we popped the casserole into the oven and sat down to have a coffee, and talked about the two-week European dream vacation he and his wife had just booked, having decided that he'd spent entirely too much time dying, and should use whatever time he had remaining on living.
By the next morning, he was gone. The universe has a terrible sense of humour sometimes.
It wasn't how we'd imagined the end would come, but it also wasn't the way we'd feared the end would come. And despite all the things left unfinished, there will always be that one last afternoon we spent together.
My dad and I weren't the closest. We hadn't lived in the same city for over two decades, and our phone calls were more likely to be a quick status check than a long heart-to-heart.
But despite all that, I knew that I could always count on him to be there if I needed a cheerleader. He gave the best hugs, told the most terrible dad jokes, loved the cheesiest bands, and made the very best pancakes.
He wasn't perfect, but he was my dad.
He taught me to be a helper and a peacemaker. I inherited his appreciation for groan-worthy puns, but thankfully not his taste in music.
When I moved away from home at 19, he printed out a big binder of recipes for me. It went to university residence with me, and has followed me to every home I've had since. Today, sits on my kitchen shelf beside all of my other favourite cookbooks.
I reach for that binder whenever I want the old favourites I grew up with. It's got all the classics, like old-fashioned pea soup and mom's favourite meatloaf recipe... and a few oddballs my dad must've thrown in for laughs, like an old family recipe for Quebecois-style stewed pork trotters and a fancy pork terrine made from scratch that looks like it would take the better part of a day to assemble.
Funnily enough, dad's pancake recipe didn't make it into the binder. I never did get around to asking him for a copy, though I'm pretty sure that even if I did follow the recipe word-for-word, my pancakes would never come out the same as his.
But I did get his recipe for scalloped potatoes, which I will forever and always associate with that last afternoon we spent together.
Much like my dad, this dish is straightforward and no-frills and perfectly comforting - just layers of thinly sliced potatoes and onions, all smothered in a creamy bechamel sauce seasoned with the barest wisp of garlic and fresh thyme. It's easy enough to prepare for a weekend supper if you're craving a change from your usual mashed potatoes, but fancy enough to serve alongside your big Easter ham or Thanksgiving turkey.
I miss my dad very much and always will, but at least I know some small part of him lives on whenever I crack open that big binder of recipes and pull out this recipe for scalloped potatoes.
//
Print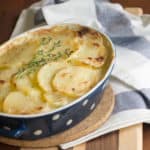 Classic Scalloped Potatoes
---
Description
This super-simple take on the classic scalloped potatoes features layers of thinly sliced potatoes and onions smothered in a creamy bechamel sauce flavoured with the barest wisp of garlic and fresh thyme. They're the perfect pairing for a big Easter ham or a juicy steak fresh off the grill.
---
¼ cup

butter

1

clove garlic, minced

¼ cup

flour

1 tsp

fresh thyme

¾ tsp

salt

½ tsp

pepper

2 cups

milk

½ cup

whipping cream

2

lb Yukon Gold potatoes, peeled and thinly sliced

1

small onion, thinly sliced
---
Instructions
In a small saucepan set over medium-high heat, saute the garlic in butter until fragrant, about 1 minute. Stir in the flour, thyme, salt and pepper, and cook for 1 minute, stirring constantly.
Slowly whisk in the milk. Bring the mixture to a simmer, whisking constantly, until thickened and bubbly, about 8 minutes.
Preheat oven to 350F, and lightly butter an 8-inch square baking dish.
Arrange a layer of potatoes in the prepared dish, then top with a layer of onions. Continue alternating layers until the dish is filled, finishing with a layer of potatoes. Slowly pour the sauce onto the potatoes, giving it time to fill in the spaces between the layers.
Cover tightly with foil, and bake for 1 hour. Uncover , and continue baking for 30 minutes, or until bubbling hot and lightly browned on top. Let stand for 5 minutes before serving.
Notes
This dish can be prepared up to 3 days ahead of time. If making ahead, bake covered for 1 hour, then let cool to room temperature and refrigerate. On the day of, bake uncovered at 350F for 45 minutes, or until bubbling hot and lightly browned.