Thanksgiving totally snuck up on me this year.
Maybe it's the fact that it's been so unseasonably warm, maybe it's the fact that baseball season went into October, or maybe it's the fact that lately my life has been even more hectic than usual, but I totally forgot the long weekend was on its way until the very last minute.
Usually, we celebrate Thanksgiving pretty much the same way everyone does… we invite over some family or friends, and then serve up a proper Thanksgiving spread featuring a big ol' turkey that's slow-roasted on the backyard smoker.
It's an all-day affair to get everything ready, mostly because I pride myself on the fact that everything on my table is made from scratch, from sides to stuffing to sauce, and yes… even the bread.
HOw to Make Thanksgiving turkey Dinner for Two
This year, though, our crazy work travel schedules and blogging conferences meant that the Mister and I had been apart for two whole weeks by the time Thanksgiving Monday rolled around, so we decided that this year we'd celebrate with a dinner for two.
Having a smaller guest list for your Thanksgiving dinner doesn't necessarily mean you have to give up on all the good stuff! Replacing the usual whole bird with a split bone-in turkey breast means you can still do a proper turkey dinner for two with all the trimmings.
You get all the crispy-skinned turkey deliciousness that is essential to the Thanksgiving table, but it's ready in a fraction of the time and makes just enough to feed a foursome (or a twosome, if you want to have enough left over for turkey sandwiches the next day).
And best of all, this turkey breast comes out juicy and flavourful and tender every single time, thanks to one simple trick.
The Secret to Juicy and Flavourful Roast Turkey Breast
You see, I've tried all sorts of different techniques over the years to get a juicy, flavourful turkey.
I've butter-basted, slow-roasted, baked the bird breast-side down, baked it breast-side up, and even soaked it in a giant vat of brine for a couple of days.
In the end, though, the one technique that worked best was a simple dry brine - a salt-based rub that first draws the moisture out of the bird, and then slowly soaks back in over a few hours, taking all that delicious flavour with it. It's basically all of the goodness of a wet brine with none of the mess.
The end result is a gorgeously browned breast with crispy skin and moist white meat. It is beauty. It is perfection. It is an apology for every sawdust-dry bite of turkey breast you've had to drench in gravy and choke down over the years.
Untraditional Flavours for an Untraditional Turkey
In keeping with this year's theme of trying new traditions, I decided to go with a combination of flavours that's equal parts old school and new school.
I kept the traditional blend of sage, thyme and lemon, but partnered them up with a bold, citrusy blend of coriander seed, Szechuan peppercorns, and orange zest. It's definitely not your mama's turkey spice - the flavours are bright and bold, but still let the natural flavour of the turkey shine through.
And while I admit I still have a soft spot for a freshly smoked whole turkey, this was a darn good compromise in my books… not to mention a great new tradition, because this baby roasts up in 2 hours flat, and who doesn't love the idea of having Thanksgiving dinner anytime they want?
More Main Dishes for Smaller Thanksgiving Gatherings
Having a smaller gathering doesn't mean you have to compromise on your Thanksgiving menu. These special-occasion main dishes are scaled down for up to 4 guests, meaning you won't be stuck with a fridge full of leftovers.
//
Print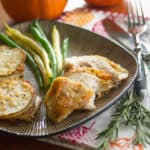 Citrus and Herb Roasted Turkey Breast
---
Author:

Total Time:

10 hours

Yield:

4

1

x
Description
Scaling back your Thanksgiving dinner? No problem! This simply seasoned turkey breast delivers all the goodness of a traditional roast turkey, but in a fraction of the time. Depending on how many side dishes you're preparing, you should have enough turkey to feed anywhere from four to six guests.
---
1

bone-in skin-on split turkey breast (~

4

lbs)

3 tsp

kosher salt

2 tsp

fresh thyme leaves

2 tsp

roughly chopped fresh sage

1 tsp

lemon zest

1 tsp

orange zest

½ tsp

coriander seed

½ tsp

szechuan peppercorns (see Note below)

1 tbsp

unsalted butter, softened
---
Instructions
In the bowl of a small food processor, combine salt, rosemary, thyme, sage, lemon zest, orange zest, coriander and szechuan peppercorns. Pulse until the herbs and spices are coarsely ground.
Sprinkle the dry brine all over the turkey breast, then transfer to a large zip-top plastic bag. Place in the refrigerator to brine overnight, or up to 24 hours.
An hour before you begin baking the turkey, remove the breast from the bag and place on a small rack set in a small roasting pan or baking dish. Place in the fridge, uncovered, to allow the turkey to dry off. (This will ensure a crispier skin.)
Meanwhile, preheat the oven to 450F. Remove the turkey breast from the fridge and pat dry. Gently rub the top of the breast with butter.
Roast the turkey in the preheated oven for 15 minutes, then drop the temperature to 325F and continue roasting for 1 ½ - 2 hours or until the thickest part of the breast reaches an internal temperature of 165F. (If the skin starts to brown too quickly, tent the turkey loosely with aluminum foil to slow down the process.) Remove from oven and let rest for 10-15 minutes before slicing.
Notes
Szechuan peppercorns add a subtle citrusy note to the turkey rub. Look for them in gourmet stores or specialty spice shops, or your local Asian market if you have one. If you can't find them, though, black peppercorns will do just fine.
Prep Time:

8 hours

Cook Time:

2 hours

Category:

Main