OK, it's kind of dorky to get excited about Pi Day, but you have to admit that it's rather nice to have an excuse to spend a whole day thinking about pie, baking pie, eating pie and doing other pie-related things.
If only everything math-related was this yummy, I might have gotten some half-decent marks in high school algebra. Besides, it's also a perfect excuse to post a recipe I've been meaning to talk about for a while - a traditional French-Canadian tourtiere.
Tourtiere is a meat pie prepared from a combination of ground meats (usually pork, beef and veal) that's usually served on Christmas Eve in French-Canadian households during the big holiday feast we call the réveillon.
If you ask me, though, something this delicious really deserves to be served a lot more often than just once a year - especially since it's actually much easier to make than you'd think. So this Pi Day, I'm starting a new tradition of my own.
In keeping with my new-school approach, I've taken my family recipe for a full-sized 9" tourtiere, and scaled it down into individual mini-pies using a jumbo muffin tin (and here you thought it was just good for muffins... surprise!).
If you'd rather go old-school, though, you can make two regular-sized deep dish pie crusts instead and go on from there.
In our family, we always serve tourtiere with my Tante Yolaine's sweet-and-sour chunky ketchup, also known as "chow-chow". It provides a much-needed tangy counterpoint to the tourtiere's rich meatiness, as well as a pop of bright colour to an otherwise pretty monochromatic plate.
It's perfectly delicious on the day it's made, but it's even better after a day or two to let the flavours mellow, so if at all possible I suggest preparing your chow-chow in advance .
A word of warning... You'll end up with a metric bucket-load of ketchup, but fear not, it makes a great condiment for lots of other dishes where you'd normally use a store-bought ketchup. I like to spoon it onto meatloaf or burgers, or puree it to serve with dippables like fries or grilled cheese.
//
Print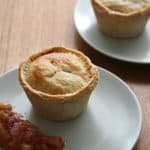 Mini Tourtieres with Chunky Homemade Ketchup
---
Author:

Total Time:

2 hours 35 minutes

Yield:

1

2

1

x
Description
My family's authentic recipe for French-Canadian meat pie, scaled down into adorable individual mini-pies, plus a sweet-and-tangy homemade ketchup for spooning on top.
---
Chunky Ketchup:
3

apples, peeled and diced

3

onions, chopped

2

stalks celery, chopped

1

can (28 oz) chopped tomatoes

1 cup

apple cider vinegar

½ cup

brown sugar

⅓ cup

pickling spice, bundled in cheesecloth
Pastry:
4 cups

flour

2 tsp

salt

1 ½ cups

vegetable shortening, chilled

½ cup

ice-cold water

1

egg, lightly beaten

1 tbsp

white vinegar
Tourtiere Filling:
1

lb each ground beef, veal and pork

2

onions, chopped

2

cloves garlic, minced

1

large baking potato, peeled and grated

1 tsp

dried savory

½ tsp

ground cloves

1

egg beaten with 1 tbsp water (egg wash)
---
Instructions
Make the Ketchup:
In a large saucepan, combine the apples, onions, celery, tomatoes, vinegar and brown sugar, and bring to a boil over medium-high heat.
Wrap the pickling spice in a cheesecloth bundle, and nestle it into the tomato mixture. Reduce heat to low and simmer, stirring occasionally, for 2 hours or until thick and saucy. Discard the spice bundle. Ladle into containers.
The ketchup can be stored in the fridge for up to two weeks, in the freezer for up to 6 months, or for up to a year if you ladle into sterilized glass jars and process in a hot-water bath for 30 minutes.
Prepare the Dough:
Combine flour and salt in a mixing bowl. Using a pastry cutter or two knives, cut in the shortening until mixture resembles coarse meal. Add egg, water and vinegar, and mix until dough comes together.
Divide dough into halves. Shape each half into a ball, then flatten into a disk. Wrap each disk in plastic wrap and place in refrigerator to chill for at least 30 minutes.
Make the Filling:
Combine all of the ingredients in a large heavy bottomed pot, and add just enough water to cover.
Bring the mixture to a simmer over high heat, then reduce to medium and cook, uncovered, for 15-20 minutes or until mixture is thick and meat is no longer pink. Remove from heat and set aside to cool.
Assemble and Bake the Pies:
Preheat oven to 425F.
Roll out the chilled pastry to ⅛" thick. Using a small mixing bowl as a guide, cut out twelve 6" circles of dough for the bottom crusts. Press these into the cups of a jumbo 12-cup muffin tin. Using a smaller bowl, cut out twelve 4" circles from the remaining dough for top crusts, and set these aside. (You may need to gather up the dough and roll it out again.)
Spoon the cooled filling into the crusts. Cover with the 4" dough rounds, and crimp the edges with your fingers or a fork to seal as best you can. Cut a few slits into the top of each pie to let steam escape, then brush with a thin layer of egg wash.
Bake the mini-tourtieres in preheated oven for 10 minutes, then reduce temperature to 375F and continue baking for another 20-25 minutes or until golden brown and piping hot.
To serve, allow the pies to cool in the tin for 10 minutes, then gently run a knife around the edge of each cup to loosen the pies before lifting out. Pies can be served hot, or chilled for two hours to serve cold.
Prep Time:

2 hours

Cook Time:

35 mins

Category:

Mains

Method:

Baked

Cuisine:

French-Canadian