Last month, I hopped onto the subway on a sunny Monday morning and went to the office. Only... it wasn't to go to work, because that sunny Monday also happened to be holiday.
Rather, I was there to attend the grand opening of the new Chatelaine magazine test kitchen, which happens to be in the same office campus.
(Disclosure: I work for the same parent company as Chatelaine, albeit in a totally unrelated job that is literally several floors and figuratively worlds apart from the glamorous and exciting publishing division.)
The new space is, in a word, stunning. I may have a serious case of kitchen envy.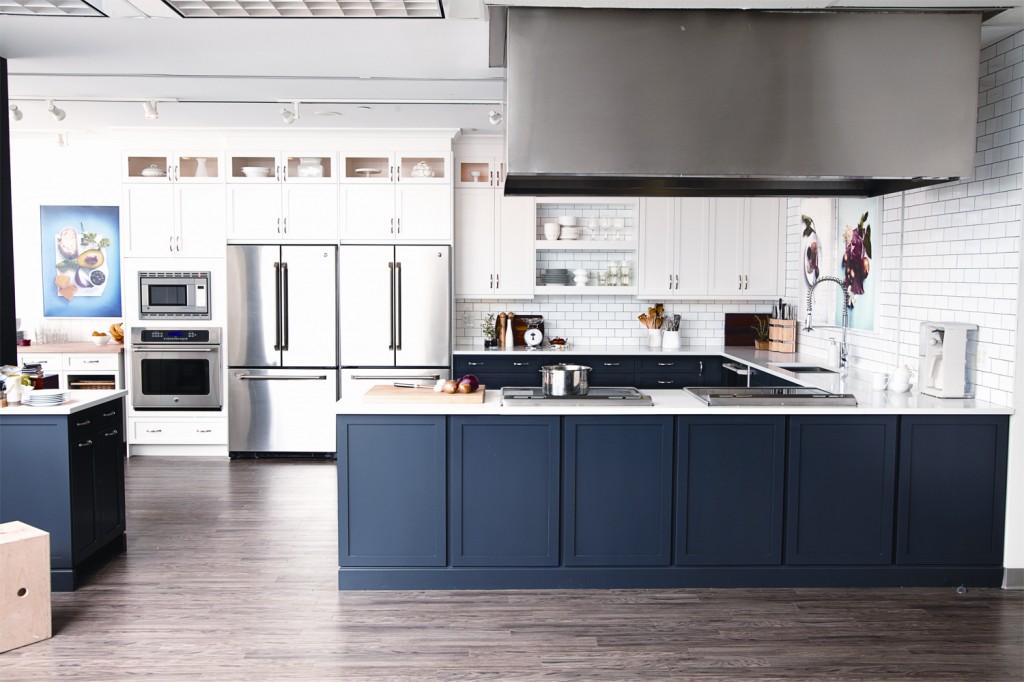 Unlike my less-than-inspiring office kitchenette, the new test kitchen is decorated in a palette of bright white and chalkboard black with polished nickel and dark wood accents.  It's also equipped with sleek stainless steel GE Cafe appliances including a whopping 4 (!) ovens, 15 (!!!) burners, 2 microwaves, and 2 high-powered silent dishwashers.
Even more impressive, though, is the fact that they invited over one heck of a special guest to help them launch this shiny, bright new kitchen in style.
Yep. That's Nigella Lawson. Author, TV personality and domestic goddess. I may have squeeeeeeed a little when the email invitation landed in my inbox.
In case you're curious, she is just as lovely and gracious and well-spoken in person as she is on television.
As the entire room looked on in rapt silence, Nigella chatted with Chatelaine's Publisher Tara Tucker, Editor-in-Chief Jane Francisco and Food Editor Claire Tansey, and answering questions, sharing stories about cooking and food, before finally sitting down to sign copies of her new cookbook, Nigellissima.
Nigellissima is a collection of Italian-inspired recipes with Nigella's usual breezily elegant and approachably fabulous style - in other words, totally my kind of cookbook.
I promptly flagged a dozen or so recipes to try, including a saffron-scented Yellow Spaghetti, an intriguing espresso-spiked Italian Breakfast Banana Bread, and this recipe for Green Beans with Pistachio Pesto, which Nigella describes as "a riot of verdiglouriousness".
Lacking Nigella's way with words, I'll stick to describing it as summertime in a bowl - the mellowness of the pistachios tempers the sharpness of the garlic in the pesto, and elevates everyday green beans to company-worthy status (though, of course, that shouldn't stop you from making them just for yourself, either).
I expect this dish will become a regular feature on our table, especially in midsummer when we're up to our eyeballs with fresh-picked beans from our backyard garden, and when basil is both plentiful and cheap.
And I'm sure that every time I do, I'll be temporarily taken back to a spectacular kitchen on a sunny February day, when I got to stand ever-so-briefly in the same room my culinary idol.
Credits: Photo of the Chatelaine kitchen taken by Roberto Caruso, and used with permission from Chatelaine magazine.
Recipe for Green Beans with Pistachio Pesto reprinted with permission from Nigellissima, published by Knopf Canada, a division of Random House of Canada.
//
Print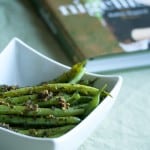 Nigella's Green Beans with Pistachio Pesto
---
Author:

Total Time:

15 mins

Yield:

8

1

x
Description
Nigella describes this dish as "a riot of verdiglouriousness". Whatever you call it, though, it's an easy, impressive side dish which shows off green beans at their best.
---
1

1⁄2 lbs trimmed green beans, cut in half or into short lengths

1 tsp

kosher salt (or

½ tsp

table salt)

3 tbsp

shelled, unsalted pistachios

3 tbsp

grated parmesan

1 cup

packed fresh basil leaves

3 tbsp

extra-virgin olive oil

1

clove garlic, peeled
---
Instructions
Put a saucepan of water on for the beans, adding salt when it starts to boil.
To make the pesto, put the pistachios, Parmesan, basil, and olive oil in a small bowl. Gratein (or mince and add) a little bit of the garlic—about a quarter of a clove—throwing the remaining piece of garlic into the bean water. Using an immersion blender, blitz the pesto ingredients to a thick green paste.
Cook the beans to taste (check after 4 minutes), and, before draining, spoon a little of the cooking water (1 or 2 tablespoons is all you need) into the pesto bowl and blitz quickly to mix again with your immersion blender.
Drain the beans (discarding the rogue garlic clove), and toss them in the bowl with the pesto, then transfer to a serving bowl, and take them fragrantly to the table.
Notes
Reprinted with permission from Nigellissima by Nigella Lawson, published by Knopf Canada, a division of Random House of Canada.
Prep Time:

10 mins

Cook Time:

5 mins

Category:

Side Dish