To borrow a phrase from the lovely and talented Kelly Bakes, I often eat my feelings. Bad days are dealt with by gobbling down the most carbo-riffic food I can possibly get my hands on.
Most people turn to sweets to lift them out of a blue funk, but my go-to is mashed potatoes.
I'm sure science will one day uncover the fact that potatoes are endowed with magical mood-lifting properties, because even when I'm having a day so rotten I can't even bear to cook, everything gets better once I've cobbled together a bowl of lumpy, creamy, buttery mashed potatoes.
When I do have the energy to drag my butt into the kitchen to make something, though, nothing can compare to a piping hot plate of shepherd's pie. That perfect trifecta of creamy mashed potatoes, hearty flavours and childhood nostalgia never fails to lift my spirits.
Mind you, what I grew up calling Shepherd's Pie wasn't the traditional British version with peas and carrots and gravy, but rather a uniquely French-Canadian variation that's better known as Pate Chinois.
If you're not familiar with it, Pate Chinois is basically a stripped down take on Shepherd's Pie, with three distinct layers of ground beef seasoned with dried savoury, corn niblets, and mashed potatoes.
If you've ever taken French in school, you're probably scratching your head a little right now, since "pate chinois" literally means "Chinese pie", and there's nothing even remotely Chinese about that dish.
The origins of the name are hazy, but one possible explanation according to Wikipedia is that it came from French-Canadian railway workers, who learned to make this dish from the Chinese cooks who prepared their meals. Sounds outlandish, but I suppose anything's possible.
The recipe I learned to make from my mother helped me through many a failed university exam, broken heart, botched interview, bad workday and a hundred other crappy days.
As much as I go back to it when I need a pick-me-up, though, it's also nice to shake things up sometimes - especially now that I've gotten into the habit of cramming as many vegetables as possible into my meals.
That's why I ended up concocting this Southwest-inspired version, with a saucy filling dotted with a colourful confetti of peppers and corn and tomatoes, and a smashed potato topping that gets a nutritious boost of fiber from the potato skins I leave on (mostly because I'm too lazy to peel potatoes).
It's all the heartwarming goodness of my childhood favourite, but just a little bit better for me.
Sure, it's still topped with a layer of gooey melted cheese, but life's all about balance.
And when it's been a generally miserable kind of day, it still hits the spot, in the way that only a big piping hot plate of shepherd's pie ever can.
//
Print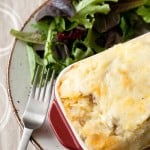 Southwest Turkey Shepherd's Pie
---
Author:

Total Time:

1 hour

Yield:

4

1

x
Description
Shepherd's pie gets a healthy makeover with a southwestern-inspired lean turkey filling chock-full of colourful vegetables and bold seasoning.
---
Southwest Turkey Filling:
2 tbsp

olive oil

1

medium onion, finely diced

½ cup

roughly diced green bell pepper

½ cup

roughly diced red bell pepper

1

jalapeno pepper, seeded and finely minced

2

cloves garlic, minced

1 tbsp

chili powder

1 tsp

ground cumin
Salt and pepper, to taste

1

lb lean ground turkey

2 tbsp

tomato paste

2 cups

diced tomatoes (fresh or canned)

1 cup

frozen corn niblets, thawed
Mashed Potato Topping:
2

lb russet potatoes, cut into

½

" chunks

½ cup

milk

2 tbsp

butter

½ cup

grated cheddar cheese
---
Instructions
In a large heavy-bottomed saucepan set over medium heat, saute onion and peppers in olive oil for about 10 minutes or until onion is soft and lightly golden. Add garlic, chili powder, cumin, salt and pepper, and continue cooking for 2 minutes or until spices are fragrant.
Increase heat to medium high and add ground turkey. Cook for 5 minutes longer, breaking up the turkey with a wooden spoon, until well browned. Stir in tomato paste and chopped tomatoes and cook the filling for 15 minutes, stirring occasionally, until the tomato juices have reduced down to a thick sauce. Remove from heat and stir in corn niblets. Spoon into a 9x9 baking dish, spreading into an even layer.
While the filling simmers, bring a pot of salted water to a boil over high heat. Add potatoes and cook for 15-20 minutes, or until the fork-tender. Drain, then mash with milk and butter. (I prefer my mash slightly lumpy, but by all means mash your potatoes into submission if you prefer a smoother texture.)
Spread the mashed potato over the meat mixture, swirling it around with the back of a spatula to give the surface a little texture. Bake in a 400°F oven for 20 minutes, then top with grated cheese and continue baking for another 10-15 minutes or until cheese is melted and filling bubbles up around the edges.
Prep Time:

30 mins

Cook Time:

30 mins

Category:

Main