Maybe it's because there isn't a speck of Irish blood in my veins, but I have to admit that I just don't get the hullabaloo over St Patrick's Day.
There was a time, back when I was a twenty-something youngster, when St Patrick's Day usually meant sneaking out of work early to grab a table at the nearest pub.
Once there, we'd consume plate after plate of Irish nachos (a surprisingly tasty concoction made from waffle-cut fries topped with cheddar, green onions, tomatoes, bacon and sour cream), chug several pints of green beer, and then eventually stumble home through a minefield of green barf. Good times.
But now I'm an thirty-something old fart. A single pint of green beer gets me jolly and a second pint puts me under the table, so I have to settle for a slightly more low-key option if I want to celebrate.
Something like... say... a big ol' plate of Eggs St Patrick, which is what I've decided to call my Irish-inspired twist on classic Eggs Benedict (because while Benedict is a perfectly lovely name and all, it's not all that Irish at all).
Eggs Benny with an Irish Twist
So, what makes them Irish, you ask? Well, to start, I've replaced the usual English muffin with an Irish boxty, a plump golden-crisp pan fried potato cake that's affectionately known as "poor man's bread".
Then, I topped off the boxty with a little smoked salmon, since Ireland is well known for making a mighty fine smoked salmon (though mine is admittedly Canadian, because that's what I could get), and added a little sauteed spinach for a little splash of St Patty's Day green.
And then, a wobbly-yolked poached egg and a generous ladleful of blender Hollandaise sauce finish it all off, since it's not a Benny without them.
Yeah, I'll admit, it's hardly an authentic Irish recipe if you're inclined to be a purist... but then again, I'm pretty sure Irish nachos and green beer aren't all that authentic either.
And, unlike those pitchers of green beer, there's absolutely no hangover to worry about the next day. Which, when you're old and boring like me, sounds like a pretty damn good way to celebrate St Patrick's Day (or any other day, for that matter).
//
Print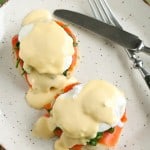 Eggs St Patrick (aka Irish Eggs Benedict)
---
Author:

Total Time:

1 hour

Yield:

4

1

x
Description
Shake up your brunch routine with this Irish-inspired twist on Eggs Benedict, made with golden-crisp potato cakes, sauteed spinach, smoked salmon, poached eggs and Hollandaise sauce.
---
Blender Hollandaise
½ cup

unsalted butter

3

egg yolks

2 tbsp

fresh-squeezed lemon juice

½ tsp

Dijon mustard
Dash cayenne
Salt and pepper, to taste
Boxty Cakes:
1

large baking potato, grated (~

1 cup

)

1 cup

leftover mashed potatoes

1 cup

flour

2

green onions, thinly sliced

½ tsp

baking powder

¼ tsp

salt

1 cup

buttermilk

2 tbsp

butter
Sauteed Spinach
2 tbsp

butter

6 cups

baby spinach
Salt and pepper
Poached Eggs
8

eggs

2 tsp

white vinegar
Garnishes
½

lb smoked salmon
Paprika or snipped chives (for garnish)
---
Instructions
Prepare the Boxty (make up to 1 day in advance):
Wrap up the grated potatoes with a clean kitchen towel, and squeeze tightly to remove as much liquid as possible.
In a large bowl, mix together the grated potatoes, mashed potatoes, flour, green onions, baking powder, and salt. Stir in the buttermilk until you have a smooth, thick mixture.
In a large heavy-bottomed skillet set over medium-high heat, melt 1 tbsp butter. Working In batches of 3-4 cakes at a time (depending on the size of your pan), spoon the batter into the pan using a heaping ¼ cup measure for each boxty. Using a spatula, flatten each cake to roughly ½-inch thick. Cook for 4-5 minutes per side, turning just once, until the cakes are crispy and golden-brown. Transfer the finished cakes to a baking sheet in a 300F oven to keep warm while you work on the remaining elements.
(If making in advance, let the cakes cool completely, then wrap tightly with plastic wrap and refrigerate. The next day, simply warm them up in a 375F oven while you take care of the spinach and eggs.)
Prepare the Hollandaise (make up to 1 day in advance):
In a small saucepan set over medium-high heat, heat the butter until melted and sizzling hot.
Meanwhile, in the bowl of a blender, combine egg yolks, lemon juice, mustard and cayenne. Blend on high speed for about 30 seconds, or until you have a smooth, pale yellow mixture.
Reduce the blender speed to low and, with the blender still running, slowly drizzle in the butter in a thin stream until it's completely incorporated into the sauce.
Once the butter has all been poured in, run the blender for another 2-3 minutes to ensure the sauce is completely emulsified. If the sauce looks too thick, add more lemon juice, 1 tbsp at a time, until it loosens up to the desired consistency. Season with salt and pepper to taste.
(If making in advance, refrigerate the finished sauce, then reheat using 10-second bursts in a microwave or a double-boiler set over simmering water - be careful not to overheat, though, as the sauce will separate if it gets too hot.)
Saute the Spinach:
In a large saucepan set over medium-high heat, melt the butter until foamy. Add spinach and cook for 3-5 minutes, or until soft and wilted. Season to taste with salt and pepper. Set aside.
Poach the Eggs (make up to 3 hours ahead):
Fill a large pot with 4″ of water, and stir in the vinegar.
Bring to a simmer over high heat, then reduce the heat to low. (Do not let the water reach a full rolling boil – you want it to be at a bare simmer for the next step.)
Working with one egg at a time, crack an egg into a small ramekin, then gently slide the egg into the hot water. Use a spatula or slotted spoon to gently nudge the egg back into shape as it sets. Repeat the process with a second egg. Cook both eggs for 3-4 minutes, or until whites are set and yolk is still slightly wobbly.
Repeat with remaining eggs, poaching no more than two at a time - any more than this will throw off the timing.
(If making in advance, plunge the finished eggs into an ice water bath, then reheat in boiling water for 20-30 seconds when ready to serve.)
Assemble the Bennies:
Place two boxties on each plate, and top each one with one or two slices of smoked salmon. Arrange the spinach on top of the smoked salmon, dividing evenly between the portions, then top off with poached eggs and a generous amount of Hollandaise sauce overtop. Finish with a dusting of paprika or a sprinkling of snipped chives.
Prep Time:

30 mins

Cook Time:

30 mins

Category:

Brunch
//
This post is part of the St Patrick's Day Recipes exchange organized by Jen of Jen's Favourite Cookies. For more fabulous St Patty's Day goodies, check out the rest of the posts: