They say the way to a man's heart is through his stomach.
I know this is meant to be a metaphor, but it's also true that what goes into your stomach has a direct impact on your heart.
Believe me, I know this firsthand.  You see, when I went to see the doctor a year ago for a routine checkup, I discovered I had high blood pressure.  And not just a little high.  I'm talking about the this-girl-should-be-on-meds kind of high.
I couldn't even blame crappy genetics, because that kind of thing doesn't run in my family... it was just several years of bad eating habits and a couch potato lifestyle finally catching up with me. I wasn't exactly chowing down on Big Macs every day, but I'd still been eating way too many donut breakfasts, pizza lunches and steak dinners when I should have been hitting the salad bar instead.
That was my come-to-Jesus moment. I almost literally changed my habits overnight.  Nothing drastic, mind you - I just started exercising more regularly, replaced my sugary treats with fresh fruits and carrot sticks, made a point of eating salad with every meal (and occasionally had a salad *as* my meal), and cut back on my sodium intake.
I don't like to use the word "diet" for what I did, because that's not really what it was.  It doesn't have a catchy name (unless you count "eating better"), and it's not likely to get me a niche blog with a zillion followers and a best-selling book contract. I just ate less bad stuff, ate more good stuff, and moved a whole lot more.
Whatever you want to call it, though, it works - at least for me. Within 3 months of that fateful appointment, I'd dropped 10 lbs and had gotten my blood pressure back within normal limits.  More importantly, more than a year later, we're still holding steady.
One of the first things I did after that first appointment was read a ton of articles and studies about eating a heart-healthy diet.  There's a lot of advice out there, good and bad and occasionally totally off-the-wall, so I won't bore you with it all.
However, one of the most interesting tidbits I did find was that eating a healthy, high-fiber breakfast has been shown to drastically reduce your risk of heart disease, especially when you combine it with a healthier overall diet which includes lots of fruits and vegetables, and regular cardio-vascular exercise. (In other words, that whole "eating better" thing I just mentioned.)
In other words, when your mother nagged you to eat breakfast because it's good for you, she was totally onto something.
That's why I now make a point of bringing a healthy breakfast to work every day.  In particular, I've become a big fan of oatmeal, because it's easy to make a big batch on the weekend and then grab individual servings as I dash out the door in the morning. Because I'm lazy like that. Plus it's as tasty as it is healthy, especially when you prepare it with chocolate almond milk and a few spoonfuls of cocoa.
And while I couldn't find a single study to support this theory, I still believe that starting your day with something chocolatey is totally good for you - if not for your heart, then at the very least for your stomach.
Which, as I've discovered, is still pretty darn close.
(PS: If you have a family history of heart disease, please get a check-up.  An ounce of prevention is worth a pound of cure.)
//
Print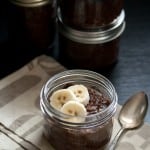 Make-Ahead Chocolate Oatmeal
---
Author:

Total Time:

35 mins

Yield:

5

1

x
Description
This make-ahead chocolate oatmeal recipe provides you with five servings of oatmeal. Pack it into mason jars for an easy grab-and-go breakfast in the morning - just reheat it for 1-2 minutes in the microwave for a hot, heart-healthy breakfast.
---
2 cups

water

2 cups

chocolate almond milk

1 cup

steel-cut oats

2 tbsp

cocoa powder

2 tbsp

sugar or honey

1 tbsp

flax meal
Pinch of salt

1 tsp

vanilla extract
---
Instructions
In a medium-sized pot, bring the water and almond milk to a boil. Stir in the steel-cut oats, cocoa powder, flax meal, sugar and salt, and reduce the heat to low.
Simmer, uncovered, for 20-25 minutes, stirring every 5 mins or so, until the liquid is thickened and the oats are tender and ever-so-slightly chewy. Remove from heat and stir in vanilla. (The oatmeal might still look a little runny at this point, but don't worry - it'll continue thickening up as it cools.)
Spoon the hot oatmeal into five 250ml mason jars, and set aside to cool, uncovered. Once the jars are completely cooled, seal them up with lids and transfer to the refrigerator until ready to use.
To serve, simply microwave the uncovered jars for 1-2 minutes on high or until warmed through, then dig in!
Notes
This recipe is quite delicious on its own, but plain chocolate can get a little boring after a day or two - to shake up your routine, try topping off the reheated oatmeal with a sliced banana and some sliced almonds, a spoonful of peanut butter, roughly chopped dried apricots, or a handful of fresh berries.
Prep Time:

5 mins

Cook Time:

30 mins

Category:

Breakfast
//
Today we are joining together to help raise awareness for Heart Disease.
Kim of Cravings of a Lunatic lost her Mom to heart disease when her mother was 47, and Kim was 15. Each year on the day her Mom passed, she shares stories and photos of her Mom.
This year she's joined forces with Jen of Juanita's Cocina, whose life was also touched by heart disease when her Stepfather had a heart attack. Jen's Stepfather is alive and well more than a decade later, and for that, Jen is thankful every day.
The ladies got in touch with other bloggers to ask them to share their own stories about how heart disease has touched their lives. So today we share stories and recipes from our hearts to yours, in memory and honour of Momzie, Kim's Mom. We hope you will share your stories with us today as well.
Check out all of the #cookingfromtheheart recipes:
Spicy Oven Fries by Cravings of a Lunatic
Healthy Snacking with Radish Dip by Juanita's Cocina
Arugula, Walnut Pesto by Dinners, Dishes and Desserts
Farro, Apple & Pecan Salad by It's Yummilicious
Chicken-Quinoa Burgers with an Avocado Yogurt Sauce by The Spiffy Cookie
Pasta House Wilted Salad by Frugal Antics of a Harried Homemaker
Gooey Peanut Butter Oatmeal Chocolate Chunk Bars by The Cooking Actress
Dark Chocolate Covered Walnuts by All Day I Dream About Food
Mini Pear Walnut Crisps with Blood Orange Caramel Sauce by Chocolate Moosey
Kung Pao Chicken Tacos by The Dutch Baker's Daughter
Honey Soy Glazed Salmon by Curry and Comfort
Apple Walnut Spinach Salad by Magnolia Days
Broiled Salmon Gyros with Cucumber Feta Yogurt Dip by Damn Delicious
Maple Mustard Glazed Salmon by That Skinny Chick Can Bake
Hoisin Flounder by Taking on Magazines
Roasted Red Pepper Hummus by The Girl in the Little Red Kitchen
Veggie Nachos by Dine & Dish
Cheesy Quinoa and Asparagus Bake by Hungry Couple
Ahi Tuna Salad by Noshing with the Nolands
Canapes of Apricot, Goat Cheese, Almonds and Rosemary by Cook the Story
Thai Chicken Soup by From Cupcakes to Caviar
Italian Turkey Quinoa Meatloaf by Rachel Cooks
Black Bean Quesadillas by Pastry Chef Online
Sautéed Rataouille with Quinoa by Whipped
Polenta Rounds with Apples and Cheddar by Diethood