Oh look, it's the first Monday of the month. Do you know what that means?
Yup, it's time for the Secret Recipe Club again!
(On a slightly related note, where the hell did February go? It feels like the past four weeks just zoomed by at light speed.)
Meet This Month's Blogger
My SRC assignment for this month is Melissa, who blogs over at I Was Born to Cook.
The blog's name is a reference to Melissa's Greek and Italian roots, and if the looooooong list of recipes in her Recipe Box is anything to go by, she 's doing a pretty bang-up job of living up to that name.
As usual, picking just one recipe was a challenge.
There were tons of delicious-looking treats that caught my eye as I browsed around Melissa's blog, but after last month's Nutella Granola pig-out (and given that I still need to fit into my wedding dress in 3 months... yikes!), I was determined to make something healthy this month.
Lucky for me, Melissa has quite a few healthy meals in her repertoire, and I ended up spending a little while debating between the Mexican Egg White Omelets, the Blueberry Multigrain Pancakes, the Baked Quinoa with Chicken Sausage and Spinach, and the Chipotle Turkey Meatloaf.
In the end, though, it was these Meatless Mexican Stuffed Peppers - a hearty vegetarian main dish of stuffed peppers filled with brown rice, black beans and corn - that really caught my attention.
How I Made This Recipe My Own
While the original version looked plenty delicious, I did make a few small tweaks to suit our tastes.
I used fresh cilantro instead of dried, added a cup of tomato puree for a saucier filling, used frozen corn instead of canned, and added a dash of hot sauce to give it some oomph. I also kept the peppers whole instead of slicing them in half.
Next time, I'm going to parboil the peppers for 3-5 minutes before stuffing, since they did come out a little crunchy even after half an hour in the oven. Other than that, though, these were pure perfection.
(Update: I've re-made this recipe a few times since I first posted it, and parboiling is DEFINITELY the way to do it. I've updated the recipe to add this step, though you can omit if you like your peppers on the crunchy side.)
The Verdict
This recipe will definitely be going into my regular rotation! It's not often that I find a healthy vegetarian recipe that also happens to be delicious, but these stuffed peppers absolutely knock it out of the park in the flavour department.
The peppers are hearty enough that they're pretty much a meal on their own, though I ended up serving them with a simple baby spinach salad just to round things out
And did I mention how super-easy they were?
While it's pretty easy to make everything on the day of, you can easily throw these together on a busy weeknight if you prep the filling a day or two ahead of time, so that all you need to do on the day of is fill the peppers and pop them into the oven/
After wolfing down a couple of these peppers, I've come to two conclusions. One, Melissa was definitely born to cook, and two, these peppers were made to be devoured.
//
Print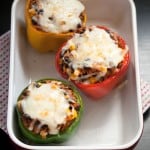 Meatless Mexican Stuffed Peppers
---
Author:

Total Time:

30 mins

Yield:

6

1

x
Description
This quick and easy meatless main dish is full of flavour, not to mention loads of heart-healthy fiber and protein.
---
6

medium-sized bell peppers (red or green)

2 ½ cups

cooked brown rice

1 tbsp

canola oil

1

medium onion, diced

2

cloves garlic, minced

1

can (540 ml) black beans, drained and rinsed

1 ½ cups

frozen corn niblets

1 cup

tomato puree

2 tsp

chili powder

1 tsp

ground cumin

2 tbsp

chopped fresh cilantro
Hot sauce to taste (optional)
Salt and pepper to taste

1 ½ cups

shredded cheddar cheese
---
Instructions
Preheat oven to 375F. Bring a large pot of water to a boil over high heat, and fill a large mixing bowl with ice water.
Start by preparing the peppers. Slice the top off each pepper about 1" from the stem end, then remove any seeds or ribs left inside. If any of the peppers are a little crooked, slice a little off the bottom until they stand up straight.
Cook the peppers in the boiling water for 3 minutes, then use a slotted spoon to transfer them to the ice water bath to stop the cooking process. Arrange the peppers cut side up in a baking dish, and set aside.
Next, make the filling. In a large skillet set over medium-high heat, heat the canola oil. Add the onion and garlic in canola oil, and saute for 5-7 minutes or until soft. Stir in the rice, beans, corn, tomato puree, chili powder and cumin, and continue cooking for 5 minutes or until everything is heated through.
Remove from heat and stir in the cilantro, then season to taste with hot sauce, salt and pepper. Spoon the rice mixture into the peppers, making sure not to pack too tightly.
Bake in preheated oven for 25-30 minutes or until peppers are tender. Sprinkle the tops with cheese and continue baking for 5 minutes longer, or until the cheese is melted and bubbly. Serve right away.
Prep Time:

10 mins

Cook Time:

20 mins

Category:

Main

Cuisine:

Mexican