I'm obviously a sucker for punishment. I mean, I've been swamped on both the work and life fronts, and yet here I am signing up for yet another monthly blogging event.
On the other hand, this event happens to be hosted by the lovely Kita of Pass the Sushi, who is totally the cat's pyjamas as far as I'm concerned. So there was no way I wasn't hopping on this bandwagon as it rolled by.
It also helps that I can totally relate to her goal. Who doesn't want to dust off all those cookbooks that are sitting neglected on her bookshelf and finally try those delicious-looking recipes?
For our inaugural journey, we're cooking for The Pioneer Woman Cooks: Food From My Frontier by Ree Drummond.
Kita picked three recipes - Herb Roasted Pork Tenderloin, Perfect Potatoes Au Gratin and Pots de Creme. As you can probably guess from the title of this post, I picked the last option, mostly because I never pass up the opportunity to make something with chocolate.
An Easier Way to Make a Pot de Creme
Traditionally, a pot de creme is an oven-baked custard that's cooked in a water bath. In other words, it's basically a creme brulee without the delicious burnt-sugar topping.
Somewhere along the way, some genius realised you could get a perfectly reasonable fascimile by buzzing together eggs, chocolate and hot cream in a blender, and the refrigerating until set.
This person is obviously deserving of sainthood, along with the inventor of the dishwasher and the fashionista who made it cool to wear rainboots in public. (Whoever you are, you wonderful ingenious people you, I am deeply indebted to you all.)
The Pioneer Woman's version takes it one step further and replaces the cream with piping hot coffee. This results in a pot de creme with a deep, dark chocolatey flavour and way less calories than the real deal.
(Of course, if you want to be nitpicky, that means it's technically a pot de café rather than a pot de creme... but that's just details.)
Making a Great Dessert Even Better
My biggest complaint about the Pioneer Woman's recipe is that the coffee flavour didn't really come through in the end product. All it does is give the chocolate a little more oomph, which I'm sure is fine for most people, but not for a coffee junkie like me.
That's why on my second go-round with this recipe, I decided to add a spoonful of instant espresso powder to give the finished pot de cream a true mocha flavour.
And then, while I was at it, I added a dash of cinnamon, because everyone knows that the only thing better than chocolate and coffee is chocolate and coffee and cinnamon.
Last of all, because I'm a chocolate snob, I put the chocolate chips back in the cupboard and chopped up a bar of proper dark chocolate instead. (There's a time and place for chocolate chips, but this recipe ain't it. When the chocolate the main ingredient, I firmly believe in busting out the good stuff.)
Good Things Come in Small Packages
The last change I made to the recipe was to halve all of the quantities. Because really, unless you've got an entire ranch to feed, when was the last time you needed 10-12 portions of dessert?
My version below makes six very reasonable portions, which are a little smallish but still pack a wallop... especially once they're topped with a generous spoonful of whipped cream.
Let me tell you... this is totally my kind of dessert. It's ridiculously easy, deeply chocolatey, and decadently rich.
Best of all, it's not overly sweet, because dark chocolate has a much lower sugar content than semisweet chocolate chips, which is just the way I like it. (If you've got a sweet tooth, you can add a tablespoon or two of sugar in with the chocolate and eggs.)
In other words, it's probably a good thing I didn't make a full batch, or else I'd be in a chocolate coma. :)
//
Print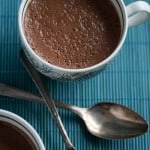 Mocha-Cinnamon Pots de Creme
---
Author:

Total Time:

3 hours

Yield:

4

1

x
Description
Don't let the fancy Frenchified name fool you... this rich, chocolatey dessert comes together in a matter of minutes. All you need is a blender, some good-quality chocolate, and a pot of piping-hot coffee to get you on your way.
---
Pots de Creme
6 oz

good-quality dark chocolate, roughly chopped

2

eggs, at room temperature

1 tsp

vanilla extract

½ tsp

ground cinnamon

½ tsp

instant espresso powder
Pinch salt

4 oz

very hot fresh-brewed coffee
Whipped Cream Topping
½ cup

heavy cream

1 tbsp

sugar
Dash cinnamon
---
Instructions
In a blender, combine chocolate, eggs, vanilla, cinnamon, espresso powder and salt. Pulse 5-7 times, or until the chocolate is finely chopped and eggs are frothy.
Turn the blender on low speed, and slowly pour in the coffee in a steady stream. The heat of the coffee will melt the chocolate, creating a smooth, thick custard.
Pour the custard into 6 serving dishes, distributing evenly (you can use small mason jars, ramekins, pretty tea cups or whatever else catches your eye). Arrange the filled dishes on a tray and refrigerate for at least 2-3 hours or until firm.
When ready to serve, whip the cream to soft peaks. Add sugar, and whisk until incorporated. Spoon a large dollop of cream onto each pot de creme, and finish with a sprinkle of cinnamon. Serve immediately.
Notes
Adapted from The Pioneer Woman Cooks: Food From My Frontier by Ree Drummond
Prep Time:

3 hours

Category:

Dessert