I like to think of citrus as the perky annoying morning person of the fruit world.
Take orange juice, for example... it's no wonder a tall glass of orange juice is so deeply entrenched into the collective concept of a complete breakfast, with that bright punch of sunny acidity that drags your tastebuds kicking and screaming back into wakefulness. Citrus wants to bust out a full-scale Broadway-style song and dance number, and it doesn't care that it's 7am in the morning.
Almond, on the other hand, is the opposite of orange.  It just wants to to kick back and relax, and let your tastebuds to their own thing at the own pace.  It's the soothing mellow jazz number of the food world... simple, uncomplicated, and totally chill, man.
Put them together, and what you get is these lovely sticky-sweet buns - nestled inside the soft brioche down is a filling that gives you the best of both worlds.  It's just tangy enough to get your tastebuds' attention, but the sweet almond dials down the intensity down a notch or two.
In other words, it's just the right pairing for a lazy weekend brunch, when there's every reason for you (and your tastebuds) to linger in a warm, cozy cocoon for just a little longer before rising to face the world.
Y'know, the kind of morning where your schedule doesn't involve much besides reading a book, snuggling your pets and/or kids, sipping on a ginormous mug of cafe au lait, and pondering the age-old question of whether or not you really need to put your pants on today.
(Just remember not to pour yourself a big glass of orange juice, though, or else it's all out the window.)
//
Print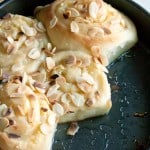 Sweet Orange and Almond Buns
---
Author:

Total Time:

3 hours 25 mins

Yield:

1

8

1

x
Description
Move over, cinnamon buns! These fluffy soft morning buns are swirled with orange and almond to bring a touch of sunshine to your lazy weekend brunches.
---
Dough:
1 cup

milk

¼ cup

unsalted butter

1

package (2 ¼ tsp) rapid-rise yeast

½ cup

sugar

2

eggs

1 tsp

salt

½ tsp

vanilla extract

4

-

4 ½

cups flour, divided
Filling:
1 cup

sugar

½ cup

butter, melted

½ cup

ground almonds

2 tbsp

finely grated orange zest
Frosting:
1 ½ cups

powdered sugar

3 tbsp

freshly squeezed orange juice

½ cup

toasted sliced almonds
---
Instructions
Prepare the Dough:
In a small saucepan set over medium heat, warm up the milk and butter until the butter is melted and small wisps of steam are just starting to come off the surface of the milk.
Pour into bowl of stand mixer fitted with a dough hook. Add yeast and let stand until frothy, about 4-5 minutes.
Add sugar, eggs, salt and vanilla extract, and beat until well combined. Working on low speed, add 4 cups of flour, and continue mixing the mixture forms into soft and elastic dough that pulls away from the sides of the bowl, adding more flour as needed if the dough is still too sticky.
Shape the dough into a ball and transfer to a lightly oiled large mixing bowl, turning to coat the top with oil. Cover with a clean dishtowel, and let rise in a warm, draft-free spot until doubled in size, about 1 ½ hours.
Prepare the Filling and Shape the Rolls:
In a small mixing bowl, combine melted butter, sugar, ground almonds and orange zest.
Punch down dough. Transfer to clean, lightly floured work surface, and roll out to 15×11-inch rectangle.
Spread the filling mixture onto the dough, leaving a small border around the edges. Starting with one of the long sides, roll the dough into log, then pinch the seam closed to keep it rolled up. Using a length of dental floss or a sharp knife, cut the dough crosswise into 18 equal slices (each about ½ to ¾ inch wide).
Spray three 9-inch round pans with nonstick spray. Arrange the rolls cut-side-up in the pans, spacing them as evenly as possible (don't worry if the rolls look too far apart right now - they'll expand to fill the pan during the next rise).
Cover baking dishes with plastic wrap. Let dough rise in warm draft-free area until the buns are doubled in size and have almost filled the pan, about 40 to 45 minutes.
Bake and Frost the Rolls:
Preheat oven to 375°F.
Bake the rolls in preheated oven for 20-25 minutes, or until tops are golden brown. Remove from oven and let cool in the pan for 10 minutes.
While the rolls are cooling, whisk together icing sugar and orange juice to make a thin glaze. Drizzle onto the still-warm rolls, and sprinkle with almonds. Serve right away for best results.
Notes
These buns can also be prepared the night before if you have a busy morning ahead of you. Simply prepare the recipe as per the directions, but place them in the refrigerator once they're shaped and arranged in baking pans. Then, on the following day, set them on the counter for about 30 minutes to come up to room temperature and then bake as per the directions. Tah dah!
Prep Time:

3 hours

Cook Time:

25 mins

Category:

Brunch