It's the first Monday of the month, which can only mean one thing 'round these parts... it's Secret Recipe Club time again!
And this month, I've got a recipe for you that combines two of my favourite breakfast foods in one - Nutella and granola, together at last!
Meet This Month's Blogger
My blog this month is Cooking with Chopin, Living with Elmo, which is beautifully written and photographed by the talented Ginny.
Aside from taking gorgeous photos and cooking delicious food, Ginny is also the mother of two adorable munchkins (hence the Elmo in her blog's name).
As usual, I had a list of potential picks a mile long thanks to all the delicious-looking options in her archive. I've already bookmarked at least a dozen of her amazing chicken recipes, including Lemon-Brown Sugar Chicken and Braised Chicken with Oranges and Pistachios.
This Month's Pick: Nutella Chocolate Chunk Granola
In the end, the calendar ended up making the decision for me.
You see, tomorrow (February 5th) is World Nutella Day, which meant I had the perfect excuse to try out Ginny's recipe for Nutella Chocolate Chunk Granola.
And, as I'm sure most of you know by now, I never pass up a good excuse to eat Nutella.
This homemade granola recipe has it all - lots of crunchy oats and nuts, chunks of dark chocolate, and gloriously chocolatey Nutella to tie it all together.
How I Made The Recipe My Own
I didn't make a whole lot of changes to Ginny's recipe, but as always, I couldn't resist the opportunity to make a couple of tweaks to suit my tastes.
First, I added a half-cup of wheat germ in a token attempt at making it healthier.
Then I replaced the ground walnuts with roughly chopped walnuts and slivered almonds, because I wanted to add some crunch and texture.
Lastly, I replaced the coconut oil with butter, mostly because that's what I had on hand, but also because it makes for a crunchier granola. Feel free to use coconut oil if you prefer the flavour or want to make this recipe vegan-friendly, but keep in mind that your granola won't come out quite as crunchy.
The Final Verdict
By golly, this granola is freakin' delicious.
I'm not going to lie. This is not health food, or even in the remote vicinity of healthy.
No one is going to mistake it for part of a complete breakfast. (I mean, it's full of Nutella and chocolate chunks, for crying out loud!)
I've been eating it sprinkled onto plain yogurt or with a splash of milk and sliced bananas, but mostly I've just been snagging it by the handful straight from the jar at every chance I get.
And while I probably don't recommend eating it every day, but there is something to be said from the thrill of starting your day with a double dose of chocolate every once in a while.
And I suppose it is ever-so-slightly healthier than eating cake for breakfast, right? (Shh. I know. Just humour me.)
//
Print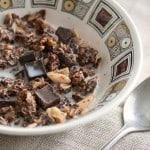 Nutella Granola with Chocolate Chunks
---
Author:

Total Time:

50 mins

Yield:

1

5

1

x
Description
This delicious granola gets a triple dose of chocolatey goodness from a combination of Nutella, cocoa powder and dark chocolate chunks. Prepare at your own risk - it's dangerously addictive!
---
5 cups

old-fashioned rolled oats

½ cup

slivered almonds

½ cup

chopped walnuts

½ cup

ground flax seed

½ cup

wheat germ

½ tsp

salt

⅔ cup

honey

½ cup

Nutella spread

¼ cup

natural peanut butter

¼ cup

butter

¼ cup

cocoa powder

1 tbsp

vanilla extract

2 oz

dark chocolate, roughly chopped
---
Instructions
Preheat oven to 275F, and line a large baking sheet with parchment.
In a larger mixing bowl, combine oats, almonds, walnuts, flax, wheat germ and salt. Set aside.
In a small saucepan. combine honey, Nutella, peanut butter and butter. Cook over medium-high heat, stirring constantly, until butter is melted and the mixture is thick but pourable. Remove from heat and whisk in cocoa and vanilla, stirring until smooth. Immediately pour onto the dry ingredients, and stir together until oats are well coated and start to clump together.
Spread the granola onto the prepared baking sheet, being careful not to break up any clumps that have formed. Bake in preheated oven for 20 minutes. Gently stir the granola, trying to keep the clumps as intact as possible, then return to the oven to bake for another 20 minutes. Stir once more, then bake for 10 minutes longer.
Remove from oven and set aside to cool completely, about 1 hour. (If there are any really huge clumps in the granola, break them up into more manageable pieces now - the granola will still be a little chewy when you remove it from the oven, but will get crunchier as it cools.)
After the granola is completely cool, stir in the chocolate chunks and store in an airtight container.
Prep Time:

10 mins

Cook Time:

40 mins

Category:

Breakfast