For the longest time, I was convinced that winter salads were a perfunctory gesture at best.
Utilitarian sorts of salads, meant to satisfy a basic need for something cold and raw to balance out the hearty long-simmered staples of our winter diet, made of mixed greens, flavourless tomatoes and cucumbers, perhaps a little bit of shredded carrot to spruce things up. Healthy, perhaps, but boring as hell.
They paled in comparison to the glorious salads of summertime, which can easily inspire ode after ode detailing the perfection that is a single leaf of lettuce, picked fresh from the garden and still flecked with droplets of morning dew.
Simply put, summertime salads are easy. Even the most boring basic salad of lettuce, cucumber and tomatoes becomes a thing of beauty, because it's made with freshly harvested vegetables that have been lovingly carried a few feet from my garden.
Winter salads, by contrast, suffer because they're usually made with off-season produce tumbled around the back of a transport truck for thousands of miles.
Salads are the perfect example of why seasonal eating is the only way to go if you truly enjoy food.
But when I decided to change my eating habits last year, I realised that salads would have to become a year-round fixture on my menu, and that my off-season salad choices would need a little shaking up...
And lo and behold, I discovered that wintertime salads have an appeal all their own once you move past the basic formula.
The trick to winter salads, as it turns out, is all about juxtaposition and the contrasts between flavours and colours and textures.
Winter salads are made from sliced blood oranges with slivers of red onion and wrinkly oil-cured black olives, or from segments of juicy pink grapefruit with thin wedges of buttery ripe avocadoes and tangy poppyseed-yogurt dressing. They're wedges of earthy beet with sweet caramelised nuts and a scattering of soft goat cheese, or paper thin shavings of fennel tossed with fresh parsley and flakes of salty parmesan.
And in the case of this particular salad, they're made with thinly sliced wedges of crisp sweet persimmons and buttery avocado wedges on peppery argula greens, scattered with juicy pomegranate jewels and tossed in a tangy Dijon vinaigrette.
It's a perfect antidote to the miserable shades of cold white and grey outside.
It's the total opposite my perfunctory winter salads of yore, with the kind of palette I associate with exotic travel brochures, Gaugin paintings and Bollywood movies - bright emerald, pale lime, sunset orange, and jewelled ruby-red.
I'll admit, I'd still prefer a plateful of thickly sliced ripe August tomatoes drizzled with a peppery olive oil and shredded basil, but this will certainly do the trick while I'm waiting for summertime to return.
//
Print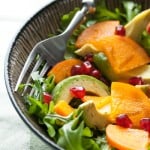 Persimmon and Avocado Salad
---
Author:

Total Time:

15 mins

Yield:

4

1

x

Diet:

Vegetarian
Description
Brighten up a dreary winter day with peppery arugula greens topped with crisp slices of sweet persimmon, buttery avocado wedges and tangy pomegranate arils, all tossed in a tangy mustard and white balsamic vinaigrette.
---
Dressing
3 tbsp

olive oil

1 tbsp

white wine vinegar

1 tbsp

white balsamic vinegar

1 tsp

Dijon mustard
Salt and pepper to taste
Salad
8 cups

baby arugula

1

firm-ripe Fuyu persimmon, quartered and thinly sliced

1

large avocado, cut into wedges

½ cup

fresh pomegranate arils
---
Instructions
Prepare the Dressing:
In a small bowl, whisk together olive oil, vinegars and mustard until combined. Season to taste with salt and pepper.
Assemble the Salad:
In a large mixing bowl, toss arugula with dressing until well coated. Distribute between four individual salad bowls, or transfer to a single large salad bowl.
Arrange persimmon and avocado slices on the arugula, then scatter with pomegranate. Serve immediately.
Notes
The beauty of this salad is the contrast between the crisp, sweet persimmon against the soft, buttery avocado. Make sure to purchase the small, squat tomato-shaped Fuyu persimmons for this salad, as they're sweet enough to eat even when slightly crisp, as opposed to the larger acorn-shaped Hachiya that are too tannic to eat until completely soft.
Prep Time:

15 mins

Category:

Salad

Method:

Raw

Cuisine:

Canadian