Spring seems to be coming in by fits and starts this year. Snow gives way to balmier days, which are swiftly followed by blustering snow flurries, which just as quickly melt away once the sunshine reasserts itself once more.
Still, it's clear that spring is definitely on its way. The days are getting longer, the birds are getting chirpier, the thermostat is slowly working its way back above freezing, and the last stubborn snowbanks are finally disappearing.
I'm taking advantage of these last few cold day to squeeze in just a few more of my favourite wintry comfort foods before it's too warm to leave a pot simmering on the stove. Dishes like this deep-down warming Jerk Chicken and Lentil Stew, or "Daffodil's Chicken", as it was often known at our house when I was growing up.
It's a recipe my mother managed to wheedle out of her West Indian coworker Daffodil after tasting it at an office pot luck, and it's perfect for those last few wintry days left in the season - it's saucy, flavourful, and deeply warming in the way only a long-simmered stew can be. All it needs is a bed of fluffy white rice (and maybe a bottle of West Indian beer, if you're thusly inclined).
The original is made with skinless bone-in chicken legs, but I've switched it up with boneless, skinless chicken thighs. They cook up faster and are a little tidier than their bone-in cousins without sacrificing too much flavour.
If you're feeling particularly thrifty, go ahead and use bone-in chicken thighs and drumsticks. You'll just need to simmer them for a half hour longer than called for in the recipe.
This dish was also a perfect opportunity to test out the jerk spice blend from Upper Spice, a Toronto-based mother-and-daughter company who were gracious enough to provide me with samples of their product.
It turns out their Medium blend is a perfect fit for this recipe - it's got a gentle spice that won't scorch your tastebuds, and warm notes of ginger, cinnamon and clove that contrast beautifully with the earthiness of the lentils.
At the moment, you can pick up Upper Spice's jerk blends in selected Toronto-area stores, or you can order online through their website. They have mild, medium and spicy versions of their jerk blend, along with a rib rub and a Jamaican-style curry blend, both of which I plan on trying out soon.
And of course, you can use any jerk spice blend, or even a bottled jerk sauce if that's what you happen to have on hand. Just make this dish... I promise you won't regret it.
In fact, you just might find yourself secretly wishing deep-down inside that winter would stick around for just a little bit longer, just so you can make it again.
//
Disclosure: I was provided with complimentary samples of jerk spice by Upper Spice in order to write a review. All opinions are entirely my own.
//
Print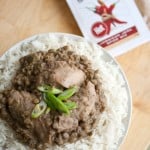 Daffodil's Jerk Chicken and Lentil Stew
---
Total Time:

5 hours

Yield:

1

0

1

x
Description
This stew pairs lentils, chicken and classic West Indian seasonings into a perfect cold weather meal - all you need is cooked white rice and a cold beer!
---
2

lbs boneless, skinless chicken thighs

4 tbsp

soy sauce

2 tbsp

jerk seasoning

1 tsp

dried thyme

1 tsp

salt

1

large onion, finely diced

1

green pepper, diced

2 tbsp

olive oil

2 cups

green lentils, picked over and rinsed

4 ½ cups

water
---
Instructions
Cut the chicken thighs into 1" chunks. Combine in a bowl (or in a large zip-top plastic bag) with the soy sauce, jerk seasoning, thyme and salt. Cover tightly with plastic wrap and transfer to the refrigerator to marinate for at least 4 hours (or preferably overnight).
In a large heavy-bottomed Dutch oven set over medium-high heat, saute the onion and pepper in olive oil for 5-7 minutes, or until onions are soft and translucent.
Stir in the lentils and water. Bring to a boil, then reduce the heat to low and simmer, covered, for 30 minutes or until the lentils are tender and have absorbed most of the water.
Stir in the chicken, along with any marinade left in the bowl. Cover and continue cooking for 30 minutes longer, or until the chicken is cooked through and the lentils are very soft. Serve immediately on a bed of cooked white rice.
Prep Time:

4 hours

Cook Time:

1 hour

Category:

Main