Of all my guilty pleasures (and lord knows, I have many), Chinese takeout has got to be one of my guiltiest, in all its greasy, salty, deep-fried, soy-saucy, MSG-enhanced glory.
I couldn't tell you exactly when this love affair of mine started.
I grew up in a family where delivery was basically synonymous with pizza. We ate plenty of Chinese food, but it was more of a fancy sit-down meal at the long-defunct Lychee Gardens or Sunday morning dim sum and cart service at Pink Pearl.
And yet, somewhere along the path to adulthood I traded in the flat cardboard boxes of extra-cheese-double-olives-and-bacon for styrofoam clamshells filled to the brim with chubby pan-fried noodles speckled with shards of BBQ pork and shredded vegetables.
Don't get me wrong, pizza is still my most favourite food of all time, but I couldn't even tell you the last time I ordered one. On the other hand, I am basically on a first name basis with my local Chinese takeout joint.
Now that I'm on this whole healthy-eating bandwagon, though, I've had to cut back on how often I'm eating out.
And unfortunately, all of the things that make my beloved takeout Chinese so delicious are also the things that make it bad for me. So for now, it's goodbye to the sweet-and-sour chicken balls, egg rolls, crispy-fried noodles and General Tao chicken that I love so much.
I fully admit to giving in to temptation sometimes, but that's reserved for the absolute worst days. The rest of the time, I much prefer to make something at home using lighter, healthier techniques.
My latest attempt at filling the takeout container sized void in my heart? This fresh and flavourful beef and asparagus stir fry.
It starts with strips of lean beef, which are quickly marinated with a blend of soy sauce, ginger, chili oil and cornstarch. Then they're tossed in a hot wok with chunks of fresh asparagus and red pepper and a generous glug of bottled black bean sauce.
This dish has everything I love in my takeout Chinese - bright colours, shameless flavours, and that amazing balance of sweet and salty and spicy in every single bite. It is literally the furthest thing from diet food you could thing of.
And did I mention that it's actually done in almost the same amount of time it would take for the local takeout joint to deliver?
Sure, calling in an order is still easier, but this version is almost entirely guilt-free... plus you don't have to tip the delivery guy, either!
//
Print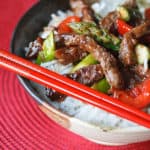 Beef and Asparagus Stir Fry
---
Author:

Total Time:

30 mins

Yield:

4

1

x
Description
This easy stir fry comes together in the time it normally takes for your local Chinese takeout joint to deliver, and it's much healthier, too. If you can't get your hands on fresh asparagus, try using green beans or broccoli instead.
---
1

lb striploin steak, cut into thin strips

3 tbsp

soy sauce

2 tbsp

cornstarch

1 tbsp

dry sherry

1 tbsp

grated ginger

1 tsp

chili oil

2 tbsp

canola oil

2

cloves garlic, finely minced

1

small red pepper, cut into thin strips

1

bunch asparagus, trimmed and cut into

1

" lengths

¼ cup

bottled black bean stir fry sauce
---
Instructions
In a small bowl, combine the beef strips with soy sauce, cornstarch, sherry, ginger, and chili oil. Stir together until the beef is evenly coated, and set aside to marinate while you chop up the vegetables.
Heat the canola oil in a large non-stick pan set over high heat until it's just starting to smoke. Add the red pepper, asparagus and garlic, and stir fry for 2-3 minutes, or until the asparagus is tender and bright green. Remove from the pan using a slotted spoon and set aside.
Add the beef to the pan, and stir fry for 2-3 minutes or until browned. Return the vegetables to the pan, and stir in the sauce. Cook for another minute or two, or until the sauce is warmed through. (If the sauce looks too thick, you can thin it out with water, adding 1 tbsp at a time until the dish looks saucy enough for your liking.)
Serve immediately on a bed of white rice, and with a fortune cookie for dessert if you're really craving a takeout experience.
Prep Time:

15 mins

Cook Time:

15 mins

Category:

Main