I have a new obsession. It's called gochujang, and it's an absolutely brilliant condiment - a potent dark red paste that delivers a perfect symphony of sweet and spicy and salty and umami in a single spoonful.
It's what makes Korean friend chicken so finger-licking good, the secret sauce that makes bi bim bap so endlessly delicious, the extra oomph that makes spicy bulgogi just that much better than regular bulgogi.
If you've never tried it before, this recipe is a good way to test the waters without diving straight in.
You start with bright orange crescents of delicata squash, toss them with a spoonful of gochujang, a spoonful of nutty white miso, and a drizzle of sweet maple syrup, and then roast them in a blazing-hot oven until the edges of the squash are caramelized and crispy and delicious.
I'll admit the combination may be a little unorthodox, but it's surprisingly well-balanced, making for a side dish that's both simple and memorable at the same time.
If you have trouble finding delicata, you can also use pretty much any kind of hard winter squash.
Delicata is my favourite because it appeals to my innate laziness - unlike the rest of its brethren, it has a thin soft skin, so you can eat the roasted squash peel and all. Not to mention that those little crescents with their scalloped edges are just so darn pretty on the plate.
It's a stellar side to pair with roasted or grilled meats, or you can turn it into a substantial fall salad by letting the slices cool down to room temperature and then toss with some lightly-dressed greens, a sprinkling pomegranate arils and a handful of toasted almonds.
Or you could just eat it all on its own, if you're not particularly fussed about a balanced meal... which might just be exactly what I did with the leftovers.
Whatever you choose, I can guarantee this will be in heavy rotation on your menu.
//
Print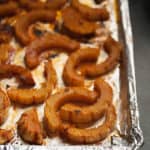 Maple-Miso Glazed Squash
---
Author:

Total Time:

45 mins

Yield:

2

1

x
Description
Maple-Miso Glazed Squash is a stellar side dish for late fall, made by tossing delicata squash with white miso, Korean hot pepper paste, and maple syrup.
---
1

medium-sized delicata squash

2 tbsp

olive oil

2 tbsp

maple syrup

1 tbsp

white miso paste

2 tsp

gochujang (Korean hot pepper paste)
---
Instructions
Preheat oven to 400F.
Slice the squash in half lengthwise, and scoop out the seeds. Slice into ½" thick crescents.
In a large mixing bowl, whisk together the olive oil, maple syrup, miso and gochujang until smooth. Add the squash slices, and toss to coat with sauce. Arrange on a baking sheet.
Bake in preheated oven for about 30-35 minutes or until squash is tender and lightly caramelized around the edges, flipping over the squash slices halfway through to ensure both sides crisp up evenly. (If the squash is tender after 35 minutes, but isn't quite caramelized enough for your liking, turn on the broiler for a minute or two to crisp up the edges, but make sure to watch it like a hawk or else you'll have burnt squash on your hands!)
Notes
This recipe works well with any kind of hard winter squash, but if using something other than delicata (like butternut or kabocha), make sure to peel it before coating it with the maple-miso sauce.
Prep Time:

10 mins

Cook Time:

35 mins