It all started with leftover mashed sweet potatoes.
Not just any mashed sweet potatoes, either. I'm talking about The Boy's signature side dish of sweet potatoes spiked with maple syrup and cardamom, which we'd originally made for our Christmas dinner of roast goose with all the trimmings.
It was The Boy's french toast that won my heart, but I'm pretty sure that these mashed potatoes sealed the deal.
It's a great way to dress up sweet potatoes for a special occasion - the maple syrup brings out the natural sweetness of the yams without being cloyingly sweet (a trait I find it all too common in sweet potato dishes), while the cardamom infuses each bite with its subtle yet unmistakeable warm, exotic spice.
There was only about a cup of mashed potatoes in the container.. not enough to make a meal, but still too much for me to throw out without feeling guilty.
And so they sat in the fridge for nearly a week, neglected and ignored, until inspiration struck. I could make biscuits!
As it turns out, the same flavour combination that makes The Boy's mashed sweet potatoes so amazing is just as good once it's been baked into biscuit form.
When Life Hands You Leftovers, Make Sweet Potato Drop Biscuits
These aren't your average, everyday sweet potato biscuits.
In my experience, many recipes for sweet potato biscuits are for rolled biscuits, which are very light and flaky, but also have a very high flour-to-potato ratio which means there aren't many noticeable traces of sweet potato besides a pale orange colour.
By comparison, these scones have an almost one-to-one ratio of potato and flour, which is too soft to roll out but just perfect for a drop biscuit.
The end result falls somewhere between cookie and biscuit - dense, moist and crumbly, with loads of sweet potato flavour in every bite. Plus they use up a whole cup of mashed sweet potatoes, which should hopefully make a dent in your Thanksgiving leftovers.
Granted, they're not light or flaky, but they're utterly swoon-worthy nonetheless... especially when paired with a bowl of spicy chili. Heck, even the cats approved!
How to Make Sweet Potato Biscuits if You Don't Have Leftovers
I'm assuming you probably don't have mashed sweet potatoes already seasoned with cardamom and maple syrup in your fridge. (I mean, you might, but what are the odds?)
To accommodate for that, I've written out the recipe with the assumption that you're starting with plain ol' sweet potato, mashed but otherwise unseasoned. If you don't even have that much, then peel a medium-sized sweet potato, boil in salted water for 15-20 minutes or until tender, and mash into a smooth puree.
Heck, you can even substitute an equal amount of mashed roasted squash, if that's what you've got kicking around in your fridge. (Just avoid canned pumpkin, as it has a much higher water content and won't work in this recipe.)
//
Print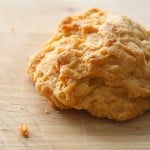 Maple-Cardamom Sweet Potato Biscuits
---
Author:

Total Time:

40 mins

Yield:

1

2

1

x
Description
These soft drop biscuits are a perfect way to use up leftover cooked sweet potatoes or sweet potato mash.
---
1 ¼ cups

all-purpose flour

3 ½ tsp

baking powder

½ tsp

salt

4 tbsp

unsalted butter, chilled

1 cup

mashed cooked sweet potatoes

½ cup

sour cream

¼ cup

milk

3 tbsp

maple syrup

½ tsp

ground cardamom
---
Instructions
Preheat oven to 450F, and line a large baking sheet with parchment paper.
Sift flour, baking powder and salt into a large mixing bowl. Using a pastry cutter, cut in the cold butter until you have a coarse, crumbly mixture.
In a separate mixing bowl, stir together mashed sweet potatoes, sour cream, milk, maple syrup and cardamom until smooth. Fold in the dry ingredients, stopping as soon as the last of the floury streaks has been incorporated. Don't overmix!
Drop the dough onto the prepared baking sheet by the spoonful, leaving some space between the biscuits to avoid crowding. You should have enough to make twelve large-ish biscuits.
Bake in preheated oven for 25-30 minutes, or until biscuits are lightly golden. Let cool on a wire rack for 5-10 minutes before serving.
Prep Time:

10 mins

Cook Time:

30 mins

Category:

Side