Can I be honest for a second here?  I just don't get why everyone makes such a fuss about chocolate desserts.
Sure, chocolate is delicious and wonderful, but there aren't enough witty fridge magnets in the world to convince me that it's a) worth killing over, b) a cure-all for PMS or c) better than sex. (A deeply discounted pair of gorgeous shoes, on the other hand? Yeah, all of the above.)
It's not that I dislike chocolate.  Quite the opposite, really - a good dark chocolate truffle is a pretty fantastic thing indeed.  The problem is, once chocolate grows beyond a two-bite format, it feels kind of obvious. Formulaic. Unsubtle. Maybe even a little boring, after you get past that first couple of bites.
Now, citrus desserts on the other hand, I'm more than willing to make a fuss about.
Citrus is everything chocolate isn't. Smart. Sassy. A little unpredictable, in that it can play it smooth and sweet, or reach out to smack your tastebuds with a punch of tart acidity. It's a pretty killer solo act, but it's just as happy to partner up with a few good friends for a jam session or two. I might not be willing to go so far as premeditated murder for a good citrus dessert, but I wouldn't rule out a misdemeanor or two.
This tart is a perfect example of what I'm talking about. The filling is pure blood orange, through and through, with a curd that's got just enough eggs and butter to hold together without blunting the pure orange flavour, and a sweet almond crust that exists solely to deliver that lovely curd to your mouth.
A thin slice is the perfect ending to a heavy meal (like our homemade sausage extravaganza) - sort of like a palate cleanser and a luscious dessert, all rolled up into one pretty coral-pink slice.
Of course, your blood orange tart might turn out to be an entirely different colour, depending on what's revealed when you slice open your oranges - mine, as you can see, were intensely red inside and yielded a dark cranberry-red juice.
That said, even if your curd only comes out with the faintest pink blush, there's no reason to worry.... the colour might not a little more timid, but the flavour certainly won't be.
Who needs chocolate when you can have an eye-pleasing, tongue-teasing dessert like this instead?
(BTW - If you can't find blood oranges at all, this recipe also works just fine with regular navel oranges, though the curd will be a rather mundane shade of orange instead... or you can substitute with Meyer lemons for an extra-tangy variation.)
//
Print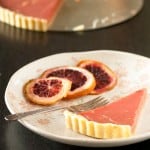 Blood Orange Tart
---
Author:

Total Time:

1 hour 30 minutes

Yield:

1

2

1

x
Description
Depending on the colouring of your blood oranges, the filling for this tart can range anywhere from bright coral orange to a very pale shell pink. No matter what colour you get though, the taste is sure to be the same - tangy and refreshing citrus, complemented by a sweet almond crust.
---
Crust:
1 cup

flour

½ cup

finely ground almonds

¼ cup

sugar

½ tsp

salt

2 tsp

orange zest

¼ cup

ice-cold butter, cut into

½

" cubes

1

large egg yolk

3 tbsp

ice water
Filling:
2 tsp

blood orange zest

¾ cup

fresh blood orange juice

2 tbsp

lemon juice

¾ cup

sugar

3

whole eggs

1

egg yolk

¼ cup

butter, cut into

½

" cubes
---
Instructions
Prepare the Crust:
In the bowl of a food processor, combine flour, ground almonds, sugar, salt, and orange zest, and pulse briefly to mix. Add the cold butter, and pulse five or six times, until mixture resembles coarse meal. With the machine running, add egg yolk, then add the ice water, one tablespoon at a time, stopping as soon as the dough starts to clump together.
Turn the dough out onto a clean surface and gently form it into a flat disk. Wrap in plastic, and refrigerate for at least one hour or until quite firm.
On a lightly floured surface, roll out the dough into a 12" circle. Gently fit into a 9" tart pan, folding in the overhang and pressing against the side to create a thicker rim. Freeze until firm, about 10 minutes.
Meanwhile, preheat oven to 375F.
Line the tart shell with a sheet of aluminum foil or parchment paper and fill with pie weights or dried beans. Bake for 20 minutes, then carefully remove the foil and weights, and return to the oven to bake for another 10 minutes or until golden brown all over.
Reduce the oven temperature to 350F, and set the tart crust aside to cool on a wire rack while you begin on the curd.
Prepare the Filling:
In a heavy-bottomed saucepan set over medium-high heat, whisk together the orange zest, blood orange juice, lemon juice, sugar, eggs and egg yolk. Cook the curd, stirring constantly with a heat-proof spatula, for about 5-10 minutes or until it starts to thicken and coats the back of the spatula. (If the curd should happen to curdle at any point, run it through a fine mesh strainer to remove the curdled bits - or, if it's really badly curdled, simply buzz it with an immersion blender until smooth. No one will ever know!)
Remove from heat and stir in the butter pieces until melted. Set aside to cool for 10 minutes.
Bake the Tart:
Place the prepared shell on a baking sheet. Pour the cooled curd into the shell, smoothing it out into an even layer.
Bake in preheated oven for 25-30 minutes, or until the filling is lightly puffed and set on the edges, but still retains a slight wobble in the middle. Let cool to room temperature on a wire rack, then transfer to the refrigerator to chill for 2-3 hours before serving.
Prep Time:

60 mins

Cook Time:

30 mins