It's no secret that I love rhubarb. Every single spring, I do a little happy dance as soon as the first blush-pink stalks appear at the local greengrocer, because I just can't get enough of that sweet-and-tangy flavour.
Over the years, I've shared all kinds of different recipes that feature this favourite - rhubarb cake, rhubarb scones, rhubarb buns, rhubarb pavlova, and even rhubarb soda.
But this year I'm especially excited, because the rhubarb I planted in my garden three years ago is finally mature enough to be harvested. Hello, homegrown rhubarb!
It's still just a wee baby, so I do have to make sure I leave enough stalks to make sure it keeps growing back year after year, but it's pretty dang magical to be able to walk out the front door and grab a couple of stalks to get my fix.
Saucy Rhubarb + Sweet Cake = The Easiest Spring Dessert Ever
So what did I do with my very first harvest? It was tough choosing just the right recipe, but I eventually settled on an old-fashioned pudding cake, a concoction that magically separates into layers of fluffy cake and tender baked fruit as it bakes.
If you've never made a pudding cake before, there's always that moment of doubt when you add the topping. I mean, how many other recipes start with a perfectly good mixture of fruit and batter, and then ask you to dump boiling water all over it?
I promise you that it will turn out. You just have to put your faith in the power of chemistry to do its thing.
So what's behind the magic? It's all about gravity - as the cake bakes, it gets lighter and fluffier and rises to the top of the mixture, while the heavier liquid sinks to the bottom to create a saucy layer.
I've deliberately kept this version as straightforward as possible, so that the bright flavour of the rhubarb can shine through with minimal distractions. There's just a dash of cinnamon added to the fruit, while the cake layer is as simple as can be with just a splash of buttermilk to complement the tang of the rhubarb.
pudding Cake, Cobbler and Grunt - What's the Difference?
There are many different desserts that feature this delicious combination of cooked fruit and sweet batter baked together. So what makes this a pudding cake, rather than a cobbler, grunt, slump or pandowdy?
Pudding cakes are made with separate layers of fruit and batter, with hot water poured over the top to create a pudding-like layer on the bottom of the cake.
Cobblers are also made from separate layers of fruit and batter, but use a biscuit dough for the topping rather than cake. They're not as saucy as pudding cakes because they don't have much added liquid aside from the juices naturally released by the fruit as it bakes.
Slumps and grunts are just cobblers that are baked on the stovetop in a skillet. And a pandowdy is a slump or grunt that's topped with scraps of pie dough instead of biscuit dough.
So there you have it - so many different ways to transform your favourite seasonal fruit into a delicious dessert!
How to Select and Store Fresh Rhubarb
If you don't have a plant of your own, your next best bet is to check out your local greengrocer or farmers market starting in late spring. Here in Ontario, rhubarb season usually runs from mid-May to the end of June.
Look for smooth, firm stalks that are free of blemishes or mushy spots. Despite popular belief, colour is not an indicator of ripeness in rhubarb. Some varieties of rhubarb are red or pink all the way through, while others still stay mostly green with just a hint of blush at the base.
Either way, resist the urge to buy the biggest, fattest stalks you can find, no matter how tempting it might be. With rhubarb, pick out the thinner, younger stalks - they'll be sweeter and less fibrous than their more mature brethren.
Fresh rhubarb will keep in the crisper drawer for up to a week loosely wrapped in a plastic bag. To store for longer, roughly chop the rhubarb into half-inch pieces, arrange on a baking sheet in a single layer and then place in the freezer. Once the pieces are thoroughly frozen, transfer to a zip-top freezer bag. Frozen rhubarb will keep for up to one year.
More Amazing Ways to Enjoy Rhubarb
The beauty of rhubarb is that it's versatile enough to be used in both sweet and savoury applications, depending on your mood. After all, it's technically a vegetable!
If you're feeling like indulging your sweet tooth, try these out:
If you want to take a walk on the savoury side, try these out:
//
Print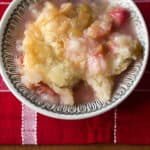 Old-School Rhubarb Pudding Cake
---
Author:

Total Time:

55 minutes

Yield:

8

servings

1

x
Description
This old-fashioned dessert magically separates into layers of fluffy buttermilk cake and saucy baked rhubarb as it bakes, for the perfect combination of sweet and tangy in every spoonful. Serve warm from the oven, either as-is or with a scoop of vanilla ice cream if you're feeling extra-fancy.
---
Rhubarb Layer:
3 cups

chopped fresh rhubarb

¼ cup

sugar

½ tsp

ground cinnamon
Cake Layer:
1 cup

all-purpose flour

¾ cup

sugar

1 tsp

baking powder

½ tsp

salt

½ cup

buttermilk

3 tbsp

melted butter
Topping:
½ cup

sugar

1 tbsp

cornstarch

¾ cup

boiling water
---
Instructions
Preheat oven to 350F, and start boiling water for the topping.

To make the rhubarb layer, combine the rhubarb, sugar and cinnamon in an 8-inch square baking dish. Stir to coat the rhubarb with sugar, then spread out into an even layer over the bottom of the dish.
Next, make the cake layer. In a medium-sized mixing bowl, whisk together the flour, sugar, baking powder and salt. Add the buttermilk and melted butter, and stir just until combined. Spoon onto the rhubarb layer, and spread out into an even layer, completely covering the fruit.
Finish with the topping. Stir together the sugar and cornstarch, and sprinkle all over the batter. Carefully pour the boiling water over top. (It will look like a soggy mess, but don't worry - I promise it'll all sort itself out while it bakes!)
Bake in preheated oven for 45-50 minutes, or until sauce is bubbly and cake is golden-brown on top. Let sit for 10-15 minutes to allow the filling to thicken up, then scoop into serving dishes while still warm. Serve as-is or with a scoop of vanilla ice cream.
Notes
Using Frozen Fruit: This recipe works beautifully with frozen rhubarb if you don't have any fresh. Use the same quantity of chopped frozen rhubarb, straight from the freezer, and extend the baking time by about 5-8 minutes to compensate.
Prep Time:

10 mins

Cook Time:

45 mins

Category:

Desserts

Method:

Baked

Cuisine:

Canadian