Chives are one of the first signs of spring in my garden, popping up from the herb planters not long after the spring thaw.
While chives aren't particularly interesting to look at for the first couple of months, everything changes when the chive blossoms make an appearance in early June. Those whimsical pom-poms of pale purple blossoms aren't just pretty to look at - they're edible too! Sprinkle them onto salads, soups or dips, or use them to make your very own chive blossom vinegar.
How to Make Chive Blossom Vinegar
As far as recipes go, this one is so simple it really doesn't need a recipe at all. (But if you're the type who needs more precise directions or measurements, I've given you one anyways. Just keep scrolling a little further.)
If you'd rather take the seat-of-the-pants approach, here's how to you do it.
Start by loosely filling a jar with clean, dry chive blossoms and then pour in plain white vinegar to fill (or use white wine vinegar, if you're feeling extra-fancy.) Seal up the jar, and store in a cool dark spot to allow the blooms to work their magic.
After a week, the vinegar will have turned bright pink and taken on a subtle hint of chive flavour. At this point, you can strain out the blossoms and transfer the vinegar to a clean bottle, or you can keep infusing up to a week longer for a stronger flavour.
Believe it or not, that's literally all there is to it. The final product is a bright pink vinegar that's perfect for adding a subtle hint of chive flavour to pretty much everything. It'll keep for up to 6 months in a cool, dark spot.
What to Make with Your Chive-Infused Vinegar
Once your vinegar is thoroughly infused, it can be used to add a subtle hint of chive flavour to pretty much everything.
My favourite option is a chive-infused vinaigrette made with one part chive blossom vinegar, three parts olive oil, a teaspoon of Dijon mustard, salt and pepper whisked together until combined. Use it to dress a simple green salad, or pour over still-warm potatoes for the best potato salad you'll ever eat.
It's also delicious sprinkled over piping-hot french fries or roasted vegetables, used as a base for quick pickles, or anywhere you'd use regular vinegar.
//
Print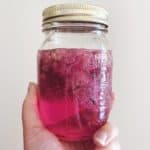 Chive Blossom Vinegar
---
Author:

Total Time:

5 minutes

Yield:

1 ½ cups

1

x
Description
Chive blossoms add a bright pink colour and delicate chive flavour to regular white vinegar. Use it to upgrade your favourite vinaigrette recipe, or sprinkle onto piping-hot home fries or roasted veggies.
---
1 cup

loosely packed fresh chive blossoms

1 ½ cups

white vinegar
---
Instructions
Trim the stems from the chive blossoms, and rinse them under cold water to remove any debris. Pat dry with a paper towel.
Loosely pack the blossoms into a clean 500ml mason jar. Pour in enough white vinegar to fill.
Cover tightly and store in a cool, dark place for a week or two, shaking the jar once a day. (If possible, use a plastic lid, as the vinegar can cause corrosion on metal lids.)
Once the vinegar reaches your desired strength, strain and pour into a pretty glass bottle.
Prep Time:

5 mins

Category:

Condiments

Method:

No Cook

Cuisine:

Canadian