Much like everyone else in the baking world, I jumped on the sourdough bandwagon back in March.
After reading a few tutorials, I whipped up a starter using a mixture of all-purpose and rye flours to keep me company as I worked from the kitchen counter. And since I figured my new coworker should have a name, I promptly dubbed him Vincent van Dough.
It took a few weeks to hit our stride, but by mid-April, Vinny was reliably doubling in size after his daily feedings. We soon settled into a cozy routine, baking up gloriously golden boules of crusty bread every few days.
The only catch? What to do with all that sourdough discard!
Finding ways to Use Up Sourdough Discard
The biggest downside to making your own sourdough is that you have to pour off roughly half of your starter before every feeding, which means you will eventually accumulate quite a bit of discarded starter (or discard, as it's commonly known).
This is especially true during the early days, when you're feeding on a daily basis to help the starter build up its strength.
Some people literally discard their discard, but that just seems wasteful to me, particularly when flour is still hard to come by. This stuff is precious!
Over the last few months, I've found quite a few ways to put my discard to good use. I've made crumpets, biscuits, English muffins, waffles, and even sourdough banana bread. But my most favourite recipes of all is homemade sourdough crackers.
My go-to homemade cracker recipe is based off the Sourdough Crackers with Herbs from Love and Olive Oil, though I've experimented with different combinations of flours and seasoning blends. But no matter how much I play around with this recipe, this bagel-inspired version is the one I find myself making again and again.
How to Make Thin, Crispy Crackers at Home
The trick to getting your crackers perfectly thin is to use a pasta roller. Simply treat the cracker dough like you would a pasta dough, stopping once you get to your desired thickness. (On my machine, that's usually a 4, but this will vary from one machine to the next.)
If you don't have one, you can use a rolling pin and two sheets of parchment paper, but it does require a little elbow grease to get the dough rolled out thinly.
A Crispy Cracker with a Bagel Twist
The inspiration for these crackers was a jar of Everything But The Bagel seasoning I picked up at Trader Joe's last time I was in the US.
If you aren't able to find premade spice mix, you can whip up your own homemade everything bagel spice using equal quantities of white sesame seed, black sesame seed, poppy seed, dried minced garlic, dried minced onion, and kosher salt.
To keep the bagel theme going, serve these crackers topped off with a dollop of whipped goat cheese, or just keep things simple and snack on them straight up from the container. They're also a mighty fine addition to a charcuterie board.
No matter how you choose to serve them, I guarantee they won't last long!
Other Flavour Variations You Should Try
While I am all about the everything bagel spice right now, the beauty of this recipe is that the dough is basically a blank canvas just waiting for you to spice it up with your favourite flavours.
Here are a few delicious variations you can make by swapping out the everything bagel spice for something else:
Savoury Herb: Add 1 tbsp herbes de provence, ½ tsp salt and ½ tsp garlic powder
Rosemary Black Pepper: Add ½ tbsp finely chopped fresh rosemary, 1 tsp cracked black pepper, and ½ tsp salt
Middle Eastern: Add 1 tbsp za'atar blend and ½ tsp salt
Roasted Garlic: Add 2 cloves of well-mashed roasted garlic and ½ tsp salt
Sesame: Add 1 tbsp each white and black sesame seeds, replace olive oil with 3 tbsp toasted sesame oil
Homemade Crackers You Can Make Without Sourdough
I know some of you may not have hopped aboard the sourdough wagon, but never fear... you can still make delicious crackers without sourdough starter!
Here are a few recipes to curb your cracker cravings:
//
Print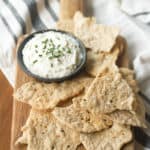 Homemade Everything Bagel Spice Sourdough Crackers
---
Author:

Total Time:

57 minutes

Yield:

60

crackers

1

x
Description
These thin, crispy crackers are the perfect combination of tangy sourdough and savoury everything bagels in every bite. Add them to a gourmet charcuterie board, pair them with whipped goat cheese for an elegant twist on a bagel with cream cheese, or snack on them straight-up!
---
1

scant cup (

225g

) mature sourdough starter (100% hydration)

½ cup

plus 2 tbsp (

75g

) all-purpose flour

½ cup

rye flour (

60g

)

2 tbsp

extra virgin olive oil

1 tbsp

everything bagel spice (see notes)

1

-

2

tbsp kosher salt, for sprinkling
---
Instructions
In a medium-sized mixing bowl, mix together the sourdough starter, flours, olive oil, and everything bagel spice to form a rough shaggy dough, then turn out onto a clean surface and knead briefly until the dough feels smooth and pliable.
Wrap tightly with plastic wrap and refrigerate for at least 30 minutes, or up to 24 hours.
Preheat oven to 350F. Line one large baking sheet with parchment paper. (You can also use two regular-sized baking sheets, but will need to bake in shifts.)
Divide the dough into 6 pieces. Lightly dust each piece with flour, and roll out into an oblong shape about 1/16" thick. I find this is easiest to do using a pasta roller, but you can also use a rolling pin and two sheets of parchment paper.
Arrange on the prepared baking sheet, placing the pieces as close together as possible without overlapping or touching. Lightly brush the top of the dough with water, and sprinkle generously with salt.
Bake for 15-17 minutes or until golden brown and crispy, rotating the pan halfway through to help the crackers bake more evenly.
Let cool on the baking sheet for 5 minutes, then transfer to a wire rack. Once the crackers have fully cooled, break them up into irregular pieces and store in an airtight container at room temperature for up to one week.
Notes
Homemade Bagel Spice: If you can't find pre-made everything bagel spice, you can whip up a homemade version using equal parts white sesame seed, black sesame seed, poppy seed, dried minced garlic, dried minced onion, and kosher salt.
Prep Time:

40 mins

Cook Time:

17 mins