Late June is always one of my favourite times in Toronto. The days are long and hot and humid, but the nights are still comfortably cool. In my garden, the honeysuckle and the elderflower are in full bloom, filling the evening air with their perfume.
It's also the time of year when the saskatoon berries come into season.
These versatile berries can be used pretty much anywhere you'd use any other berry. They make delicious muffins, pies and jams.
And while I do have a notorious sweet tooth, my favourite thing I've made so far is this homemade barbecue sauce.
It's equal parts sweet and tangy, with just enough heat to keep things interesting. (Though you can most definitely make it spicier by throwing in an extra chili or two, if that's your preference!)
The fruity flavour makes it perfect for pairing with chicken and pork in particular, though it does work quite nicely with beef if you're looking to change things up.
a Berry by Any Other Name
Here in Canada they're usually known as saskatoon berries or serviceberries, but they also go by juneberries, prairie berries and shadbush. These small trees and bushes can be grown from coast to coast in Canada, as well as the northern United States.
As you might have guessed from one of their names, they usually come into season in June. Dainty white blossoms give way to clusters of dark purple berries, filling the trees with flocks of local birds looking for a sweet treat.
While they may look like a blueberry, as members of the rose family they're actually more closely related to plums and apples. The flavour is best described as a sweet and a little starchy, with very little of the acidity that you usually expect in a berry.
Picking and Storing Saskatoon Berries
Saskatoon berries can be tricky to find at the supermarket, so your best bet if you're looking to buy is to check out your local farmers market.
The other option is to go out foraging. Here in Toronto, saskatoons have become a popular tree among homeowners and have also been planted on many city properties, which means you might just be lucky enough to have a tree nearby that you can pick.
Either way, look for plump dark purple or blueish berries with smooth skins. Discard any berries that are bright pink (they're underripe), or wrinkled and/or mushy (they're overripe). And whatever you do, do not wash your berries until you're ready to use them!
Fresh berries will keep in the fridge for a few days. For longer storage, these berries freeze beautifully. Simply arrange the berries in a single layer on a baking sheet, and pop into the freezer for a few hours. Once the berries are frozen solid, transfer to a freezer-safe bag for up to one year.
What To Make with Saskatoon Berry Barbecue Sauce
If you're looking to keep it simple, just brush some onto your favourite cut of meat in the last 5-10 minutes of cooking time, and then serve a little more sauce on the side for dipping. This particular technique works especially well with pork tenderloin, baby back ribs, or chicken thighs.
Burgers: Grill up your favourite homeburger (or cheeseburger) recipe, and serve them with a generous dollop of barbecue sauce, thinly sliced onions,
Meatloaf: Brush a generous layer of barbecue sauce onto your favourite meatloaf halfway through the baking time.
Pulled Pork: This one's kind of a no brainer, but who cares... it's still delicious! Just toss a generous amount of sauce with pulled pork just before serving. (PS: you can also go with pulled chicken, if that's more your thing.)
Chicken Fingers: Saskatoon barbecue sauce is perfect for dipping crispy chicken fingers. It's a great way to elevate the frozen ones from the box... because sometimes that's what you've gotta do.
More Delicious Saskatoon Berry Recipes
These versatile berries work wonderfully in both sweet and savoury recipes. Here are a few wonderful ways to enjoy them while they're still in season!
Print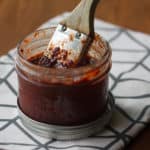 Saskatoon Berry Barbecue Sauce
---
Author:

Total Time:

50 minutes

Yield:

3 cups

1

x
Description
This sweet-and-tangy barbecue sauce gets its fruity flavour from saskatoon berries, a native Canadian berry that's in season in late June and early July. It's delicious with grilled chicken or pork, or add it to any recipe you'd normally make with a bottled barbecue sauce.
---
1

small onion, finely diced

1

red hot chili, minced

1 tbsp

canola oil

2 cups

fresh or frozen saskatoon berries

¾ cup

cider vinegar

½ cup

ketchup

½ cup

brown sugar

2 tbsp

molasses

2 tbsp

chili powder

1 tsp

garlic powder

1 tsp

mustard powder

½ tsp

worcestershire sauce
---
Instructions
In a saucepan set over medium-high heat, saute the onion and chili in olive oil until soft and translucent, about 5 minutes.
Stir in the remaining ingredients. Bring to a simmer, then reduce heat to low and cook, uncovered, for 45 minutes or until the sauce is slightly thickened and berries are very soft.
Using an immersion blender or food processor, blend the mixture until very smooth. (If the sauce is too thick to easily blend, add some water, a tablespoon or two at a time, until it smooths out.) Let cool, then transfer to a container.
Notes
Make It Extra-Spicy: For a spicier sauce, add an extra chili or two, or swap out the red chili with a spicier variety like scotch bonnet.
Storing Saskatoon Berry Barbecue Sauce: The finished sauce will keep in the refrigerator for up to two weeks, or in the freezer for up to a year.
Prep Time:

5 mins

Cook Time:

45 mins

Category:

Condiments

Method:

Stovetop

Cuisine:

Canadian