Lately, when it comes to keeping up with this blog, I feel a little bit like that friend who's always promising to get together whenever you bump into each other, but never actually follows through. Sorry, folks... I'm kind of a rotten friend.
I had every intention of sharing these saskatoon berry scones a couple of weeks ago, but every time I sat down to write something to go with them, I just couldn't muster up the wherewithal to put pen to paper (or cursor to screen, more like).
I have my reasons. Honest.
They're uninteresting and utterly mundane, so I won't bore with details. Suffice to say that there's too much going on at work, too much going on at home, and too much going on with life in general.
In the meantime, I've been coping the way I usually do, by trying to ignore my ever-growing to-do list and doing mass quantities of procrastibaking instead. (Also, I might just be playing way too much Hay Day, because apparently I don't have enough real-life work and needed to give myself a bunch more virtual chores to do).
One of the fruits of my labour, so to speak, was these saskatoon berry scones, whipped up with a basket of fresh saskatoon berries I picked up on impulse at the local farmers market.
Also known as saskies, juneberries or serviceberries, these plump dark purple berries look (and taste) like the love child of a blueberry and a blackcurrant.
They have a woefully short season, unfortuntely, so this year's crop has already come and gone... but if you want to try your hand at urban foraging next June, you'll find serviceberry bushes dotted all of the city, as they thrive just as nicely in Ontario as they do over in Saskatchewan.
The only catch is that you'll have to beat the local birds to the punch, because they're more than happy to pick the entire tree clean while you're still rummaging around your bag for a container to hold the berries.
Assuming you didn't have the foresight to stash some saskies in your freezer, you can substitute with fresh or frozen blueberries for a more conventional sort of scone. In the wintertime, you can also substitute with dried cranberries or dried cherries.
(And if you did freeze some, we should really become friends. Because you are clearly an awesome and organized person, and I could stand to learn a thing or two from you.)
Regardless of what berry you choose to use, the end result is a perfectly lovely and very lemony scone that practically begs for a generous slathering of butter and a full pot of hot black tea.
Trust me, if you're also feeling a little overwhelmed with everything life has been throwing at you lately, this is the cure for what ails you.
Side effects may include temporary stress reduction and buttery crumbs on your chin. In rare cases, long term use may result in weight gain if not combined with regular exercise.
//
Print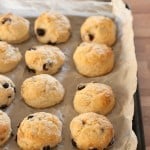 Saskatoon Berry Mini Scones
---
Author:

Total Time:

45 mins

Yield:

8

1

x
Description
If you can't get your hands on saskatoons, fresh blueberries or blackcurrants would do quite nicely as well.
---
2 ¾ cups

flour

½ cup

sugar

1 tbsp

baking powder

1 tsp

lemon zest

½ tsp

salt

½ cup

cold unsalted butter

1 cup

fresh saskatoon berries

1 cup

buttermilk

¼ cup

heavy cream (reserve

1 tbsp

)

½ tsp

vanilla extract

3 tbsp

turbinado sugar
---
Instructions
Preheat oven to 400F. Line a baking sheet with parchment paper, and set aside.
In a large mixing bowl, combine flour, sugar, baking powder, lemon zest and salt. Using a pastry cutter or two knives, cut in the cold butter until the mixture resembles coarse crumbs. Stir in the saskatoon berries, then add the buttermilk, cream (reserving 1 tbsp of cream for later) and vanilla, and gently mix until the dough just barely comes together.
Turn out the dough onto a clean work surface dusted with flour, and gently knead 5-6 times to finish incorporating any floury streaks. Roll out the dough to 1" thick, and cut out the scones using a 1" round cutter, gathering up the scraps and re-rolling until you have at least 24 scones.
Arrange the scones on the prepared baking sheet, spacing them ½" apart. Brush the tops with remaining 1 tbsp cream, and sprinkle with turbinado sugar.
Bake scones in preheated oven for 25-30 minutes, or until top is golden brown and a toothpick inserted in the centre comes out clean.
Notes
For an extra boost of lemony flavour, add 2 tbsp of finely chopped lemon thyme or lemon basil. It's entirely optional, but quite delightful.
Prep Time:

15 mins

Cook Time:

30 mins

Category:

Dessert