Hey kiddies! Guess what? It's Ice Cream Week!
Yeah, you heard me. I've joined forces with a bunch of my favourite bloggers to put together a whole week of ice creamy goodness, including three (yes THREE) posts from yours truly. Let the feasting begin!

Ice cream might just be my all-time favourite food, both to eat and to make, as you might have noticed based on the number of recipes I've shared over the years for ice cream and gelato (and yes, some sorbets and granitas, too).
But as it turns out, I've been holding out on you all, because I still haven't shared my favourite. So without further ado, ladies and gents, I give you my most favourite flavour of all time: chocolate mint chip ice cream.
Growing up, my parents would sometimes take us to the ice cream shop up the street for a special treat in the summertime, especially on hot sticky evenings when the lack of air conditioning got unbearable.
Back then, my usual order was a sugar cone with a single scoop of bubblegum ice cream, because it meant that even once the ice cream was gone, I'd still had a mouthful of gum left to chew on.
Two desserts in one... what's not to love? Totally sound logic when you're in grade school. (And also, as a little girl, I was naturally inclined to choose anything that came in that obnoxious shade of bubblegum pink.)
I eventually developed a slightly more sophisticated palate and moved on to more grown-up flavours. Flavours like peanut butter and chocolate, raspberry cheesecake, and mocha almond fudge always ranked quite high in my books... but the one that consistently ranked at the top of my list was good ol' mint chip.
To this day, that's the one I will always pick above all others.
It's pretty good even when it's just the crappy kind that tastes like mint extract and waxy cheap chocolate, but when it's made with proper ingredients, like this one, it's downright divine.
There's loads of fresh mint to give it that perfect tongue-tingling freshness, and swirls of good quality dark chocolate broken up into irregular chips that snap with each bite before melting away into bittersweet richness.
If you've tried your hand at making your own mint ice cream before, you probably know that mint leaves don't add any colour to the finished ice cream, so the colour on this ice cream can't possibly be entirely natural.
Thing is, mint chip ice cream just doesn't taste the same to me unless it's an obnoxious shade of pale minty green.
So as much as it goes against my usual all-natural, no-additives, no-artificial-stuff approach to food, I figure a few drops of food colouring won't kill me in the long run... and if they do, at least I'll die eating a right proper mint chip ice cream, all refreshingly minty and full of crackly dark chocolate.
Sounds like a pretty good way to go, if you ask me.
//
Print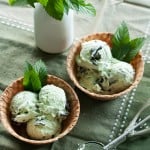 Mint Chip Ice Cream
---
Author:

Total Time:

6 hours 15 mins

Yield:

8

1

x
Description
This homemade version of the ice cream shop classic will have you swearing off storebought forever, thanks to its combo of fresh mint and crackly bittersweet chocolate.
---
Mint Ice Cream Base:
2 cups

heavy cream. divided

1 cup

whole milk

2 cups

fresh mint leaves

¾ cup

sugar

¼ tsp

salt

4

egg yolks

1 tbsp

creme de menthe (optional)

2

-

3

drops green food colouring (optional)

1

-

2

drops blue food colouring (optional)
Bittersweet Chocolate Chips:
4 oz

bittersweet chocolate, finely chopped

2 tsp

canola oil
---
Instructions
Make the Custard Base:
In a small saucepan set over medium-high heat, heat 1 cup heavy cream with the milk until wisps of steam start to rise from the surface. Immediately remove from heat and stir in the mint leaves. Cover and let stand for 1 hour to allow the flavours to infuse.
Pour the infused cream through a fine mesh strainer to remove the mint, pressing firmly on the leaves to extract as much flavour as possible.
Stir in the sugar and salt, and return the infused cream to the stovetop over medium-high heat. Warm the cream until wisps of steam start to rise from the surface.
In a medium sized mixing bowl, whisk together the egg yolks, then slowly pour some of the warm mint mixture into the yolks, whisking constantly, then scrape the warmed yolks back into the saucepan.
Cook the custard, stirring constantly, until the mixture thickens enough to coat the back of a wooden spoon. Immediately remove from heat, and stir in the remaining 1 cup cream along with the creme de menthe and food colouring, if using.
Scrape the custard into a clean mixing bowl, and cover with plastic wrap, placing the wrap directly on the surface of the custard to stop a skin from forming. Chill thoroughly in the refrigerator for at least 2 hours.
Make the Chocolate Chips:
While the custard base is chilling, melt the chocolate in the microwave or a double boiler until smooth. Add the oil, and set aside to cool to room temperature.
Freeze the Ice Cream:
Using an ice cream maker, freeze the chilled custard as per the manufacturer's directions.
To create the chocolate "chips", spoon a layer of ice cream into the container, then drizzle a thin stream of chocolate overtop using a swirling motion. Continue alternating layers of ice cream and chocolate until both of them are done, then swirl the mixture with a butter knife to break up the chocolate into irregular pieces. Cover and transfer to the freezer to chill until firm and scoopable, about 3-4 hours.
Notes
The creme de menthe doesn't just add another layer of minty flavour - it also keeps the ice cream soft and scoopable. If you don't have any, though, feel free to swap for vodka or any other neutral alcohol, or just skip it entirely.
Prep Time:

6 hours

Cook Time:

15 mins

Category:

Dessert
//
Make sure you swing by for a scoop from each of today's Ice Cream Week Participants: