Most of you know I'll eat ice cream anytime, even in the middle of a blizzard, but it really does taste best during those unbearable dog days of summer.
Unfortunately, summer has totally failed to deliver anything remotely worthy of being called a "dog day". And that makes it one of the crappiest summers on record, at least from an ice cream eating perspective.
It's been too cool, too rainy, too busy, too everything... well, except for too hot and too lazy. Sigh.
Making the Most of a Bountiful Backyard Raspberry Patch
The silver lining to this cool, wet, overcast summer is that it's done wonders for my backyard raspberry patch, which delivered a bumper crop of perfect ruby red berries.
I've been picking one bowl after another of plump, sweet raspberries, though some of those berries never made it to the kitchen because a certain someone (ummm... me) just couldn't stop snacking on them by the handful.
Lucky for you guys, I did manage to save just enough to make the intensely red raspberry puree that winds its way through this raspberry-swirled buttermilk gelato.
Creamy Buttermilk Plus Tangy Raspberries - A Perfect Match!
This frozen treat is as tasty as it is pretty - the creamy off-white buttermilk gelato base is subtly tangy and not too sweet, while the swirling scarlet ribbons of fresh raspberry are sweet-tart and intensely fruity.
It's a downright refreshing combination, especially since the lack of egg yolks in the base means the bright, tangy flavours of the buttermilk and raspberries can shine through perfectly unmuddled.
Let's just that that this might just be my favourite non-chocolate ice cream flavour ever. It's honestly that good.
And yes, you can totally make it with regular storebought raspberries if you don't have a thriving patch of raspberry bushes right outside your back door.
Which is good, because my backyard berries are all gone for the season, and I have zero intentions of waiting a whole freakin' year for another helping of this gelato.
What's the Difference Between Ice Cream and Gelato?
The terms are often used interchangeably, but there are a few key differences between gelato and ice cream.
Ice cream is usually made with a sweetened custard base of cream, milk, sugar and egg yolks. It's cooked until thick and creamy, then frozen using an ice cream churn that beats air into the mixture as it freezes, which keeps it soft and scoopable.
Gelato, on the other hand, has a higher ratio of milk and a lower ratio of cream, and sometimes uses thickeners like corn starch in lieu of egg yolks. It's also denser than ice cream, because the churning process doesn't beat in quite as much air.
What this means is that ice cream is generally higher in fat than gelato. In the US, a frozen dessert has to contain a minimum of 10% milkfat to be called ice cream, while gelato tends to be somewhere between 5-7%.
This lower fat content is one of the reasons I opted to use a gelato base rather than an ice cream base for this recipe, because it really lets the bright flavours shine.
More Delicious Ice Cream Flavours to Make at Home
Feeling inspired? Here are some more delicious homemade frozen treats the gang concocted for Ice Cream Week!
//
Print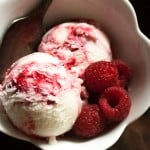 Raspberry Ripple Buttermilk Gelato
---
Author:

Total Time:

6 hours 10 mins

Yield:

4

1

x
Description
Ribbons of ruby red raspberry swirl their way through a creamy off-white buttermilk gelato base for an ice creamy treat that's just as tasty as it is pretty.
---
Lemon-Buttermilk Gelato:
1 ½ cups

heavy cream, divided

½ cup

sugar

3 tbsp

corn starch

1 cup

buttermilk

¼ cup

lemon juice

2 tbsp

lemon zest
Pinch salt

2 tbsp

limoncello (optional)
Raspberry Ripple Sauce:
1 ½ cups

fresh raspberries

½ cup

sugar

2 tbsp

vodka or raspberry liqueur
---
Instructions
Prepare the Gelato Base:
In a small saucepan set over medium-high heat, heat 1 cup cream and sugar until wisps of steam start to rise from the surface.
In a small mixing bowl, whisk together the cornstarch with the remaining ½ cup cream. Whisk into the hot cream, then reduce heat to low and simmer for 5 to 6 minutes, whisking constantly, or until the mixture thickens enough to coat the back of a spoon. Remove from heat and immediately stir in the buttermilk, lemon juice, lemon zest, salt and limoncello (if using).
Transfer the custard into a mixing bowl and cover with plastic wrap, resting the wrap directly on the surface of the custard to prevent a skin from forming. Move to the refrigerator and chill for at least 2 hours (or preferably overnight).
Make the Raspberry Swirl:
In small saucepan set over medium-high heat, stir together raspberries and sugar. Bring to a simmer and cook, stirring occasionally, for about 10 minutes or until the raspberries break down and thicken. Strain through fine mesh sieve to remove the seeds. Stir in the vodka, then cover and chill until ready to assemble the gelato.
Freeze and Assemble the Gelato:
Using an ice cream maker, freeze the chilled custard as per the manufacturer's directions.
Spoon alternating layers of ice cream and raspberry sauce into a freezer-safe container, then run a skewer or butter knife through the mixture to create a swirl. Transfer to the freezer to chill until firm but scoopable, about 4 hours.
Prep Time:

6 hours

Cook Time:

10 mins

Category:

Dessert