This is the time of year when I tend to get a little lazy with my meals.
My usual summertime routine is pretty basic - slap a hunk of meat and some fresh veggies onto the grill, throw together a quick salad from our little garden patch, and call it dinner. Maybe a handful of cherries for dinner, or a scoop of ice cream if I'm feeling particularly indulgent.
Why bother with more when everything is so fresh and in season, right? (Not to mention the cleanup is minimal, which is a rather nice bonus.)
The thing is, after a while it can start to feel a little routine, at which point I start feeling the need to shake things up and introduce some new flavours to the mix. I guess that's why I've become such a big fan of chermoula lately.
Meet Chermoula, Your Favourite New Marinade
Chermoula is a traditional North African marinade-slash-sauce that's typically used to flavor fish or seafood, but it's also delicious on pretty much everything.
Personally, I find it's absolutely lovely with chicken - especially the thighs, which are more flavourful and juicier than the breast, and conveniently cheaper too.
There are dozens of variations on chermoula, depending on the region. This version is inspired by the Moroccan version, which is surprisingly similar to South American chimichurri.
It's got that same fresh and green and grassy flavour, thanks to a base of fresh parsley and cilantro. What makes sets it apart, though, is the addition of earthy North African spices that mingles beautifully with the smokiness from the grill.
How to Use Chermoula
The easiest option for adding chermoula to your menu is to treat it like a finishing sauce. Spoon dollops onto grilled steak, lamb chops or salmon filets, or drizzle it onto grilled vegetables for a flavourful side dish.
As I said earlier, one of my favourite uses is as a marinade for chicken. Sometimes I just throw the marinated thighs onto the grill as they are, but skewers just feel a little fancier somehow.
And if you really want to up the ante, make a dipping sauce by stirring together some plain Greek yogurt and a spoonful of reserved chermoula. It does for these skewers what a raita does for tandoori, by providing a refreshing creaminess as a contrast to the warm spice of the marinade.
And yes, I do serve these with fresh veggies that have been tossed on the grill, and perhaps a fresh salad thrown together from the garden patch. Did you really expect anything else?
//
Print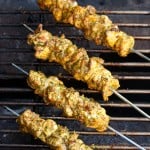 Grilled Chermoula Chicken Skewers
---
Author:

Total Time:

1 hour 25 mins

Yield:

4

1

x
Description
Chermoula is a Moroccan sauce made from cilantro, parsley and various spices that's normally paired with lamb or fish. Here it does double-duty as a flavourful marinade for bite-sized pieces of chicken thigh, and in a refreshing yogurt-based dipping sauce.
---
¼ cup

diced red onion

¼ cup

roughly chopped fresh parsley

¼ cup

roughly chopped fresh cilantro

2

cloves garlic, roughly chopped

2 tbsp

olive oil

2 tbsp

fresh lemon juice

1 tbsp

paprika

2 tsp

ground cumin

2 tsp

ground coriander

½ tsp

red pepper flakes

½ tsp

turmeric

½ tsp

salt

¼ tsp

crumbled saffron

6

boneless skinless chicken thighs

1 cup

Greek yogurt
---
Instructions
In the bowl of a food processor, combine the red onion, parsley, cilantro and garlic. Process until everything is finely chopped, then slowly drizzle in the oil until the mixture comes together into a thick paste. Add the lemon juice, paprika, cumin, coriander, pepper flakes, turmeric, salt and saffron Pulse 2-3 times to combine. Scoop out ¼ cup of the chermoula, and set aside for later.
Cut the chicken thighs into bite-sized pieces. Transfer to a zip-top plastic bag, and scrape in the remaining chermoula. Toss to coat the chicken evenly with the marinade, then transfer to the refrigerator to marinate for at least one hour (or up to overnight).
Preheat a lightly-oiled grill to medium-high. While you wait for the grill to heat up, thread the marinated chicken pieces onto skewers.
Arrange the skewers on the hot grill and cook, turning occasionally, for 10-15 minutes or until the chicken is cooked through inside and well-browned on the outside.
While the chicken is grilling, whisk together the reserved ¼ cup marinade with Greek yogurt in a small mixing bowl. Serve as a dipping sauce alongside the finished skewers.
Prep Time:

1 hour 10 mins

Cook Time:

15 mins

Category:

Main

Cuisine:

Middle Eastern