I may or may not have a wee problem with accumulating cookbooks. And by that, I mean that my collection has exceeded the available shelf space in my living room, overflowed into the study, and has now started taking over the coffee table in the living room.
But even so, sometimes a new cookbook comes along that is so irresistible that I can't resist adding one more to the pile, especially when it's so totally unlike anything else I own.
Batch, the new cookbook by Toronto-area bloggers Joel MacCharles and Dana Harrison of Well Preserved is one of those books. I've been a long-time follower of their blog, and have been counting down to the book's launch since they first announced they'd signed on with Appetite by Random House.
I'm glad to say that this book lived up to all of my expectations. It's divided into two parts - the first half of the book dives into the nitty-gritty of seven different techniques for preserving the harvest (water bath canning, pressure canning, dehydrating, fermenting, cellaring, salting / smoking, and infusing), while the second half is broken up into 25 ingredient-driven chapters ranging from apples to tomatoes.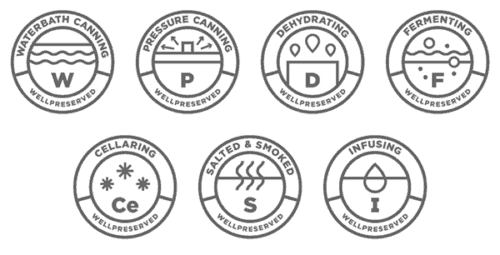 Each of the chapters starts off with tips on preserving the key ingredient, followed by a handful of recipes that help you use your newfound preserving skills. Each chapter also includes a Batch-It section that teaches you to multi-task your way into preparing multiple recipes in the time it would normally take to prepare one.
If you're still a newbie to the wide world of preserving, this is a great book to explore a variety of techniques and ingredients. While some of the recipes are on the more advanced side or require special equipment like a pressure canner or a dehydrator, the majority can be made using simple ingredients and a few supplies you already have on hand (or can easily pick up on your way home from the market, otherwise.)
I also loved the fact that each chapter has at least one recipe that can even be done in under 10 minutes, which is handy when both your crisper and schedule are overflowing.
For my inaugural journey, I decided to go with something on the easier side of the spectrum and prepared an old-fashioned yeast-fermented Rhubarb Soda.
How could I resist making something so fizzy and pink?
I was a little hesitant to try my hand at fermentation, since I've heard it can be a little temperamental, but it turned out to be so much easier than I'd expected. It all starts with a basic syrup made from fresh rhubarb, water and honey, which is then mixed up with lemon juice, vanilla, and champagne yeast before being poured into a plastic soda bottle to ferment at room temperature.
Just 24 hours later, I had a bottle full of delicious soda. Fruity, tangy, effervescently fizzy, and yes... very very very pink soda.
My version came out much darker than the pale candyfloss-pink version shown in the book, but I'm chalking that up to a couple of variables. One, I used a full 3lbs of rhubarb to make my syrup. And two, I lucked upon some rhubarb that was perfectly pink through and through, rather than the usual mostly-green-with-a-hint-of-pink variety that tends to be more common at the greengrocer.
As is the case with any naturally fermented product, this soda is an ever-evolving creature. After 24 hours, it was lightly effervescent and sweet and throughly drinkable... but with each passing day, it grew fizzier and tangier until it achieved an almost kombucha-esque pucker on day 3. I probably wouldn't push it beyond 4 days, but I'm pretty sure it's unlikely to last that long anyways.
It's a perfect sipper for hanging out in the backyard on a warmish spring afternoon listening to the birdies chirping and the lawnmowers buzzing... either on its own, or stirred into a lovely blush pink twist on a classic gin and tonic. Cheers!
//
Disclosure: I received a copy of this cookbook from Random House for review purposes. All opinions expressed here, as always, are entirely my own.
//
Print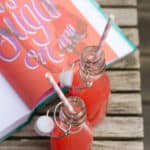 Rhubarb Gin and Tonic
---
Author:

Total Time:

5 mins

Yield:

1

1

x
Description
The tangy rhubarb soda from Batch is the perfect addition to a classic gin and tonic. It may be fizzy and pink, but it's anything but girly!
---
¼ cup

homemade rhubarb soda

¼ cup

tonic water

2 oz

Hendricks gin
---
Instructions
Fill a lowball glass with ice. Add rhubarb soda, tonic water and gin. Stir well, then garnish with a wedge of lime and serve immediately.
Prep Time:

5 mins

Category:

Drink
It's a #BatchCookbook Blog Hop!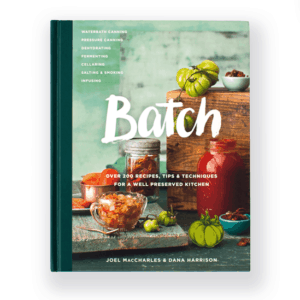 I'm joining forces with a group of Canadian bloggers celebrating the release of Batch. Check out all the other posts in the blog hop... not is each of us featuring a different recipe from the book, but you'll also have another opportunity to win the book on each of the participating blogs!