Fiddleheads are one the surest signs that spring has finally arrived here in Ontario, usually making an appearance at the local market right around the same time as the first of the local asparagus.
The only catch is that fiddlehead season is mercilessly short.
Which explains why those of us who are in the know anxiously await their return each year with the kind of mild delirium that's normally reserved for hockey playoffs and Game of Thrones season premieres.
What are Fiddleheads, Anyway?
These adorable little curlicues are actually the shoots of the ostrich fern, which grows wild throughout most of Canada in temperate woodland regions. The shoots are picked just as they unfurl from the soil, while they're still young and tender.
Their name, as you might have already guessed, comes from their resemblance to the ornamental carving that is typically found on the end of a fiddle or violin.
Cooked fiddleheads have a flavour that falls somewhere between asparagus and green bean, but with a subtle grassy note that's all their own.
Cooking with Fiddleheads
If you've been following along for a while, you probably know I'm a little obsessed with fiddleheads.
I've stirred them into risottos and quiches, and added them to a spring-inspired version of shrimp and grits. They're also wonderful in a stir-fry if you're looking for a change of pace from your usual vegetables.
And sometimes I just saute them in a little olive oil with garlic and lemon juice for a simple side dish.
Whatever you do, try to pick a recipe that doesn't have too many bold ingredients that might overwhelm the subtle flavour of the fiddleheads - you want these lovelies to shine!
Extend the Season with Pickled Fiddleheads
As I said earlier, fiddlehead season is very short. That's why I always make sure to make a batch or two of these pickled fiddleheads, because that means I can continue to enjoy them long after their fresh brethren have disappeared from the produce aisle.
The end result is a tangy pickle that pairs beautifully with a charcuterie board, or that can be used as a whimsical garnish on a Caesar.
This small-batch recipe only makes two half-pint jars, which I like to think is the perfect amount - that's one for you, and one for someone you like. (Or two for you, if you're feeling greedy.)
How to Pick, Store and Prepare Fiddleheads
When picking out fiddleheads, look for tightly furled heads and bright green stalks that are free of discolouration.
They don't keep very long once they've been picked, so plan to use them within a day or two of taking them home. I find they do best if stored in the fridge in a lidded container that's been filled with just enough cold water to cover.
Once you're ready to cook, give them a good soak in cold water and gently rub off any brown scaly bits that might be clinging to the stems or leaves before trimming off the ends to about a ½" long.
Then, blanch them in lots of boiling salted water for at least 10 minutes, drain and rinse again with cold water.
(Yes, I know… that's a really long time to blanch a vegetable, but it's for your own good. Undercooked fiddleheads have been reported to cause some rather unpleasant digestive issues, and while the reasons for this are still unknown, Health Canada recommends cooking them thoroughly to protect yourself.)
//
Print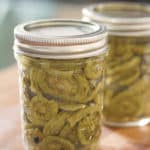 Small-Batch Pickled Fiddleheads
---
Author:

Total Time:

25 mins

Yield:

2

jars

1

x
Description
These tangy pickled fiddleheads are a delicious addition to a charcuterie board, and also make a pretty garnish for Caesars and Bloody Marys.
---
½

lb fresh fiddleheads

¾ cup

rice wine vinegar

¾ cup

water

2 tsp

kosher salt

1 tsp

pickling spice

1

garlic clove, halved
---
Instructions
Bring a large pot of salted water to a boil over high heat. While you're waiting on the water, rinse the fiddleheads well in a large bowl of cold water, rubbing away any brown scaly bits. Rinse again and trim the stems.
Add the fiddleheads to the pot of boiling water and cook for 10 minutes. Drain and rinse well with cold water.
In a small saucepan set over medium high heat, combine the vinegar, water and salt. Bring to a boil, stirring periodically. Simmer for 2-3 minutes, or until the salt is completely dissolved, then remove from the heat.
Place 2 sterilized 250mL jars on a clean tea towel. Divide the pickling spice and garlic cloves between the two jars. Pack in the fiddleheads as tightly as you can, then cover with the hot pickling brine. Cover with sterilized lids and tighten to finger-tight.
At this point, the jars can be processed in a boiling water bath for 10 minutes and stored for up to a year in a cool, dark spot, or placed in the fridge and eaten within a month. For best results, let the pickles age for at least a week before cracking open.
Prep Time:

5 mins

Cook Time:

20 mins

Category:

Appetizer

Cuisine:

Canadian