Forget lilac blossoms, daffodils and red-breasted robins... as far as I'm concerned, spring hasn't sprung until I spot the first fiddleheads and fava beans of the season at the local greengrocer.
In my neighbourhood, the arrival of the favas usually draws a crowd of little old ladies, who gossip as they pick through the pile of beans to find the plumpest specimens they can.
Wading into the crowd of old-timers to pick a bag of beans is one of my favourite springtime rituals on The Danforth.
That's why there was great rejoicing the other day, when I walked past the greengrocer and spotted a small crowd of little Greek yiayias clustered around a box of fresh favas.
Needless to say, I didn't waste any time nudging my way into the crowd to grab my share.
And as I emerged from the melee, victoriously clutching my bag of beans, I snagged a small basket of tender spring snowpeas and a handful of fresh fiddleheads to complete my spring trifecta.
To celebrate my victory in battle, I decided to make a fresh, lemony spring risotto full of fresh spring vegetables.
It makes a lovely light supper all on its own, or can be served with grilled chicken or fish if you're craving something a little more substantial.
How to Prepare Fiddleheads
For those of you who might now be familiar with fiddleheads, here are a couple of things you should know before we get going...
First, note that fiddleheads have been known to cause some pretty nasty digestive symptoms if eaten raw, so be sure to cook them thoroughly to spare yourself any unpleasant repercussions.
Current guidelines suggest a minimum cooking time of 10 minutes if blanching. I know that seems uncomfortably long, but trust me when I say the fiddleheads will still come out tender, not mushy.
Second, if fresh fiddleheads can't be found where you are, fresh asparagus is a perfect substitute. Simply chop the spears into 1" lengths, and cut down the blanching time to about 5 minutes or until bright green and tender-crisp.
Aside from that, there's really nothing standing between you and this risotto. Go forth and stir, friends!
//
Print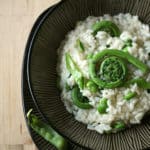 Risotto with Fiddleheads, Favas and Snow Peas
---
Author:

Total Time:

40 mins

Yield:

4

1

x
½

lb fresh fiddleheads

½

lb fava beans, shelled

4 ½ cups

chicken or vegetable broth

2 tablespoons

olive oil

1

medium shallot, minced

2 cups

Arborio rice

½ cup

dry white wine

1 cup

snow peas, trimmed and cut into thin strips
Zest of

one

lemon

1 cup

grated Parmesan
Salt and pepper
---
Instructions
Prepare the fiddleheads by brushing lightly to remove brown scales, then trimming off any woody stems. Wash well under cold running water to remove dirt before cooking.
Bring a large pot of salted water to a boil. Add fiddleheads to the boiling water and cook for 10 minutes. Drain, then plunge immediately into an ice bath. Once cool, place in a small bowl and set aside.
Meanwhile, blanch the shelled favas for 4 minutes. Drain, then plunge into an ice bath. Once cool enough to handle, gently peel away the leathery outer skins. Add to the fiddleheads.
In a small saucepan, bring the stock to a simmer over low heat. Cover and keep warm.
In a large saucepan over medium heat, saute shallot in olive oil until translucent, about 4 minutes. Add the rice and cook, stirring constantly, until evenly coated with oil, about 2 minutes. Immediately add the wine, and cook until the liquid is absorbed, continuing to stir as you go.
Begin stirring in the warm broth, adding it one ladleful at a time. Wait for the first ladleful of broth to be almost fully absorbed before adding the next, stirring frequently to keep risotto from sticking to the pot. Repeat this process until all the broth has been added to the pot, which should take about 25-30 minutes.
Stir in the reserved fiddleheads and fava beans, along with the snow peas. Continue cooking until vegetables are warmed through and risotto is soft and creamy.
Remove from heat and stir in lemon zest and Parmesan. Season with salt and pepper to taste. Serve right away.
(Risotto doesn't reheat very well, so if you do have any leftovers, you really ought to make some risotto cakes instead. Just shape the cold risotto into small patties about ¾" thick, dredge in eggs and seasoned panko breadcrumbs, and then pan-fry in olive oil over medium-high heat until golden and crispy. Serve with a fresh green salad for a ridiculously simple and delicious meal.)
Prep Time:

10 mins

Cook Time:

30 mins

Category:

Main