When I first started this blog back in 2006, food blogging was still finding its groove.
Most people had never heard of The Pioneer Woman or Smitten Kitchen, and the idea of making a whole movie about food blogging hadn't even crossed Hollywood's mind (let alone one starring Meryl Streep). Heck, most of my friends didn't even know what a blog was.
Five years is an awful long time in the blogosphere.
It's also a long time in real life - over those same five years, The Boy and I moved in together, bought a home, and moved from the west side to the east side.
I've gone from late 20s to early 30s, gained about 15 lbs I wish I hadn't, visited two countries I'd never seen before, and lopped off most of my hair only to have it grow back to waist-length again.
I've also become the aunt of an adorable bouncing baby boy, who is just six months old as I write this, but will grow to be an adorable preschooler in yet another five years.
Yep. Five years is an awful lot of time, no matter how you measure it.
So, to celebrate my fifth year as a blogger, albeit a rather inconsistent one, I've decided to make some changes.
For one, I've outgrown my blog's name. I picked "Good Food, Good Wine and a Bad Girl" on a whim, using one of my favourite food-related quotes for inspiration. It's cheeky and kind of cute to call yourself a "bad girl" when you're 27, but at nearly 33 it feels kind of like a desperate attempt to cling to those cuter, cheekier days. I don't even want to think of what it'll seem like when I hit 40.
I also feel like I've outgrown Blogger. It's been a cozy home for the past few years, but it is somewhat limited in terms of plugins and layout, and my design is starting to feel a little stale. As painful as a migration to self-hosted WordPress might be, it's also an gateway to a whole new world of possibilities. Plus it's the perfect excuse to do a full (and long-overdue) redesign.
So, on June 1st, I'm turning the page and starting a new chapter, just a few days shy of my fifth anniversary as a blogger. And I'm really excited about it.
There will be a shiny new name and a shiny new look, but I won't be changing any of the things that really matter. I'm still going to keep sharing simple, un-fussy recipes inspired by fresh ingredients, as well as my usual snarky commentary and pretty photos. Sorry, you're stuck with those.
I'm also planning on thinking outside the recipe box a little more. I'll be talking a little more about other food-related topics that don't necessarily involve a recipe - covering my forays to the farmers market and to local food and drink events, product reviews and ingredient spotlights, and possibly even the odd restaurant review. It's going to be a bit experimental for the next few months while I try to find a new groove, but if you stick around, I promise to make it worth your while.
In keeping with the theme of new beginnings... here's a quiche filled with fresh spring vegetables that are the very embodiment of spring and rebirth. Nothing fussy or fancy, because I didn't want to overpower the delicate sweetness of the leeks or the tender green flavour of the fiddleheads. All it needs is a lightly-dressed green salad to make a simple, yet elegant vegetarian meal.
After all, then it comes to food, not all new beginnings need to be impressive... as long as they're delicious.
PS - If you can't find fiddleheads, fresh asparagus is a perfect (and equally seasonal) substitute.
//
Print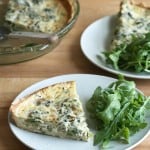 Spring Leek and Fiddlehead Quiche
---
Author:

Total Time:

1 hour 10 minutes

Yield:

8

servings

1

x
Description
This vegetarian-friendly quiche can be served warm as a main course, or at room temperature for picnics or brown-bag lunches. When shopping for fiddleheads, look for a bright green colour, unblemished stems and tightly furled heads (or substitute asparagus, if you can't find fiddleheads).
---
1

unbaked 9" deep-dish pie crust

2 tbsp

butter

1 cup

thinly sliced leeks (

1

medium-sized leek)

1 cup

fresh fiddleheads

3

eggs

½ cup

whipping cream

½ cup

milk

½ tsp

salt

½ tsp

freshly ground black pepper

2 tbsp

finely chopped fresh basil

1 cup

grated mozzarella cheese

¼ cup

grated Parmesan cheese
---
Instructions
Preheat to 350F.
Line pie crust with parchment paper, and fill with pie weights or dried beans. Bake in preheated oven for 15 minutes.
Let the crust rest for 5 minutes to cool slightly, then remove the parchment and pie weights. Prick the bottom of the crust in several places with a fork, then return to the oven to bake for another 5-7 minutes, until lightly browned. Set on a wire rack to cool, and increase the oven temperature to 375F.
Meanwhile, heat butter in a large saute pan set over medium high heat. As soon as the butter begins to foam, add leeks and fiddleheads. Sweat for about 5 minutes, until leeks are soft but not browned.
Scatter a half-cup of shredded mozzarella evenly onto the bottom of the par-baked pie crust. Spoon the cooked leeks and fiddleheads onto the layer of cheese, then top with Parmesan and the remaining half-cup of mozzarella.
In a large bowl, whisk together eggs, cream and milk until combined. Stir in salt, pepper and basil. Gently pour into the crust.
Bake the quiche in preheated oven for 35-40 minutes, until the filling is golden and set around the edges but still slightly wobbly in the centre. Set on a wire rack to cool for about 10 minutes before cutting into slices and serving.
Prep Time:

30 mins

Cook Time:

40 mins

Category:

Mains

Method:

Baked

Cuisine:

Canadian