It's the first Monday of June, which can only mean one thing... yep, it's time for another round of the Secret Recipe Club.
This month's assignment is Food Ramblings, a blog by Elizabeth, who first started blogging to help stick to her resolutions to eating better, cooking more and getting in shape. And it's obviously working, because she's been at it for over two years now!
There are tons of healthy (and a few not-so-healthy) recipes to choose from, so I was fully expecting to have a hard time choosing. I turned out to be pretty much a no-brainer, though, because I realised I had a bag of grits sitting in the pantry calling my name and a bag of shrimp in the freezer that needed eating as soon as I spotted the recipe Lemon-Garlic Shrimp and Grits she adapted from Food Network.
If that's not fate, I don't know what is. (OK, it's maybe just a good excuse to make grits. But I'll take it.)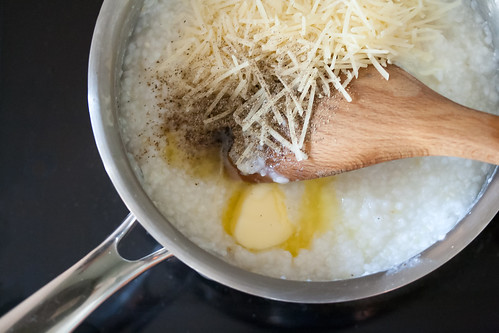 I don't make grits all that often, seeing as they're pretty hard to find up here in Toronto... but every time I do get around to making a pot, I'm always reminded of how delicious they are and how I really ought to work them into my regular rotation.
After all, grits are basically a heartier version of Italian polenta, which is a dish I make pretty much all the time.
This particular recipe actually takes advantage of the similarities between grits and polenta, since it's basically an Italian-inspired twist on the Southern comfort food favourite.
The grits are enriched with butter and Parmesan cheese, while the shrimp are pan-seared and tossed with a scampi-style sauce of lemon and garlic.
It's a perfect combination. The flavours are fresh and lively, but the finished dish still has that hearty stick-to-your ribs quality that I expect from a proper shrimp and grits.
The only change I made to the original recipe was to throw in some bright green fiddleheads to give the dish a boost of fresh spring flavour, which has the added bonus of effectively turning this into a one-bowl meal.
All you need is a glass of crisp white wine, and you've got yourself a meal that's equally fit for a busy weeknight dinner or a fancy weekend dinner party.
On a side note, this will actually be my last post with the Secret Recipe Club.
It's been a great ride this past couple of years, and I've discovered some really phenomenal blogs along the way, but I've decided it's time to step aside and let someone else have a turn.
I'll miss the excitement of perusing my buddy's blog to pick just the right recipe and then waiting for reveal day to see which recipe of mine got picked, but I'll still be living vicariously by checking out everyone's reveal day posts. Thanks for the good times (and for the good eats), everyone!
//
Print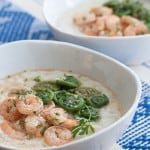 Lemon-Garlic Shrimp and Grits with Fiddleheads
---
Author:

Total Time:

35 mins

Yield:

4

1

x
Description
This dish combines the classic Southern-style shrimp and grits with the bright flavours of Italian shrimp scampi. An optional addition of sauteed fiddleheads adds a touch of seasonal spring flavour.
---
Grits:
3 cups

water

¾ cup

stone-ground grits (not instant)

1 tsp

salt

¼ cup

grated parmesan cheese

2 tbsp

butter

1 tsp

pepper
Lemon-Garlic Shrimp
1 ¼

lbs raw shrimp, shelled, tailed and deveined

½ tsp

salt

½ tsp

pepper

1

lb fresh fiddleheads (optional)

1 tbsp

butter

3

cloves garlic, minced
Pinch of cayenne pepper

2 tbsp

water

1 tbsp

lemon juice

2 tbsp

finely chopped fresh parsley
---
Instructions
Prepare the Grits:
In a medium-sized saucepan set over high heat, bring the water to a boil. Slowly whisk in the grits and salt until incorporated. Reduce heat to low and simmer, stirring occasionally, until the grits are soft and have absorbed most of the water. Stir in the parmesan, butter and pepper. Taste and adjust the seasoning with more salt and pepper, if desired. Remove from heat and cover to keep warm while you prepare the shrimp.
Make the Shrimp and Fiddleheads:
Meanwhile, season the shrimp with salt and pepper.
If adding fiddleheads, prepare them by brushing lightly and trimming the woody stems. Wash well under cold running water to remove any dirt or particles. In a large pot of boiling salted water, blanch the fiddleheads for 5 minutes, or until bright green and tender. Drain, then plunge immediately into an ice bath to stop the cooking process.
In a large skillet set over medium-high heat, melt the butter until it starts to sizzle. Add the shrimp, garlic and cayenne along with the blanched fiddleheads (if using), and saute for 3-5 minutes or until the shrimp are pink and opaque in the centre. Remove from the heat and stir in the water, lemon juice and parsley. Toss to coat the shrimp with the sauce.
To serve, spoon the grits into 4 shallow bowls, and top off with shrimp and sauce. Sprinkle with a little more parsley, if desired, and serve immediately.
Prep Time:

10 mins

Cook Time:

25 mins

Category:

Main