When it comes to really popular stuff, I'm notoriously perverse.
The hottest new restaurant in town that everyone is lining up for? Meh, not worth the wait. That new band that everyone loves the crap out of? They're okay, I guess. That show that everyone is raving about around the water cooler? I just can't get into it.
(Seriously, what is the deal with Girls? I can't decide if the characters bore me, annoy me or both.)
So considering that everyone loses their ever-loving mind when the first crop of ramps arrives at the market each year, I've always assumed that I'd probably be underwhelmed and stayed out of the feeding frenzy.
But I'm a big girl, and I'm perfectly willing to admit when I'm wrong. And let me tell you, boys and girls, when it comes to ramps... well... I was wrong. So wrong. Like, socks with sandals wrong.
Seriously, ramps are freaking amazing. I'm genuinely sad I didn't jump on this bandwagon sooner.
Wild Ramps, Spring's Hottest Commodity
So, what's a ramp, you ask?
Also known as wild leeks, ramps are a member of the allium family, which also includes onions, scallions and garlic.
They grow wild throughout Eastern Canada early in the spring, often before anything else emerges from the ground. Because they must be foraged and can be quite hard to find, they're a precious commodity among food-lovers, especially since the season is blink-and-you'll-miss-it short.
Their pungent flavour is somewhere in the vicinity of spring-onion-meets-garlic, which makes them a perfect substitute for green onions in most recipes... like, say, Chinese-style scallion pancakes, those pan-fried discs of flaky deliciousness that are a staple on dim sum menus.
Making Flaky Dim-Sum Style Pancakes
Scallion pancakes (or rather, ramp pancakes, as this variation should rightfully be called), might just be the most perfect vehicle for showing off the pungent, garlicky bite of fresh ramps, with their crisp golden-speckled outside and flaky multi-layered inside.
There's a bit of a trick to assembling these pancakes if you're a first-timer, so don't feel too bad if your first pancake or two come out a little lopsided... they'll still taste just as good, which is all that matters in the end.
And since practice makes perfect, think of this as an excuse to make a couple more batches until you get the hang of it. :)
(If you're a visual learner, here's a handy-dandy step-by-step photo tutorial from The Kitchn to help you out.)
Trust me, once you've figured it out, you'll probably want to whip up a batch pretty much every night for the rest of ramp season. You may find it difficult to resist the urge to devour the pancakes as they come out of the oil, even if it comes at the expense of burning your tongue.
I guess it's a good thing that's just another week or two, huh?
//
Print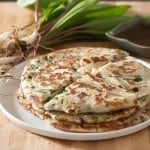 Chinese-Style Ramp Pancakes
---
Author:

Total Time:

50 mins

Yield:

4

1

x
Description
Ramps (aka wild leeks) take the place of scallions in this new-school twist on the classic dim sum staple.
---
Ramp Pancakes:
2 ¼ cups

all-purpose flour

½ tsp

salt

1 cup

boiling water

2 tbsp

sesame oil

1 cup

thinly sliced ramps

½ tsp

salt
Canola oil, for frying
Dipping Sauce:
2 tbsp

soy sauce

2 tbsp

rice wine vinegar

1 tbsp

chili garlic sauce

½ tsp

grated ginger

2 tsp

sugar
---
Instructions
In a large mixing bowl, stir together the flour and salt. Continuing to stir as you go, slowly pour in a steady stream of boiling water, until the dough pulls together into a ball.
Transfer the dough to a lightly floured surface, and knead 10-12 times or until smooth. Divide into two equally-sized pieces, and roll each one into a ball. Cover with damp cloth and let rest for half an hour.
Once the dough has rested, roll the first ball into a 16 x 10-inch rectangle on a lightly floured surface.
Gently brush half of the sesame oil onto the rolled out dough, then sprinkle evenly with half of the chopped ramps and half of the salt.
Starting from the long end of the rectangle, roll the dough up tightly jelly-roll style, creating a long rope of rolled-out dough. Using a sharp knife, cut the rope in half. Repeat this process with the second piece of dough.
Working with one piece at a time, coil each piece to create a spiral, and gently flatten it with your hand. Using a rolling pin, roll out the spiral into a 5-inch pancake.
Heat a small amount of canola oil in heavy-bottomed skillet over medium-high heat. When the oil shimmers, gently slide in the first pancake. Cook for 2 minutes on each side, or until golden brown and crisp.
Meanwhile, prepare the dipping sauce by whisking together all of the ingredients in a small bowl until combined.
Cut the pancakes into wedges and serve immediately with a small bowl of dipping sauce alongside.
Prep Time:

40 mins

Cook Time:

10 mins

Category:

Appetiser