After blogging for so many years, it's easy for some of my older posts to fall through the cracks and not get the love they deserve.
For instance, look at my Warm Raspberry-Chocolate Pudding Cake. It's the kind of recipe that should get pretty regular traffic - it's stupidly easy to make, tastes amazing, and it's super chocolatey.
What more could anyone ask for? (Okay, maybe a million dollars and a pony, but I haven't figured out the recipe for that.)
And yet, it gets basically zero clicks on any given day. Just goes to show that trying to figure out what kinds of recipes people are actually interested in is a weird and unpredictable business at the best of time.
(In case anyone's curious, my perpetually popular posts are Quick Salmon Chowder, Lemon-Ricotta Pasta with Seared Scallops, and Portuguese Braised Peas with Eggs, which tells me you guys are waaaaay more into the savoury stuff.)
Despite all that, it really felt like this oldie-but-a-goodie deserves a second shot at fame, so I decided to dust it off and give it a little makeover in honour of National Chocolate Day.
Like the original, the version magically bakes up into layers of fudgey cake and the gooey pudding sauce, but swaps out the raspberry swirl for a Mexican-inspired blend of cinnamon and chipotle.
And because I couldn't stop there, I used piping-hot coffee instead of boiling water to give the sauce a little more depth and flavour.
It's warm and comforting, and tastes just like Mexican hot chocolate and chocolate cake had a delicious baby together. I may or may not have eaten an entire bowl while it was still a little too hot to eat. I also may or may not have burned my tongue in the process. I regret nothing.
While I don't recommend eating this cake straight from the oven, like I did, I do recommend making it ASAP and eating it as soon as it's cooled down to a more manageable temperature. Top it with a dollop of whipped cream if you're fancy, or just eat it as it is.
As far as second chances go, I'd say this one's a keeper.
//
Print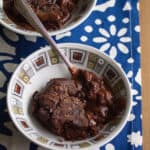 Mexican Hot Chocolate Pudding Cake
---
Author:

Total Time:

50 minutes

Yield:

6

servings

1

x
Description
This old-school dessert magically separates into a layers of fudgey cake and a warm chocolate sauce. Cinnamon and chipotle powder give the sauce the same spicy kick as a mug of Mexican-style hot chocolate.
---
Cake
1 cup

flour

¾ cup

granulated sugar

¼ cup

cocoa powder

2 tsp

baking powder

¼ tsp

salt

½ cup

milk

2 tbsp

melted butter

½ tsp

vanilla extract
Topping
½ cup

lightly packed brown sugar

¼ cup

granulated sugar

¼ cup

cocoa powder

1 tsp

ground cinnamon

¼ tsp

ground chipotle powder

1 cup

very hot fresh-brewed coffee

¾ cup

milk
---
Instructions
Preheat oven to 350F. Lightly grease an 8×8-inch baking dish.
To make the cake layer, sift together the flour, sugar, cocoa powder, baking powder and salt into a large bowl. Pour in the milk, melted butter, and vanilla extract, and stir until combined.
Scrape the batter into the prepared baking pan, and spread it out into a more or less even layer.
Prepare the topping by whisking together the brown sugar, granulated sugar, cocoa powder, cinnamon and chipotle in a small bowl. Sprinkle evenly onto the batter. Slowly pour in the hot coffee and milk, covering the batter and topping. (Your cake will look like a watery mess at this point. That's totally normal. Keep calm and carry on.)
Bake in preheated oven for 40 minutes, or until the mixture has separated into a dry cake-like layer on top and a soft pudding-like layer on the bottom. Let stand for about 15 minutes, then spoon out into individual serving dishes, topping with a dollop of whipped cream if you're feeling extra-fancy. Serve right away, while the cake is still warm.
Prep Time:

10 mins

Cook Time:

40 mins

Category:

Desserts
//
It's National Chocolate Day! (Officially, I mean... unofficially, it's National Chocolate Day every damn day at my house.) To celebrate, I've joined up with some of my favourite bloggers to share 15 irresistibly chocolatey treats!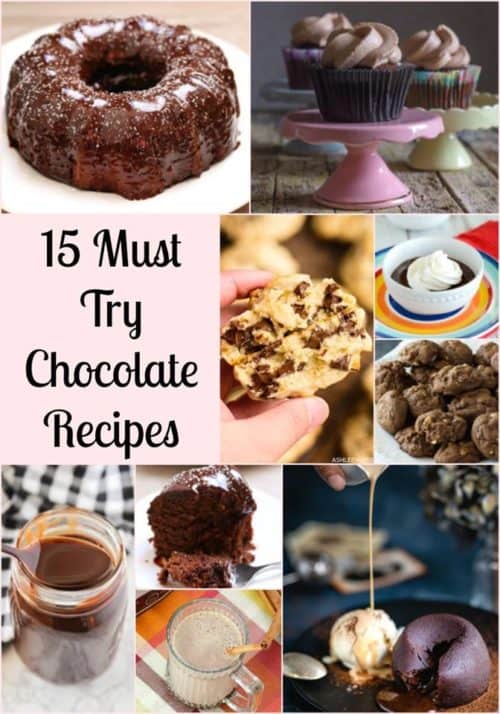 We've got 10 brand-new recipes from the Celebrating Food crew:
And to round things out, 5 more oldies-but-goodies from my archives that deserve a little love: