This is a humble dish. In fact, I'd say it verges on being downright homely, despite the bright pops of green peas against the brick-red sauce, the pepper-speckled egg whites and the dribble of canary-yellow yolk revealed when fork meets egg.
It's definitely not what I'd serve if the Queen ever came over for dinner (not that it's a possibility, mind you, but I do like to be prepared for all eventualities).
It's the kind of dish you eat when you're surrounded by your nearest and dearest, and want to make something as un-fussy as possible so that you can devote yourself to what's truly important - the people sitting around the table with you, rather than a finicky dish of deconstructed something-or-other than requires your full attention.
Then again, it's also the kind of dish you can make when you're on your own, and just want to curl up with a good book and a purring cat, so that you can soothe your woes after a yucky day at work.
On those evenings, I firmly believe a simple meal that requires little effort, few ingredients and is accompanied by a big hunk of crusty bread is exactly what fits the bill. There's a zen-like serenity to be found in the small rituals of this dish, like shelling peas, cracking eggs and mopping up a saucy plate with the last bit of bread.
It's the kind of dish I remember eating on many a schoolnight after piano lessons or swim practice, perched atop one of the solid farmhouse-style chairs that sat around the giant table in our dining room, legs swinging back and forth in mid-air. (Though, in retrospect, it may just be that the table and chairs were a rather normal grown-up sort of size, whereas I wasn't.) A last-minute dish that could be made at the last minute to feed two starving, growing, impatient girls.
Most of all, though, it's a dish I remember eating with my great-aunt-a-few-times-removed, Deolinda, in her cozy farmhouse kitchen in Portugal on a sunny May afternoon during my last trip to Portugal.
We'd spent a few hours around the kitchen table, shelling fresh peas from her garden and trading family stories and updates. She apologized over and over for the humbleness of the dish, and how unsuited it was for a special guest who had come all the way from Canada... nevermind my assurances that it was the one thing I wanted her to make above all others.
The truth is, no matter how hard I try, I cannot make my braised peas taste quite like Deolinda's.
This, my friends, is happy food. Pure and simple.
Oh, and a quick note on the ingredients - chourico is a fully cooked pork and garlic sausage commonly used in Portuguese cooking. It should be fairly easy to find in any Portuguese or Brazilian neighbourhood, but Spanish-style chorizo will do just fine if that's all you can find... the two are more or less interchangeable. I'm just a snob like that.
If you absolutely must, you can substitute some other kind of fully-cooked spicy pork sausage, such as andouille or linguica. Or omit it altogether and add an extra dash of smoked paprika for a vegetarian version.
But please, whatever you do.... don't use Mexican chorizo, which is an entirely different thing altogether, being a raw, uncured sausage made from ground pork.
As for the peas, fresh sweet peas are the best option when they're in season (obviously), but frozen peas will do just as well otherwise - just chuck them, still frozen, into the pan and simmer for a minute or two before cracking in the eggs.
Canned tomatoes will also do in a pinch, when you're in complete desperation mode and simply want a quickly assembled dinner.
Whatever you do, though, just don't forget the bread to mop up the sauce and the rich egg yolks. On that, I must insist.
//
Print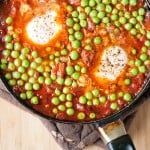 Portuguese-Style Braised Peas with Eggs
---
Author:

Total Time:

25 minutes

Yield:

4

1

x
Description
This simple dish tastes best when made with fresh sweet peas and ripe tomatoes, but frozen peas and canned tomatoes can be substituted in a pinch. For a vegetarian version, omit the chourico sausage and add another tsp of smoked paprika.
---
1

chourico sausage, sliced (about

1 ½ cups

)

1 tbsp

olive oil

1

medium onion, chopped

2

cloves garlic, minced

1

red hot chile pepper, seeded and minced (optional)

3 tbsp

dry sherry or red wine

2

large plum tomatoes, diced

2 cups

fresh (or frozen) peas

1 tsp

smoked paprika (hot or sweet)

1

bay leaf
Salt and pepper, to taste

4

eggs
Chopped fresh parsley, for garnish (optional)
---
Instructions
In a large non-stick skillet over medium-high heat, cook the chourico for 5 minutes or until slightly browned. Add olive oil, onion, garlic and chile pepper (if using). Continue cooking for another 3 to 4 minutes, or until onion is soft and translucent. Add sherry or wine to the pan, and deglaze, scraping up any browned bits from the bottom of the pan.
Stir in tomatoes, peas, paprika, bay leaf and salt and pepper to taste. Bring to a boil, then reduce heat to low and simmer uncovered, stirring occasionally, for 10 minutes or until peas are almost cooked through and sauce has slightly thickened.
Using a large spoon, create four hollows in the pea mixture, and carefully break an egg into each hollow. Cover skillet and simmer until the eggs are cooked as desired (7 minutes should be enough for a soft, runny yolk; 10 minutes for a hard, crumbly yolk).
To serve, arrange thick slices of fresh crusty bread or toasted English muffin halves on four plates. Spoon some of the braised peas onto the bread on each plate, then top each serving off with an egg. Sprinkle with a little fresh parsley, if you have some.
Prep Time:

10 mins

Cook Time:

15 mins

Category:

Mains