Welcome back to Christmas Week, friends!
Today's recipe is inspired by one of my favourite wintertime rituals, which involves curling up with a big mug of hot cocoa topped off with a big fat marshmallow.
My version of hot cocoa is as straightforward as it gets - just hot milk with cocoa powder and sugar whisked in, though I do add a dash of ground cinnamon to give it a little extra oomph.

This year, though, winter's been taking its sweet time showing up.
Not that I'm complaining about how mild the weather's been so far, but it would be nice to get at least one properly chilly evening where that big mug of cocoa feels like pure bliss.
These hot cocoa brownies are my attempt to bridge the gap until we get some proper hot chocolate weather.
How to Get Your Brownie And Hot Chocolate fix in One
Admittedly, there isn't any substitute for the pure comfort you can get from a steaming-hot mug of cocoa, but I like to think these brownies cover all of the other bases.
They're neither warm nor comforting, but they are gooey and fudgey and deeply chocolately, with that little hint of cinnamon that makes my hot cocoa so delicious.
And because they're made with cocoa powder, they're easy enough to make at a moment's notice. Everyone keeps cocoa, butter, sugar, eggs and flour on hand at all times, right? (And if you don't, think of these as a good reason to get into the habit.)
Honestly, as far as seasonal indulgences go, this might just replace my beloved mug of hot cocoa.
Though... on second thought... maybe I should just combine the two into one super-indulgent tradition. There's no such thing as too much hot cocoa, right? Hello winter, goodbye diet!
What's Hot Cocoa Without a Marshmallow?
I couldn't possibly dream up a hot cocoa brownie without adding a layer of gooey marshmallows, toasted to a perfect golden-brown under a hot broiler. I think it's a pretty sweet upgrade from the plain un-toasted marshmallows I normally use in my hot cocoa.
If you're not a fan of toasted marshmallows (you crazy person, you), just skip the broiler, but you should still pop the marshmallow-topped brownies back into the oven to soften the marshmallows so you can properly smoosh them, though. The end result will be a softer, sweeter, gooey-er topping.
And if you don't like marshmallows at all, why are you even here? Go make a regular brownie, you heathen! (I'm kidding, but really... this recipe is all about the marshmallows.)
More Creative Brownies for the Holidays
Brownies may not seem like the most traditional Christmas treat, but I think there's always room for a little more chocolate on the menu, especially when it's paired with one or more festive flavours. Don't you agree?
//
Print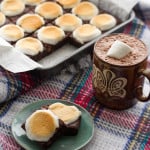 Hot Cocoa Brownies
---
Author:

Total Time:

40 mins

Yield:

1

6

1

x
Description
Get your hot cocoa fix in brownie form with these gooey, fudgey brownies topped off with toasted marshmallows.
---
½ cup

unsalted butter

¾ cup

brown sugar

½ cup

granulated sugar

¾ cup

unsweetened cocoa powder

2

large eggs

1 tsp

vanilla extract

½ tsp

ground cinnamon

½ tsp

salt

½ cup

all purpose flour

½ cup

milk chocolate chips

8

large marshmallows, cut in half
---
Instructions
Preheat oven to 350F. Line an 8 inch square pan with parchment, leaving an overhang on the sides to help lift out the brownies.
In a medium saucepan, melt the butter over medium low heat. Stir in the brown sugar, granulated sugar, and cocoa powder until well combined. Remove from heat and set aside to cool for 5 minutes.
Once the butter mixture has cooled slightly, stir in the eggs, one at a time, beating well after each addition. Add the vanilla and stir until combined. Add the flour, and mix until just barely combined. Fold in the chocolate chips.
Scrape the batter into the prepared pan, and bake in preheated oven for 25-30 minutes or until a toothpick inserted into the centre comes out with a very moist crumb. Arrange the marshmallows on top of the brownies, cut side down, and return to the oven for 2-3 minutes or until the marshmallows are soft and gooey. Using the back of a spoon, press each marshmallow down slightly, then broil for just a few seconds or until the marshmallows are golden-brown.
Let the brownies cool off completely in the pan, then lift out using the parchment paper and cut into 16 squares.
Prep Time:

10 mins

Cook Time:

30 mins

Category:

Dessert
//
But wait... there's more! Don't forget to check out all of the festive treats my fellow Christmas Week bloggers are sharing today: