Welcome back to Christmas Week! My last entry for this year's holiday sugar-binge extravaganza is these lovely little gingerbread-scented sugared almonds.
That's right. This is it for Christmas Week! I'm still kind of stunned at how quickly these last few days flew by. It's been all kinds of busy this week, and the next week promises to be even busier since it's the home stretch before I take the rest of the year off work. (Work work, that is. Not blog work.)
Anyway, let's get back to these almonds. They're crunchy and sweet and a little bit spicy, and will fill you entire house with the most delicious gingerbready smell long after they're done baking.
It's better than buying an aromatherapy candle, especially since you actually get something edible at the end.
They don't look like anything special, granted, but that's so they to sneak past all of your defences and ruin your diet.
I've fallen prey to this trick several times by innocently grabbing a couple of almonds as I walk past the bowl to munch on, only to find myself walking by again to grab a few more... and then a few more... and eventually give up on manners and jam handfuls into my mouth until the entire batch is gone.
Seriously, these things should come with a warning label or something.
In theory, you can easily package them up in pretty glass jars or small gift boxes to give out as hostess gifts for the holiday, assuming you actually have to stop yourself from eating the whole batch. Which, as I said earlier, is easier said than done in my case.
Thankfully, they're so stupidly easy to prepare that you can have another batch ready to go in minutes.
(This is where those enormous bags of super-cheap almonds from Costco come in really handy. I bet you always wondered why anyone ever buys that many almonds, right? This. This is why.)
Seriously, just get into the kitchen and make yourself a batch already. Just don't say I didn't warn you.
//
Print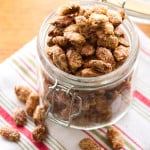 Candied Gingerbread Sugared Almonds
---
Author:

Total Time:

35 mins

Yield:

1

2

1

x
Description
These gingerbread-scented sugared almonds are the perfect snack for all your festive gatherings, and can also be packaged up in pretty jars for a simple homemade gift for friends, coworkers and anyone else in your life who needs a little sweetness for the holiday.
---
1

large egg white

3 cups

raw almonds

½ cup

sugar

¼ cup

brown sugar, packed

2 tsp

ground ginger

½ tsp

ground cinnamon

½ tsp

allspice
Pinch salt
---
Instructions
Preheat oven to 300F. Line a baking sheet with parchment paper; set aside.
In a small bowl, whisk together egg white until frothy. Add the almonds and stir to coat, then add the white sugar, brown sugar, ginger, cinnamon, allspice and salt, and stir until well combined.
Using a slotted spoon, scoop the almonds onto the prepared baking sheet, and spread out into an even layer. Bake in preheated oven for 25-30 minutes, stirring after 15 minutes to break up any clumps that have formed. Let cool completely before transferring to a tightly sealed container, or packaging up into pretty jars or boxes for gifts.
Prep Time:

5 mins

Cook Time:

30 mins

Category:

Snack
//
Sweet tooth still not satisfied? Here's what the rest of today's participants have cooked up for you: