For as long as I've had a big-girl job (which is longer than I care to admit), I've always celebrated the holidays by whipping up a batch of sweet treats for my coworkers.
I try to change it up from one year to the next. Often, it's biscotti or snickerdoodles, but when things get really crazy at the office, this quickie 5-Minute Fudge is an honest-to-goodness life saver.
Like most people, I was first introduced to the plain chocolate version of this sweet treat, but I've come to rely on this sweetly spiced twist flavoured with speculoos cookie butter for last-minute gift-giving.
It's a wonderful change of pace. I used white chocolate to create a more neutral base for the cookie butter, but even so, the cookie butter flavour isn't as intense as I'd expected. Still, it adds a really lovely hint of warm holiday spices that's perfect for this time of year.
I often complain that the months seem to fly by faster and faster each year, but it's never more true than the last few weeks of December, when things seem to ramp up into a frantic whirlwind dash of parties and work and get-togethers with friends.
In an ideal world, I'd prepare for the craziness and stockpile a few different treats to bring along as hostess gifts or for the inevitable work potluck party, but I'm way too much of a procrastinator for that.
Does This Fudge Really Take 5 Minutes?
Actually, this fudge takes all of 3 minutes in the microwave, but I gave you a little extra time to pour it out into the pan and smooth it out into a nice, even layer.
But it honestly just doesn't get any easier than this - three ingredients, one microwave and five minutes equals one awesome pan of gooey sweet fudge. I may not be very good at math (or at planning ahead), but that's one equation I can work with.
How to Pack Up Cookie Butter Fudge for Gift-Giving
The dollar store is your friend if you're looking to pack up this fudge for gift-giving.
For smaller gifts at work, I like to make individual bundles by wrapping up a few squares of fudge in printed cellophane and tying them off with curled ribbons. When time is tight, snack sized zip-top bags are a great alternative, especially if you can find ones that are decorated with a holiday print.
For bigger presents like hostess gifts or for holiday gift exchanges, I pack up the fudge in a pretty tin or gift box lined with parchment paper.
How to Customize Your Cookie Butter Fudge
As you might expect, this fudge recipe is very forgiving, and lends itself well to customization. And since it only takes 5 minutes to whip up a batch, you can make multiple variations in a really short amount of time.
You could swirl in some crushed gingersnap cookies onto the fudge before you pop it into the fridge to help intensify the flavour and add a little crunch, or switch up the white chocolate chips to create different flavour combinations.
I'm personally thinking of going with butterscotch chips next time, just to add a more intense caramel flavour to the fudge. Dark chocolate chips would be wonderful too, though, since you'd basically get a nice gingerbread-spiced chocolate fudge.
Or if you're feeling really ambitious, you could do half-batches with two kinds of chocolate, and then swirl everything together to make an extra-fancy two-tone fudge. The only limit is the size of your fridge (and the size of your belly)!
//
Print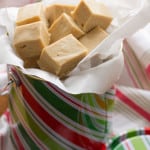 5-Minute Cookie Butter Swirl Fudge
---
Author:

Total Time:

5 mins

Yield:

2

4

1

x
Description
Sweet treats don't get easier than this quickie cookie butter fudge. All you need is three ingredients, one microwave, and five minutes of free time.
---
2 ½ cups

white chocolate chips

1

can (ml / 14oz) condensed milk

½ cup

speculoos cookie butter
---
Instructions
In a large mixing bowl, combine the white chocolate and condensed milk.
Microwave on High for about 30 seconds and stir briefly, then continue microwaving in 30-second bursts and stirring in between until the chocolate is melted and smooth. (The total amount of time will vary depending on your microwave, but this takes about 3 minutes in mine.) Stir in the cookie butter spread.
Line an 8 x 8 inch pan with parchment paper. Pour the fudge mixture into the pan and smooth into an even layer. Cover with plastic wrap and chill for at least 3 hours or until firm enough to slice, then cut into squares and package up in an airtight container or divvy up into individual gift boxes.
Prep Time:

3 mins

Cook Time:

2 mins

Category:

Candy