It may not feel like it outside, but according to my calendar, winter is officially here... and that means Christmas is just around the corner.
It also means we've made our annual pilgrimage to Rhode Island to spend the holidays with my sister and her family, laden down with gifts for our nephews and Canadian treats for my sister. In a few days, we'll return equally laden down with bellies full of chowder and clam cakes and grilled pizza, which seems like a reasonably good trade to me.
Before we left, I whipped through the house in a last-minute frenzy of holiday preparations. I was like a whirling dervish of domesticity, tidying and cleaning and washing and dusting and folding and putting away.
Amidst all the preparations, I also made sure one last batch of this toasted marshmallow syrup was made and photographed. Because priorities. And because this syrup is really ridiculously good.
The inspiration comes from a toasted marshmallow latte they make at one of the fancy coffee places near my office during the colder months, which I am terribly in love with.
I only indulge once in a while, though, because making it a regular habit would land me in the poorhouse (or maybe the fat farm).
I don't normally care all that much for overly sweet coffee drinks, but there's something about the burnt sugar notes of the toasted marshmallow that keeps it from being downright cloying, especially since I skip the swirl of toasted marshmallow whipped cream they normally add.
Thankfully (or maybe not so thankfully, as far as my waistline is concerned), I recently discovered that toasted marshmallow syrup is actually pretty easy to make at home, and also doubles a good excuse to bust out the kitchen torch and play pyromaniac for a few minutes.
This will probably seem completely obvious, but it's literally as simple as melting whole toasted marshmallows into a basic simple syrup.
Once all the burnt bits are strained out, the end result is this beautiful amber-coloured syrup that tasted and smells just like the real deal... sweet and slightly smoky and skating just along the edge of burnt.
It's the perfect pairing for this month's featured Lavazza coffee, Gran Selezione, a robust blend of Rainforest Alliance Certified coffee beans with rich, chocolatey notes.
All you need to transform this duo into a homemade marshmallow latte is a generous pour of steamed milk. A pretty mug is optional, though I do find it somehow makes things taste slightly better than an ordinary mug.
And since this time of year is all about sharing the love and spreading good cheer, I can't help but point out that it makes a lovely gift, whether it's a single bottle of syrup with a pretty handwritten tag, or nestled into a cozy coffee-lovers gift basket with a package of Lavazza coffee and a set of hand-painted coffee cups.
Just make sure to save a bottle for yourself, because I'm sure you've earned yourself a treat or two as well.
And on that note, I'm signing off for the rest of the holidays to enjoy some chowder, coffee milk and snuggles with little nephews. You can follow along on Instagram, or catch up once I'm back to my semi-regular posting schedule in the new year.
Wishing you all the happiest of holidays, from my kitchen to yours. (Or a merry Chinese-food-and-a-movie-day, if that's more your speed.)
xo,
Isabelle
//
Disclosure: I am being compensated for my participation in the Lavazza Passionista blogger program. All opinions, as always, are entirely my own. You can get more info on Lavazza products at https://www.lavazza-canada.ca/, or by following Lavazza on Facebook.
//
Print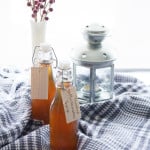 Homemade Toasted Marshmallow Syrup
---
Author:

Total Time:

15 mins

Yield:

8

1

x
Description
This simple syrup adds toasted marshmallow flavour to lattes, milkshakes and even cocktails. Package it up in pretty glass bottles for holiday giftgiving.
---
1 cup

sugar

1 cup

water

8

large marshmallows

1 tsp

vanilla extract
---
Instructions
In a small saucepan set over medium heat, bring the sugar and water to a boil. Simmer, stirring occasionally, for about 5 minutes or until the sugar is completely dissolved.
While the syrup is simmering, thread the marshmallows onto a metal skewer and use a kitchen torch or the burner of a gas stove to toast the marshmallows until browned all over. (To get the best results, you want to get the marshmallows slightly scorched in spots, but not completely burnt and black) Stir the marshmallows into the hot syrup, and cook for another 2-3 minutes or until the marshmallows have dissolved.
Remove from heat and strain through a fine mesh strainer into a large glass measuring cup. Let cool completely, then stir in the vanilla extract.
Pour the cooled syrup into glass bottles or jars with tight-fitting lids. The bottled syrup will keep in the fridge for up to 1 month.
Notes
To make this syrup into a toasted marshmallow latte, combine 1 oz of syrup with ¼ cup strong-brewed Lavazza Gran Selezione coffee (or a double shot of your favourite espresso) and top up with steamed milk.
Prep Time:

5 mins

Cook Time:

10 mins