It occurred to me the other day that I've been holding out on you guys... all these years, and I still haven't published a sticky bun recipe. Shame on me.
I have, of course, published a couple of different variations on cinnamon buns, but that's not quite the same thing. Some people might think otherwise, but they're just plain wrong. Sorry, folks.
Not that I have anything against cinnamon buns, because they're perfectly delicious. They're just a completely different class of bun.
What's the Difference Between a Cinnamon Bun and a Sticky Bun?
Cinnamon buns and sticky buns both start the same base - a rich brioche dough made with milk, butter and eggs, which bakes up tender and fluffy and sweet.
Once the dough has gone through its first rise, it's rolled out into a rectangle and spread with a filling made of butter and sugar, and then rolled up and cut into thick slices.
However, there is one very important difference... Where cinnamon buns get their sweetness and gooeyness from their filling, sticky buns up the ante by adding an extra layer of gooey goodness right on the bottom of the pan, which turns into a glorious caramel topping when you invert the pans onto the serving plate.
Everything is Better with Bacon... Especially Sticky Buns
This particular recipe starts with my trusty basic brioche dough (the same one I use for most of my sweet buns and breads), and turns it into a classic sticky bun.
But since today is National Bacon Day, I couldn't resist jazzing it up by using crispy bacon bits in both the filling and the topping.
And because that wasn't quite enough bacon for my tastes, I went ahead and filled my pans with a bourbon-spiked bacon fat caramel that is a nothing short of magical. It's sweet and salty and utterly glorious.
(Yes, you read that right. Bacon. Fat. Caramel. I am totally going to figure out if this can be made into chewy caramel candies, because how awesome would that be?)
How to Make Sticky Buns in Advance
These buns are best eaten the same day they're made, when the dough is at its peak of pillowy softness.
However, if you're like me and aren't a fan of early mornings, allow me to introduce you to a little trick of mine... just prep the dough the night before, then cover the bowl tightly with plastic wrap and let it rise overnight in the fridge.
Then, in the morning, take the bowl out of the fridge, prep the caramel while the dough warms up a little, then finish the rest of the steps as per usual.
How to Keep Your Sticky Buns from Getting Stuck
Sticky buns have to be unmolded right after they come out of the oven, while the caramel is still hot and liquid.
If you wait too long to do the flip, the caramel will firm up and the buns will stay stuck in the pan - if that's the case, just pop the pan back into a hot oven for 5 minutes to warm the caramel back up, then try again.
No matter how careful you are, you'll always end up with a few bits of bacon and chopped walnuts still stuck to the pan, along with some residual caramel. This is totally okay. Just scoop these out with a silicone spatula, and sprinkle them overtop of the finished buns.
Hello, gorgeousness. Don't you wish it was Bacon Day every day?
//
Print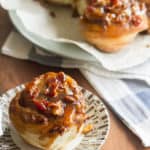 Bourbon-Maple Bacon Sticky Buns
---
Author:

Total Time:

1 minute

Yield:

16

buns

1

x
Description
Everything is better with bacon... and that goes double for these super-fluffy sticky buns topped with a gooey bourbon-maple caramel, chopped pecans and lots of crisp-fried bacon.
---
Dough:
1 cup

milk

¼ cup

unsalted butter

1

package (2¼ tsp) rapid-rise yeast

½ cup

sugar

2

eggs

1 tsp

salt

½ tsp

fresh-ground nutmeg

4

-

4½

cups flour, divided
Maple-Bourbon Caramel:
8

strips bacon

½ cup

maple syrup

½ cup

packed brown sugar

2 tsp

bourbon (optional)

½ cup

chopped pecans
Filling:
¼ cup

melted butter

½ cup

packed brown sugar
---
Instructions
Prepare the Dough:
In a small saucepan set over medium heat, warm up the milk and butter until the butter is melted and small wisps of steam are just starting to come off the surface of the milk.
Pour into bowl of stand mixer fitted with a dough hook. Add yeast and let stand until frothy, about 4-5 minutes.
Add sugar, eggs, salt and nutmeg, and beat until well combined. Working on low speed, add 4 cups of flour, and continue mixing the mixture forms into soft and elastic dough that pulls away from the sides of the bowl, adding the remaining half-cup flour a tablespoon at a time if the dough feels too sticky or isn't coming together.
Shape the dough into a ball and transfer to a lightly oiled large mixing bowl, turning to coat the top with oil. Cover with a clean dishtowel, and let rise in a warm, draft-free spot until doubled in size, about 1 ½ hours.
Make the Caramel:
While the dough is rising, prepare the caramel.
Lightly butter two 8-inch round cake pans.
In a large, deep saute pan set over medium-high heat, fry the bacon strips until crisp. Using a slotted spoon, transfer the bacon to a plate lined with paper towel to drain, leaving the fat in the pan. (You should have roughly ½ cup bacon fat.)
Stir in the maple syrup and brown sugar. Cook, stirring frequently, until the brown sugar is dissolved and the mixture starts to bubble. Cook for 2 minutes longer, then remove from heat and stir in the bourbon (if using). Pour the hot caramel into the prepared pans, dividing evenly.
Roughly chop 4 bacon slices. Scatter the bacon pieces and the chopped pecans over the caramel in the pans.
Fill and Shape the Buns:
Punch down dough. Transfer to clean, lightly floured work surface, and roll out to 15×11-inch rectangle.
In a small bowl, mix together the melted butter and brown sugar. Spread this mixture onto the dough, leaving a small border around the edges. Finely chop the remaining 4 strips of bacon, and sprinkle over the filling.
Starting with one of the long sides, roll the dough into log, then pinch the seam closed to keep it rolled up. Using a length of dental floss or a sharp knife, cut the dough crosswise into 16 equal slices (each about ¾-inch wide).
Arrange the rolls cut-side-down in the prepared pans, spacing them as evenly as possible (don't worry if the rolls look too far apart right now - they'll expand to fill the pan during the next rise).
Cover the baking dishes with plastic wrap. Let dough rise in warm draft-free area until the buns are doubled in size and have almost filled the pan, about 40 to 45 minutes.
Bake the Buns:
While the buns are rising, preheat oven to 375°F.
Bake the rolls in preheated oven for 20-25 minutes, or until tops are golden brown. Let cool in the pan for 5 minutes, then carefully flip over onto a serving plate.
Notes
Make sure to unmold the buns just after they come out of the oven, while the caramel is still hot and liquid. If you wait too long to do the flip, the caramel will firm up and the buns will stay stuck in the pan - if that's the case, just pop the pan back into a hot oven for 5 minutes to warm the caramel back up, then try again.
Prep Time:

2 hours, 30 mins

Cook Time:

25 mins

Category:

Breakfast
Keywords: sticky buns, bacon buns, maple sticky buns
It's National Bacon Day! I'm joining up with some of my favourite bloggers with 23 beautiful bacon recipes to celebrate.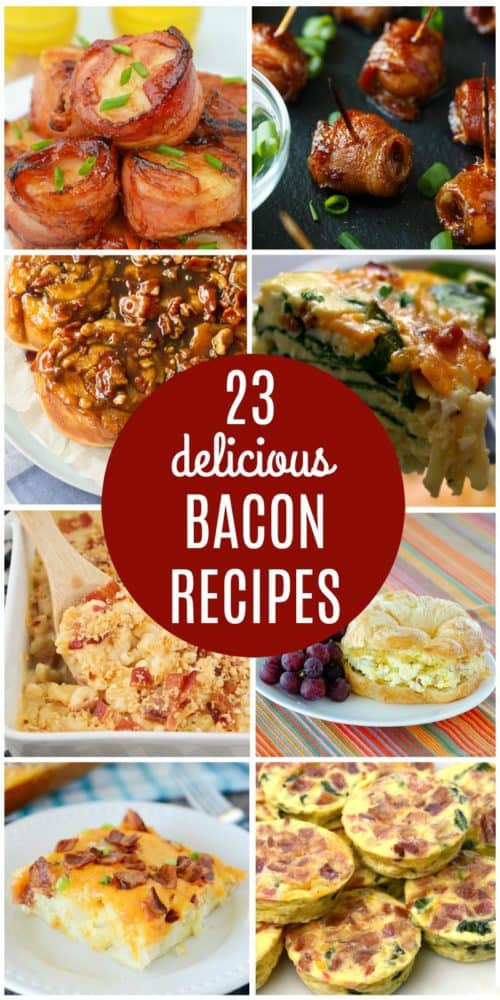 We've got 8 brand-new recipes from the Celebrating Food crew today:
And another 4 oldies-but-goodies from me:
And last (but not least!) 11 more from some of my favourite food blogs: