It occurred to me the other day that it's been ages since I last shared a risotto recipe. And by ages, I mean nearly five freaking years, which is way way way too long, especially when you consider that I make risotto at least once a month.
Yeah, I know. Fancy lady makes risotto once a month. How faaaaaancy. La-dee-dah.
Just hear me out.
Once you get the hang of it, risotto is actually stupidly easy to make, to the point that I no longer even look up a recipe when I make it.
And between you and me, sometimes I don't even use the expensive Arborio rice with the pretty label on it, because the cheaper "Italian short-grain" rice that's roughly half the price does a pretty decent job, too.
How to Make Risotto Without a Recipe
Like I said, risotto is really easy to make once you get a hang of the basic formula. Here's what I do.
Get Your Pots Ready
First, set a small pot of broth to simmer over low heat on the back burner. About 6 cups ought to do it.
Then, grab a second pot and splash a little oil in it. Ideally, this should be a nice wide, shallow pot with a heavy base. I have a deep Anolon skillet-slash-Dutch-oven that I swear by, but even a bashed-up saucepan will do the trick, as long as it can hold about 8 cups.
Build Your Flavour Base
If you're adding bacon or pancetta or ham, add it first and let it crisp up, so that the oil absorbs all of that delicious porky goodness.
Follow this with the aromatics. Some finely chopped onion, or perhaps minced shallots. A little garlic is nice, but can be overpowering, so I tend to skip it most days. If you want to add some seasonal vegetables, like mushrooms or peppers, this is when you add them in as well.
Add the Rice
Next up, you add the rice. A cup and a half of short grain rice, to be exact.
Arborio is the traditional (and best-tasting) choice, but like I said earlier, the cheaper "Italian short-grain rice" from the grocery store will do just fine if you're not making dinner for the queen.
Stir it around until it's nicely coated with oil, then add a splash of white wine. If you don't have white wine, use some dry white vermouth instead... or perhaps some sherry, if you're working with earthier flavours, like mushrooms or tomato.
Add Broth and Start Stirring... and Stirring... and Stirring
At this point, you can start ladling in the warm broth, a little at a time, stirring as you go. As it cooks, the rice begins to release starch into the broth, creating that wonderfully creamy texture that makes risotto... well... risotto. Keep repeating this process for about 20-30 minutes.
You know you're almost done when most of the broth has been absorbed, and the rice is plump and soft with just a teensy bit of bite remaining.
Finishing Touches
If you're adding sweet peas or corn, throw them in at the same time as the last ladleful of broth. They just need a few minutes to cook up.
Stir in a handful of Parmesan cheese and a dab of butter, and maybe a handful of herbs if you want to add a little extra freshness. Tah-dah. You're ready to eat.
See? Easy. And all you needed was a couple pots and a nice sturdy spoon to get the job done.
Corn, Bacon and Red Pepper, and Other Favourite Risotto Combinations
This particular version goes into heavy rotation by mid-summer, when the local red peppers and corn are sweet and full of flavour. It's not particularly traditional, but it is delicious nonetheless.
It's a little bit sweet, a little bit smoky, and wonderfully flavourful, just like summer in a bowl.
And yes, I suppose it's a little bit fancy, too... but hey, who doesn't need a little fancy in their life?
Need more inspiration? Here are some of my other favourite risotto combinations, both traditional and untraditional:
Shrimp, Peas and Saffron
Wild Mushrooms and Truffle Oil
Asparagus, Edamame and Preserved Lemon
Ham, Mushroom and Fresh Thyme
Butternut Squash and Sage
//
Print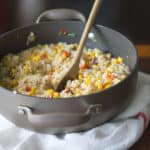 Red Pepper, Corn and Bacon Risotto
---
Author:

Total Time:

40 mins

Yield:

6

1

x
Description
This slightly non-traditional risotto is one of my favourite ways of using up leftover corn on the cob, but it's equally delicious made with frozen corn kernels if that's all you have.
---
6 cups

chicken or vegetable stock

1 tbsp

olive oil

4

strips bacon, diced

1 cup

red bell pepper, finely diced

1

large shallot, finely minced

1 ½ cups

Arborio rice

1 cup

dry white wine

1 ½ cups

corn kernels, fresh or frozen

½ cup

grated Parmesan cheese

¼ cup

finely chopped fresh basil
---
Instructions
In a small saucepan, bring the stock to a simmer over low heat. Cover and keep warm.
In a large saucepan over medium-high heat, cook the bacon until well browned and starting to crisp, about 5 minutes. Add the bell pepper and shallot, and continue cooking for another 3-4 minutes, or until the shallots are soft and translucent.
Add the rice to the pan and cook for 1-2 minutes, stirring constantly, until the rice is evenly coated with oil. Stir in the wine, and cook until it's been mostly absorbed.
Begin stirring in the warm broth, adding it to the pot one ladleful at a time, stirring as you go. Wait for the broth in the pot to be almost fully absorbed before adding more, stirring frequently to keep risotto from sticking to the pot. Repeat this process until you have just one ladleful of broth remaining and rice is tender, about 25-30 minutes.
Stir the last ladleful of broth into the pot, along with the corn kernels, and cook for 3-5 minutes or until the corn is tender-crisp and the risotto is creamy.
Remove from heat and stir in the Parmesan and fresh basil. Season with salt and pepper to taste. Serve right away.
Prep Time:

5 mins

Cook Time:

35 mins

Category:

Main