I can still remember the first time I ever ate Warm Chocolate Pudding Cake.
It was the late nineties, and my parents had just packed up the house and moved to the East Coast, leaving me behind in Toronto. I had stayed behind in Toronto to finish my university studies, living on-campus in one of the residence buildings.
Back then, my eating habits weren't quite as refined. Meals were generally planned around what was easiest, cheapest and most convenient. Needless to say, I made more instant ramen, Kraft Dinner and packaged soups than I care to admit (and more often than not, ate them straight out of the pot to avoid having to wash a bowl).
The easiest and most convenient option of all, though, was the dining hall next door.
Like most cafeterias, the food ranged from passably edible to downright terrible. Thin lumpy gravy, rock-solid scoops of instant mash, limp green beans, and my particular favourite... Blazin' Redfish, apostrophe and all, which was neither blazin' nor red, and only marginally fish-like.
There was one thing that the dining hall did do well, though. Warm Chocolate Pudding Cake - a gooey, sticky, saucy, chocolatey concoction so sinfully rich that I'd often have to sneak out my unfinished portion, still in its battered china bowl (which I dutifully snuck back in the following day, obviously).
Those chipped dishes of Warm Chocolate Pudding Cake saw me through a couple of years of teenage heartbreak, roommate drama, midterm hell and neverending essays. It's got a near-magical ability to make everything better with a single bite.
Know what else makes this pudding so magical? The fact that it's made by mixing batter and hot water in a single baking dish, which looks like a horrible mess at first, but slowly transforms into a gooey cake with a warm pudding sauce on the bottom as it bakes.
I'm sure there's a perfectly good scientific explanation for this transformation, but I have no idea what it is... that's what I get for studying philosophy instead of something actually useful, I guess.
Best of all, this recipe is literally foolproof. And I do mean literally. It's an indisputable fact of life that if the average hairnet-clad cafeteria lady can't screw up a dish, then no one can.
That said, this version is a million times better than anything a cafeteria could dish out. It's just as warm and gooey and saucy as ever, but with a deeper, richer, chocolatier flavour and a swirl of tangy raspberry puree.
If the original was magical, then this one of downright divine... and just as foolproof as ever.
Consider it my Valentine's Day gift to you.
Love,
Me
//
Print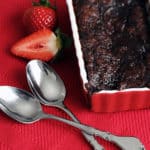 Warm Raspberry-Chocolate Pudding Cake
---
Author:

Total Time:

55 mins

Yield:

4

1

x
Description
This easy raspberry chocolate pudding cake is half cake, half pudding, and all chocolatey deliciousness.
---
Raspberry Puree
1 cup

fresh or frozen raspberries

2 tbsp

sugar

1 tbsp

lemon juice
Cake
1 cup

flour

¾ cup

sugar

¼ cup

cocoa powder

2 tsp

baking powder

¼ tsp

salt

½ cup

milk

2 tbsp

melted butter

½ tsp

vanilla extract
Topping
½ cup

packed brown sugar

¼ cup

cocoa powder

1 cup

boiling water

¾ cup

milk
---
Instructions
Preheat oven to 350F. Grease an 8x8-inch baking dish.
In a small saucepan set over medium-high heat, bring the raspberries, sugar and lemon juice to a boil. Cook for 2 minutes, breaking up the berries with a wooden spoon as they cook. Pass the cooked berries through a fine-mesh strainer to remove pulp and seeds, pressing to extract as much puree as possible. Set aside to cool completely.
Meanwhile, make the cake layer. Sift flour, white sugar, cocoa powder, baking powder and salt into a large bowl. Pour in milk, melted butter, and vanilla extract, and stir until combined. (The batter will look very thick at this stage. That's to be expected. Keep calm and carry on.)
Scrape the batter into prepared baking dish, and spread it out into a more or less even layer. Spoon the raspberry puree onto the batter in large dollops.
Now, prepare the topping. In a small bowl, whisk together brown sugar and cocoa powder. Sprinkle evenly onto the batter. Slowly pour in the boiling water and milk, covering the batter and topping. (Don't panic if your cake looks like a watery mess at this point. That's to be expected. Keep calm and carry on.)
Bake in preheated oven for 40 minutes, or until the mixture has separated into a dry cake-like layer on top and a soft pudding-like layer on the bottom. Let stand for about 15 minutes before spooning out into individual serving dishes, topping each with a dollop of whipped cream and fresh berries if so desired.
Notes
You can make this into individually-sized desserts by using four shallow gratin dishes or ramekins instead. Simply prepare as directed, dividing each of the layers evenly between the gratin dishes, and bake for about 30-35 minutes.
Prep Time:

15 mins

Cook Time:

40 mins

Category:

Dessert