One of my favourite things about winter is the fact that the weather is perfectly suited to slow-braising meats. By the time October rolls around, I'm quite literally craving stews and braises and chilis and such. It borders on the obsessive, really.
I think what I really like best is that I get a perfect excuse to spend a cold Sunday afternoon curled up on the couch, while an underappreciated (and therefore cheap) cut of meat simmers away in a flavourful liquid on the stove.
As the hours go by, the house fills with a warm, comforting aroma, and those tough hunks of meat slowly transform into meltingly tender morsels. I like to think it's nature's way of making up for the less-than-pleasant aspects of winter.

Rich, Flavourful Osso Buco on a Budget
These super-flavourful braised beef shanks are one of my favourite cold-weather braises.
I like to think of this dish as a richer, beefier alternative to a classic osso buco, which I've lovingly dubbed "faux-so buco".
It has the same slow-cooked, fall-off-the-bone sauciness, and the same flavour base of mirepoix, stock, wine and tomato.
However, everything is just a little bit deeper, a little bit richer, and a little bit meatier. The most obvious reason for that is because I've substituted beef for the traditional veal, but there's also fennel instead of celery, red wine instead of white wine, and tomato paste instead of whole tomatoes.
Best of all, beef shanks happen to be quite cheap compared to veal shanks, which means this dish is as easy on the pocketbook as it is on the palate.
To get the best results, choose the thickest, meatiest shanks you can find, with a relatively high meat-to-bone ratio. You'll need four good-sized shanks for this recipe, or six smallish ones if that's all you can get.
What to Serve with Osso Buco
The traditional pairing for osso buco is risotto milanese, a simple yet luxurious risotto scented with saffron.
But we've already established that this is a budget-friendly recipe, so I recommend skipping the pricey spices and going for a simple polenta instead. Same soft golden hue, same magical combination of creamy carbs laced with butter and cheese, but waaaaaay cheaper.
If that's not your thing, you can also pull the shanks apart into bite-sized chunks to make a a hearty sauce to be tossed with cooked pasta, or serve them atop a bed of cooked rice or mashed potatoes. Basically, you're looking for something to soak up all that delicious sauce, because trust me when I say you won't want to waste a drop.
And whatever you do, though, don't skip the lemony gremolata... it provides a much-needed fresh counterpoint to all that beefy richness.
//
Print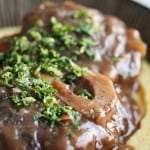 Beef Osso Buco (Braised Beef Shanks)
---
Author:

Total Time:

2 hours 20 mins

Yield:

4

1

x
Description
This richer, heartier take on the classic Italian osso buco swaps out the traditional veal shanks for beef, which delivers all of the same deliciousness but at a fraction of the price. Served on a pillowy mound of soft polenta, it's perfect cold-weather comfort food on a budget.
---
Braised Shanks
2

lbs cross-cut beef shanks
Salt and pepper

2 tbsp

flour

2 tbsp

olive oil

1 cup

diced carrot

1 cup

diced fennel

1 cup

diced onion

2

cloves garlic, minced

2 tbsp

tomato paste

1 cup

dry red wine

2 cups

beef stock

1

bay leaf
Gremolata:
¼ cup

finely chopped parsley

1

clove garlic, finely minced
Zest of

1

lemon

½ tsp

salt
---
Instructions
Braise the Shanks:
Pat the beef shanks dry with paper towel. Season the shanks with a generous amount of salt and pepper, then dust with flour. Tie kitchen twine around each of the shanks to ensure they hold together during cooking.
In a large heavy-bottomed Dutch oven, heat the oil over medium-high heat. Add the shanks and sear on both sides until well browned. Remove from pot and set aside.
Add carrot, fennel, onion and garlic to the pot. Cook, stirring frequently, for about 5 minutes or until onion is translucent and soft. Stir in tomato paste, and continue cooking for 1 minute. Stir in wine, gently scraping the pot to release any browned bits clinging to the bottom. Nestle the reserved shanks and bay leaf into the vegetables, and pour beef stock overtop.
Bring the mixture to a boil, then reduce heat to low. Simmer, covered, for about 2 hours, or until the shanks are tender and falling off the bone. Check periodically to make sure the shanks are covered ¾ of the way up with braising liquid, topping up with water if the liquid level gets too low.
Make the Gremolata:
While the shanks are braising, stir together all the gremolata ingredients in a small bowl. Cover and transfer to the refrigerator to allow the flavours to mingle.
Finish and Serve:
Once shanks are tender, use a slotted spoon to transfer the meat to a serving platter, leaving the liquid in the pot. Snip off kitchen twine from the shanks, and discard.
Increase the heat to medium-high. Bring the braising liquid to a boil and cook, stirring frequently, for about 5 minutes or until reduced to a thick, glossy sauce. Discard the bay leaves. Taste to check the seasoning, and adjust as needed with salt and pepper.
To serve, top each shank with a generous amount of the sauce from the pot, and finish with a sprinkling of gremolata.
Prep Time:

20 mins

Cook Time:

2 hours

Category:

Main

Method:

Braised

Cuisine:

Italian