One of the few things The Mister and I still can't agree on after 15 years together is leftovers.
He loves them, because they're "bonus food" that he gets to enjoy again, whereas I'm rarely excited by the idea of eating the same thing I already ate a few days earlier. (I do, however, make exceptions for chili and spaghetti sauce, both of which I make in massive quantities and would happily eat all day every day.)
The solution, as always, is compromise. I don't think I'll ever embrace the wonderful world of leftovers, but I have gotten pretty creative in finding ways to transform my old meals into something entirely new.
I like to look at it as a way to give those odds and ends a whole new least on life. Roast chicken is baked into pot pie, steak and roast pork are sliced up and tossed with a big meal-sized salad, mashed sweet potatoes are transformed into biscuits, baked ham is stirred into soup or added to a zippy potato salad, plain cooked rice becomes fried rice, and on and on it goes.
Leftover Cranberry Sauce Today, Holiday Brunch Tomorrow
If you're wondering why I'm talking about leftovers instead of this gorgeous cranberry-swirled bread, boy have I got a surprise for you... this is actually yet another of my ingenious recipes for using up leftovers.
You see that brilliant ruby-red swirl? It's the leftover cranberry sauce from my Thanksgiving dinner!
This showstopper of a loaf is about as far as you can get from turkey and stuffing, which is exactly the kind of transformation that makes me happiest.
We're talking about a pillowy-soft golden brioche dough swirled throughout with cranberry sauce, and drizzled all over with a sweet almond icing. You might feel guilty slicing into something so beautiful, but trust me when I say that it tastes even better than it looks.
This might actually be one case where the leftovers are actually even better than the original.
How to Create A Gorgeous Danish Twist
Don't be intimidated by its fancy looks. This twisted and coiled wreath is actually surprisingly easy to make, as long as you've got a rolling pin and a sharp knife. Best of all, it looks fabulous even when it's a little imperfect, so there's no need to stress if your twists aren't absolutely symmetrical.
The technique is very similar to babka. You start by rolling out the dough into a rectangle, then spread with filling and roll up like a jelly roll. The roll is then sliced lengthwise to expose the filling, and twisted together with the cut sides exposed to create that beautiful swirling pattern.
If I was making a regular babka, I'd stop at this point and pop the dough into a loaf pan, but I opted to coil the finished twist into a spiral to make the loaf feel a little more festive.
There are detailed instructions on how to create the twist in the recipe below, but for those of you who are visual learners, here's a quick video tutorial to walk you through step by step.
variations on this Recipe
While cranberry feels like a very seasonal way to enjoy this recipe, you can change up this recipe using all kinds of different fillings.
Winter Spice Danish Twist: Omit the cranberry sauce, and stir 1 tbsp ground cinnamon, 1 tsp ground nutmeg, 1 tsp ground cardamom and the zest of an orange into the sugar before sprinkling onto the dough.
Nutella Babka Twist: Omit the butter and sugar, and substitute 1 cup of Nutella spread for the cranberry sauce.
Berry Danish Twist: Omit the butter and sugar, and substitute 1 cup of your favourite raspberry, blueberry or mixed berry jam for the cranberry sauce.
More Clever Ways to Repurpose Your Holiday Leftovers
No matter how carefully you plan, it's almost impossible to make a Thanksgiving or Christmas turkey dinner without any leftovers at all. Here are some of my favourite ways to give all those leftovers a new lease on life.
Roast Turkey:
Sweet Potatoes and Mashed Potatoes:
Ham:
//
Print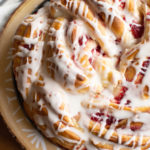 Cranberry Danish Twist
---
Author:

Total Time:

0 minute

Yield:

2

loaves

1

x
Description
Transform your leftover cranberry sauce from your turkey dinner into a showstopper brunch for the morning after. Don't let it's fancy looks fool you, either... it's easier to make than you might think!
---
Brioche Dough:
1 cup

milk

2 ¼ tsp

active dry yeast

½ cup

sugar, divided

2

eggs

4 tbsp

butter, melted

1 tsp

vanilla

½ tsp

salt

3 ½ cups

flour
Cranberry Swirl Filling:
1 cup

cranberry sauce

2 tbsp

butter, melted

½ cup

sugar
Icing:
1 cup

icing sugar

2 tsp

milk

½ tsp

almond extract
---
Instructions
Make the Dough:
In a small saucepan set over medium-high heat, warm the milk until wisps of steam start to rise from the surface and the milk feels warm to the touch, around 110F.
In the bowl of a stand mixer fitted with a dough hook, combine the warm milk with yeast and 1 tbsp sugar. Set aside for 5-10 minutes, or until frothy. (If the mixture doesn't look foamy after 10 minutes, your yeast is past its prime. You'll need to get a fresh container of yeast and start again.)
Add the rest of the sugar, along with the eggs, butter, vanilla and salt. Add the flour and beat on low speed until the dough starts to come together, then increase the speed to medium-high and beat for 5 minutes or until the dough pulls away from the sides of the bowl into a smooth ball. The dough should be soft, but not overly sticky.
Transfer the dough to a lightly oiled bowl, and cover tightly with plastic wrap. Set aside to rise in a warm, draft-free spot until doubled in size, around 60-90 minutes.
Shape the Loaves:
Generously butter two 9-inch springform pans. If your cranberry sauce is very chunky, use an immersion blender or food processor to partially puree - you want it to be mostly smooth, with a few visible berries still remaining.
Punch down the dough, then transfer to a lightly floured work surface, punch it down to release the air. Divide the dough into two pieces and roll into balls.
Working with one ball at a time, roll out into a 9x13-inch rectangle. Leaving a 1-inch border on either side, brush the dough with half of the melted butter, then sprinkle with half of the sugar. Spread half of the cranberry sauce over top. Starting from one of the shorter sides, roll up like a jelly roll.
Using a sharp knife, slice through the roll lengthwise through the seam. With the cut sides facing up, criss-cross the two halves to make an X. Twist the top and bottom parts of the X, then twist to form a spiral. Carefully transfer to one of the prepared springform pans.
Repeat steps 3 and 4 with the remaining dough and filling ingredients.
Cover the pans with plastic wrap or a clean dishtowel, and set aside to rise for 45 minutes. The twists will not be doubled in size, but should look slightly puffed.
Bake and Frost the Bread:
While the bread is rising, preheat the oven to 350F.
Bake for 40-45 minutes, or until the loaves are golden brown all over. (If the top is browning too quickly, you can loosely cover with aluminum foil.) Let cool for 5 minutes, then remove the outer ring of the springform pan and transfer to a wire rack to cool completely.
While the bread is cooling, prepare the icing by whisking together the icing sugar, milk and almond extract until smooth. The icing should be thick but pourable - if it's too runny, add a spoonful of icing sugar, and if it's too thick, add a few more drops of milk.
Drizzle the cooled bread with icing. Let stand for about 10 minutes to allow the icing to set before slicing and serving.
Notes
Storage: For best results, you want to eat this bread on the same day it's baked, but leftovers can be stored in an airtight container for up to 2-3 days.
Make Ahead: The brioche dough can be made in advance - prepare through to the end of the first rise, then punch down and transfer to a freezer-safe zip-top bag, and store in the fridge for up to 2 days in the fridge. For longer storage, you can freeze the dough up to 3 months, then thaw overnight in the freezer before continuing on to the assembly.
Prep Time:

2.5 hours

Cook Time:

45 mins

Category:

Breads

Method:

Baked

Cuisine:

Canadian