It was bound to happen eventually. After three years of sailing through flu season with nary a sniffle, I got slammed with a really nasty cold a couple of weeks ago.
And not just any cold, either. I'm talking one of those Seven Dwarves kind of cold, which comes complete with Sneezy, Coughy, Sniffly, Wheezy, Sleepy, Dopey and Snot.
Needless to say, being able to stand upright for more than a couple of hours at a time has been my biggest achievement this past two weeks.
Managing to do other stuff, like cooking, blogging, doing the dishes or maintaining an intelligent conversation? Yeah, not so much.
It's a good thing I had squirreled away a couple of containers of this French Canadian Pea Soup in my freezer, after one of my occasional stocking-up-for-a-rainy-day cooking binges.
Split Pea Soup: Quebec's Cure for Whatever Ails You
If chicken soup is Jewish penicillin, then this is the Quebecois version.
It's exactly the kind of food I crave when I'm under the weather. It's smoky and hearty, with a subtstantial warmth that coaxes me back to some semblance of humanity when I'd rather huddle under the covers in a miserable ball of snotty self-pity.
Best of all, it's easy to make a really big batch, and the leftovers freeze beautifully. I can always manage a quick defrost-and-reheat sort of meal, no matter how miserable I am.
No matter what it is you might be suffering from, I guarantee that a couple of bowls of this soup are sure to set you right.
The History of Soupe aux Pois
This soup is so fundamental to the French-Canadian identity that one of the nicknames for Quebeckers is "pea soupers".
It's the perfect dish for long Canadian winters - dried peas, salt pork, root vegetables and dried herbs could all be stored for long periods of time, making it possible to cook up a big pot of soup even in the darkest, coldest days of the year.
Nowadays, most Canadians prepare their pea soup by cracking open a can of Habitant soup. I'll admit that you can't beat the yellow can for speed and convenience, but it's still worth the effort to make your own.
All you need to do is sautee some onions, then stir in the rest of the ingredients and slowly simmer for about three hours until the peas fall apart and the ham has infused the soup with a rich, smoky flavour.
Some folks insist that whole dried peas must be used if you want to make the real deal. However, many recipes (including the one that was passed down in my family) opt for split peas instead, because they cook up faster.
That said, whether you're using whole or split, you must use yellow peas!
Ham Hock vs. Leftover Ham Bone
There's really no wrong answer here.
I've written this recipe to use a store-bought ham hock, since that's what I use when I don't have a leftover ham bone kicking around. You can find ham hocks in the meat counter of some grocery stores, or at a well-stocked butcher shop.
That said, I can vouch for the fact that a good-sized meaty ham bone left over from Easter dinner will do just as well (as would the scraps from a smoked pulled pork shoulder, for that matter).
And if you're not a fan of pork for whatever reason, a smoked turkey thigh or drumstick is also a great (albeit untraditional) choice.
Whatever you do, don't leave it out altogether - that meaty bone is essential to giving the soup a deep, rich, smoky flavour that belies its relatively short list of ingredients.
//
Note: This post was updated with new text and photographs in February 2020, but I've saved one of the original photos below for the sake of posterity.
//
Print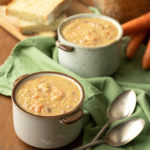 Traditional French-Canadian Split Pea Soup
---
Author:

Total Time:

3 hours 5 mins

Yield:

8

1

x
Description
This is my family's recipe for old-fashioned French-Canadian split pea soup (or soupe aux pois, as it's known in Quebec). Made with split peas, smoked pork, vegetables and herbs, it simmers on the stovetop all afternoon long to keep your house (and your belly) warm on cold winter days.
---
2 tbsp

butter

1

onion, diced

1

large carrot, peeled and sliced

10 cups

water

1

lb dried yellow split peas

1

smoked ham hock (~

1

lb)

2

bay leaves

1 tsp

dried thyme

1 tsp

dried savoury
Salt and pepper to taste
---
Instructions
In a very large heavy-bottomed pot set over medium-high heat, sweat the onions and carrots in butter for 5-7 minute, or until onions are soft and translucent.
Stir in water, split peas, ham hock, bay leaves, thyme and savoury. Bring the soup to a boil over high heat, then reduce the heat to low and simmer, covered, for about 2 ½ to 3 hours, or until the peas are soft and begin to fall apart into a puree.
Remove the ham hock. Pull the meat away from the bone, and shred or chop into small dice. Set ham aside, and discard the bone. Remove bay leaves and discard these as well.
Taste soup, and adjust seasoning as needed with salt and pepper. For a very smooth soup, use an immersion blender to puree completely, or leave as-is for a chunkier texture. Stir chopped ham back into the soup, and serve immediately.
Notes
This recipe can also be made using a leftover ham bone instead of the ham hock, should you happen to have one kicking around after your Easter or Christmas dinner.
Prep Time:

10 mins

Cook Time:

3 hours

Category:

Main

Cuisine:

French-Canadian