If I had to pick just one dish in my repertoire that embodies nostalgia, it would be a heaping bowl of spaghetti topped with classic meat sauce, made using my mom's recipe.
The smell alone is enough to make me feel like I'm twelve years old again, standing in my mother's old kitchen with the blue and white terra cotta tiles, anxiously sneaking a peek at the timer to see how much longer it'll be 'til dinnertime.
Bolognese Sauce with a Canadian Twist
This isn't an authentic sauce, by any means, but it is a perfect example of the meat pasta sauce my generation of Canadian kids knew as bolognese sauce... chunky, tomatoey, beefy, and about as close to the real bolognese sauce as a stuffed-crust pepperoni pizza resembles an authentic Neapolitan pie.
A bowl of mom's spaghetti is serious business in my books, and I refuse to stray from the ritual I've perfected over many years.
I twirl the spaghetti around my fork a few strands at a time, slurping up the dangling ends, until there's nothing left on my plate but sauce... because that's the best part, and I always save the best part for last. Some might say it's a little weird, but I'm convinced the spaghetti just doesn't taste the same otherwise.
Besides, you know what's really weird? Cutting spaghetti into little bitty pieces with a knife and fork, that's what. :)
How to Make Old-School Spaghetti Sauce
The building blocks of this sauce are very simple - a mix of ground beef and bacon, finely chopped mirepoix, lots of garlic, and a wine-spiked tomato sauce to tie it all together.
If I'm feeling particularly fancy, sometimes I use finely diced fennel bulbs instead of the celery, or trade out the regular tomatoes for a fire-roasted variety. Or I borrow a page from my mother-in-law's version of this sauce, and add a couple pinches of dried thyme to the herb blend.
But the beauty of this sauce is really in its utter simplicity and lack of gourmet ingredients. If it doesn't taste like mom's sauce any more, it loses all of its magical powers.
Which Ground Beef to Use for Spaghetti Sauce
My mother's recipe, like most old-school North American style meat sauces, starts with medium ground beef.
However, I generally prefer to use lean or extra-lean instead. It's usually what I've got kicking around in the freezer, and it also happens to save the hassle of draining off the beef once it's been browned.
If you do prefer to use regular or medium, make sure to drain off most of the fat before adding the vegetables to the pot.
Making Meat Sauce in Advance
One of my favourite things about this sauce is the fact that it's perfect for preparing in advance, and actually tastes even better when it's had a day or two to let the flavours mingle.
Since there's so little work involved in doubling or even tripling the recipe, I usually make an extra-large batch of sauce so that I can have lots of leftovers. (I have a behemoth 8-quart Le Creuset for this very purpose).
The cooked sauce will keep for up to 1 week in the fridge, or up to 6 months in the freezer. I like to split it up into containers with 2-4 portions of sauce, which are perfect for defrosting whenever I need a last-minute workday meal.
//
Print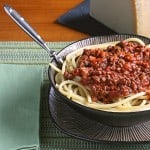 Mom's Meat Sauce
---
Author:

Total Time:

1 hour 5 minutes

Yield:

8

1

x
Description
My mom's recipe for spaghetti sauce may not be authentic by any means, but it's comfort food at its best, with ground beef, bacon and veggies in rich tomato sauce. It freezes beautifully, so feel free to make a double batch - you'll be thankful you did!
---
6

slices bacon, chopped

2 tbsp

olive oil

2

lbs lean ground beef

2

medium carrots, diced

2

stalks celery, diced

1

large onion, diced

3

cloves garlic, minced

2 cups

dry red wine

2

cans (796 ml each) pureed tomatoes

3 tbsp

tomato paste

2

bay leaves

1 tsp

dried oregano

1 tsp

dried basil

1 tsp

hot pepper flakes (optional)
---
Instructions
In a large heavy-bottomed pot, fry the bacon in olive oil over medium-high heat until crisp. Add ground beef and cook for 5-7 minutes, breaking up into small chunks with a wooden spoon as it cooks, until browned. Using a slotted spoon, transfer the ground beef to a bowl and set aside.
Add carrots, celery, onion and garlic to the pot, and saute for 10 minutes or until onion is soft and translucent. Return ground beef to the pot.
Stir in the remaining ingredients, and bring the mixture to a boil. Reduce heat to low and simmer, stirring occasionally, for 45 minutes.
Ladle sauce onto cooked spaghetti and serve with a scattering of grated Parmesan cheese.
Notes
Storage: Cooked sauce will keep for up to a week in the refrigerator, or up to 6 months in the freezer.
Prep Time:

20 mins

Cook Time:

45 mins

Category:

Mains

Method:

Stovetop

Cuisine:

Canadian