Seems like Oscar weekend totally snuck up on me this year.
Thankfully, I have a mental list of super-fast, super-easy finger foods that I can easily whip up with minimal notice.
As a matter of fact, most of the finger foods and canapes I make are super-fast and super-easy.
Picking the Perfect Party Appetizer
My philosophy when it comes to prepping for a party is that everything on the menu should be something I can either prepare well in advance or quickly assemble at the last minute.
Otherwise, I'm not interested... I want to spend my time enjoying my party, not futzing with canapes in the kitchen.
On the other hand, I absolutely refuse to sacrifice taste for the sake of convenience. Most appetizers may be just a bite or two, but that means those two bites have to make one hell of a good impression.
I know it takes almost no time to make miniature weiners in a ketchup and grape jelly sauce, but it's pointless because miniature weiners are gross.
These little open-faced steak sandwiches, on the other had, are anything but gross.
Flank Steak Crostini, a Perfect Combo of Easy and Delicious
If these little toasts with medium-rare flank steak, peppery arugula and zippy horseradish aioli were a building, they'd be right on the intersection of Easy and Delicious.
Once the aioli is prepared and the steak is broiled, the rest of the prep is dead simple. Which is good, because they'll probably be flying off the plate almost as quickly as you can make them.
Depending on how many slices you can get out of your baguette, you'll likely end up with some leftover flank steak. If you do, consider it an excuse to make a Black and Blue Flank Steak Salad to reward yourself for a job well done. Or just make some steak sandwiches with the leftover aioli, as there will likely be some of that as well.
Now if only I could find something to wear that's just as easy and elegant... anyone have suggestions for an outfit that combines the comfort of yoga pants with the glamour of an evening gown? Yeah, me neither.
//
Print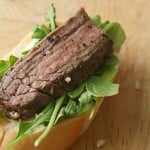 Flank Steak Crostini with Horseradish Aioli
---
Author:

Total Time:

25 minutes

Yield:

12

crostini

1

x
Description
These easy crostini pair thinly sliced flank steak with peppery arugula and a homemade horseradish aioli for a simple two-bite appetizer that's a guaranteed crowd-pleaser.
---
Flank Steak:
2

lb flank steak

2 tbsp

 Montreal steak spice
Horseradish
Aioli:
3

cloves garlic

½ tsp

salt

1

egg yolk

1 cup

olive oil

2 tbsp

prepared horseradish
Crostini:
1

baguette, cut into

½

" slices on the diagonal
Baby arugula
---
Instructions
Broil the Steak:
Preheat the broiler for at least 5 minutes, and line a broiler pan with aluminum foil.
In the meantime, pat the flank steak dry using paper towel. Sprinkle both sides with Montreal steak spice, gently pressing in to make a crust.
Place the steak on the prepared broiler pan and broil for 4-5 minutes per side, until cooked to medium-rare or a meat thermometer registers an internal temperature of 165F. Tent with aluminum foil and set aside to rest for 5 minutes, or until ready to serve.
Prepare the Aioli:
While the steak is broiling, prepare the aioli.
Using a large heavy knife, finely mince the garlic. Sprinkle with salt, then use the flat of the knife to mash the salt and garlic together into a paste. (You can also do this step using a mortar and pestle, if you have one.)
Scrape the garlic paste into a small bowl. Add egg yolk, and whisk until smooth. Begin pouring in the olive oil in a thin, steady stream as you whisk briskly, continuing until the oil is completely incorporated and the aoili is thick and smooth. (If the aioli starts to separate at any point during this process, stop adding oil immediately. Whisk the aoili briskly until it comes together again, then continue on as usual.)
Stir in horseradish. Taste and adjust seasoning with more salt if necessary. Cover tightly with plastic wrap and refrigerate until ready to use.
Assemble the Crostini:
To assemble, arrange the baguette slices on a serving platter. Spread each one with a small dollop of horseradish aioli, then top with a few baby arugula leaves.
Cut flank steak into thin slices across the grain. Lay a slice on top of each crostini. Serve immediately.
Notes
Food Safety Note: This aioli is made with raw eggs, which is traditional but may not be suitable for pregnant people, young children or anyone who's squicked out by raw eggs. If you prefer to play it safe, you can make a safer aioli by adding the crushed garlic and horseradish to ¼ cup of store-bought mayonnaise.
Cooking the Flank Steak: I've used the broiler here for the sake of simplicity, but in warmer weather, feel free to cook the steak on the grill until medium-rare.
Prep Time:

15 mins

Cook Time:

10 mins

Category:

Appetizer

Method:

Baked

Cuisine:

Canadian