Homer Simpson once said "You don't make friends with salad," and he wasn't entirely wrong.
Everybody loves pretty desserts and homey main courses, but salad has a tendency to be... well... salad, especially when it's the middle of January in Canada and there isn't all that much to get excited about in the produce section.
So when Casey from Kitchen Play asked me if I'd like to participate in the very first all-Canadian Progressive Dinner event, there was a brief flash of panic when I realised that I'd been assigned the salad course.
Lucky for me, the sponsor for our Progressive Dinner turned out to be Canadian Beef. If there's one thing that can rescue a salad from being boring, it's beef.
That's because a serving of lean beef is a great source of protein and essential nutrients like iron, zinc, vitamin D and riboflavin, which means it can turn just about any salad into a healthy and satisfying main course. Not to mention it tastes good, too.
When planning out my salad, I decided to use a pub and steakhouse classic as my inspiration – the Black and Blue Salad, a blend of greens topped with slices of peppered steak and crumbled blue cheese.
Using that basic combination as my starting point, I decided to really play up the flavours and textures to make the salad a little more special.
To start, I added a handful of walnuts glazed with a sweet-and-sour balsamic caramel for crunch. Then, I replaced the usual spring mix with a more assertive blend of greens including bitter radicchio and peppery baby arugula.
Last of all, I added an extra dose of blue cheese by whisking up a tangy buttermilk and blue cheese dressing to replace the usual vinaigrette dressing.
Now that we've covered everything else that's going into the salad, let's talk beef for a moment, shall we? After looking over the different cuts of steak on the Canadian Beef website, I decided to use flank steak, since it's lean, easy to prepare and relatively inexpensive.
Normally classified as a marinating steak, flank steak can do double-duty as a grilling steak so long as it's cooked to no more than medium-rare and then sliced very thinly across the grain.
Since I'd already layered plenty of flavours into the salad, I opted for nothing more than a generous sprinkling of salt and cracked black peppercorns before popping the steak under a hot broiler for a few minutes.
If you can't find flank steak (or if you're not a fan), you can easily substitute your favourite boneless grilling steak.
This salad is also a great way to give new life to leftovers – strips of leftover steak or even thin slices of leftover roast beef will do the trick.
Even though there are many different components to this salad, it's not nearly as time-consuming as it might seem.
Most of the salad, including the blue cheese dressing and candied walnuts, can be made several days in advance and assembled at the last minute (in fact, I find the dressing tastes best after a day or two, once the flavours have mellowed into creamy, tangy, blue-cheesy unison).
Then, on the day of, all you'll need is 20 minutes to cook the steak and toss the greens.
Can't make friends with salad, Homer? Perhaps you should introduce them to this one.
//
Disclosure: This salad was created for Kitchen Play's February 2011 Progressive Dinner, sponsored by Canadian Beef. Thanks for supporting the brands that keep the Crumb test kitchen stocked! All opinions, as always, are entirely my own.
//
Print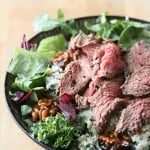 Black-and-Blue Flank Steak Salad
---
Author:

Total Time:

40 mins

Yield:

4

1

x
Description
This salad does have lots of different elements, but it's well worth the effort... especially since both the honey-balsamic walnuts and the tangy blue cheese dressing can be prepared several days ahead of time, leaving you with a few minutes of work on the actual day of.
---
Honey-Balsamic Walnuts:
¼ cup

sugar

2 tbsp

honey

1 tbsp

olive oil

1 tbsp

balsamic vinegar
Pinch cayenne

1 ¼ cup

walnut halves
Buttermilk Blue Cheese Dressing:
¼ cup

buttermilk

¼ cup

full-fat sour cream

1 tbsp

mayonnaise

2 tsp

white vinegar

⅓ cup

creamy blue cheese (like Gorgonzola or Blue d'Auvergnes)
Salt and pepper, to taste
Peppered Flank Steak:
1

lb flank steak, about

1

-inch thick

1 tsp

salt

2 tbsp

cracked peppercorns
Salad Mix:
1

small head radicchio

2

Belgian endives

2 cups

escarole or frisee

4 cups

baby arugula

4 cups

Bibb or Boston lettuce

½ cup

crumbled blue cheese
---
Instructions
Make the Honey-Balsamic Walnuts:
Line a baking sheet with parchment paper or a silicone baking mat.
In a small skillet set over medium heat, stir together sugar, honey, olive oil, balsamic vinegar and cayenne until sugar is dissolved. Continue cooking, stirring frequently, for 2-3 minutes or until the syrup begins to bubble and thicken.
Stir in walnuts. Cook, stirring constantly, for 5-6 minutes or until the walnuts are coated with a thick and sticky glaze.
Turn out onto the lined baking sheet. Using a silicone spatula, spread the walnuts out into a single layer, separating into individual pieces as much as possible. Let cool completely, then transfer to an airtight container lined with paper towel. Walnuts can be prepared up to three days in advance.
Prepare the Dressing:
In a small mixing bowl, whisk together buttermilk, sour cream, mayonnaise and vinegar until combined. Crumble blue cheese into the bowl, and stir until blue cheese is incorporated. Adjust the seasoning with salt and pepper to taste. Refrigerate until ready to use, preferably for at least 24 hours. Dressing can be made up to three days in advance.
Broil the Steak:
Preheat the broiler (or grill). Pat the flank steak dry using paper towel. Sprinkle both sides with salt, then press in the cracked peppercorns to make a crust. Transfer to a broiler pan and place under the preheated broiler to cook for 4-5 minutes per side, until cooked to medium-rare or a meat thermometer registers an internal temperature of 165F. Tent with aluminium foil and set aside to rest for 5 minutes.
Assemble the Salads:
While the steak is resting, prepare the salad greens. Tear radicchio leaves into bite sized pieces, discarding the core. Strip the endive leaves off the core, and chop into inch-long pieces; discard core. Combine radicchio, endive and the remaining greens in a large bowl.
To assemble, toss salad greens with 1 cup of blue cheese dressing until evenly coated. Divide the greens across six small salad plates (or four large dinner plates). Top each salad with a scattering of honey-balsamic walnuts and crumbled blue cheese.
Cut flank steak into thin slices across the grain. Arrange a few slices onto the top of each salad. Serve immediately.
Notes
Note: Steak can also be prepared on the grill in warmer weather. Simply cook the steak on a preheated gas or charcoal grill for 4-5 minutes per side for medium rare, then proceed as usual.
Prep Time:

30 mins

Cook Time:

10 mins

Category:

Main