When it comes to sports, suffice to say that I'm not exactly what you'd call a fan. Not even close. I can tell you the difference between a volleyball, a football and a hockey puck, but that's really about it.
The Boy is pretty much the same. It's something I'm quite thankful for, considering many of the men in this country plan their lives around the Hockey Night in Canada broadcast schedule. Basically, we watch the Olympics Games every time they roll around, and then go into a nice sports-free hiatus for another two years.
What we are fans of, though, is hot sauce.
So when the folks at Social Spark asked me if I'd be interested in talking a little bit about TABASCO® Original Red, I jumped at the chance.
Like I said... we're big fans. We put it on our eggs at breakfast, we add a dash to our soups and chilis, and stir it into marinades for a little extra zip.
Despite the fact that I'm totally clueless about sports, I'd have to be living under a rock not to know Superbowl weekend is almost here. (Actually, I only know that because that's also Glee starts airing new episodes again, and we all know how I feel about Glee...)
It seems like everyone in the blogosphere has only one thing on their mind this week, and that's what they're planning to serve for the big game.
If you're still trying to sort out what to make, Tabasco's got a great website with tips and recipes to help you plan a Game-Day Party Menu that's guaranteed to satisfy everyone from the die-hard sports fan to the guy who's only there for the food.
As for my own menu, I'm serving up these adorable little Buffalo Chicken Pizettes. They combine three favourite Superbowl menu items - Buffalo wings, pizza and beer - all presented in a tidy individually-sized package full of spicy chicken, gooey cheese and crispy crust.
I've used a classic Buffalo sauce of Tabasco and butter as a marinade for the chicken breasts, and again instead of the usual pizza sauce for a double-whammy of tangy flavour that so much more than just hot.
In fact, it's surprisingly mild, so hardcore suicide wing afficionados will probably want to add a dash or two of straight-up Tabasco sauce to their pizza before digging in. Overkill? Never.
Add a platter of carrot and celery sticks with blue cheese dip on the side, and you've got yourself a seriously game-worthy snack. Moist towelettes are entirely optional.
//
Disclosure: This post brought to you by TABASCO® Original Red. All opinions are 100% mine.
//
Print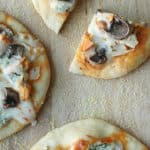 Buffalo Chicken Pizzettes
---
Author:

Total Time:

2 hours 15 mins

Yield:

8

1

x
Description
These little individually-sized pizzas have all the goodness of your favourite hot Buffalo wings, and none of the mess. Serve with a platter of veggie sticks with blue cheese dip for a proper Buffalo-style experience.
---
Beer Pizza Dough:
3 cups

flour (plus more for dusting)

2 tsp

kosher salt

1 ½ tsp

instant yeast

1 ¼ cup

warm stout (or any other dark beer)

2 tbsp

olive oil
Tabasco Marinated Chicken:
3 tbsp

Tabasco Original Red

2 tbsp

lemon juice

1 tbsp

melted butter

1 tsp

dried oregano

1

lb chicken breasts, cut into strips
Spicy Buffalo Sauce:
3 tbsp

Tabasco Original Red

3 tbsp

butter, melted

1 tsp

dried oregano
Toppings:
2

-

3

cups shredded mozzarella

1 cup

crumbled blue cheese
Sweet onion (Bermuda or Vidalia), thinly sliced
Sliced button mushrooms
Cornmeal (for dusting)
---
Instructions
Start with the Beer Pizza Dough.
In a large mixing bowl, combine the flour, yeast and salt. Stir to blend, then add beer and oil, and continue stirring until the dough starts to come together. (If the dough is too dry, add some water, a tablespoon at a time, until it comes together)
Turn the dough out onto a lightly floured work surface and knead until soft and elastic, dusting with flour as needed to keep the dough from sticking. Shape the dough into a ball.
Transfer the dough to a large lightly oiled bowl, turning the ball over to coat the entire surface with oil. Cover with a clean dishtowel and set aside in a warm, draft-free spot to rise until doubled in size, about 1-2 hours.
Prepare the Tabasco Marinated Chicken:
While the dough is rising, combine the Tabasco sauce, lemon juice, melted butter, oregano and pepper in a large zip-top plastic bag.
Add chicken tenders, and gently smoosh the bag until they're thoroughly coated with marinade. Place in the refrigerator to marinate until the dough is ready.
Make the Spicy Buffalo Sauce:
In a small bow, whisk together the Tabasco sauce, melted butter and oregano. Set aside until ready to assemble the pizzettes.
Assemble and Bake the Pizzettes:
Once the dough has almost doubled in size, start preheating your baking stone and oven at 500F. (Always preheat your stone along with the oven, as the stone needs to warm up gradually - putting a cold stone in a hot oven can cause it to break!)
While the oven preheats, brown the marinated chicken tenders in a large skillet set over medium-high heat for about 3-5 minutes, or until cooked through. Chop into bite-sized pieces.
Uncover the dough (which should be doubled by now) and punch down. Divide into 8 portions, then roll out each one into a 6" wide circle.
Divide the Buffalo sauce evenly between each of the pizzas, and spread it into a thin layer using the back of a spoon leaving an inch-wide border around the edge. Arrange a layer of chicken tenders, then with a handful of mozzarella and some crumbled blue cheese.
Using a pizza peel liberally dusted with cornmeal, slide the pizzas onto the preheated stone and bake until bubbly and browned, about 15-18 minutes. (If you don't have a pizza peel, you can also use a rimless cookie sheet to do the job).
Notes
If you'd prefer to make this as a full-sized pizza, roll out the full amount of dough into a rectangle, then layer with toppings as directed. Bake for 15-18 minutes, or until bubbly and browned.
Prep Time:

2 hours

Cook Time:

15 mins

Category:

Appetiser