For January's Kitchen Play event, bloggers were asked to feature California Endive in their recipes. They came up with all sorts of great ways to serve up this underappreciated vegetable, including this intriguing appetizer by Winnie at Healthy Green Kitchen, in which she braised endive halves in white wine and then topped them with a bright green gremolata.
Since I'm always on the lookout for interesting vegetable dishes, I decided to pick up a few endives at the store and try it out for myself.
As an introduction to endives, this dish is ideal - it takes all of five minutes to get the ingredients into a baking dish, and then the endives and braising liquid are left to their own devices while the rest of the meal comes together. Easy and low-maintenance... just the way I like it.
As it turns out, I didn't braise my endives quite long enough, because I was reading too quickly and didn't realise that the endives go back into the oven after the first 30 minutes. That's why my dish looks slightly anemic if you compare to Winnie's photos.
Despite my little boo-boo, I was really happy with the end results. Just as Winnie promised, the braising mellows out the endives' bitter edge, leaving them sweet and savoury and with just the slightest hint of bitter.
The texture was also quite pleasant, since the endives don't completely wilt into submission as they braise, but rather keep a slight bite that's reminiscent of cooked bok choy.
My one worry was that the endives would be too bland all by their lonesome, but they were quite flavourful even before getting a boost of bright colour and flavour from the gremolata.
And speaking of gremolata, I added a little chopped fresh marjoram just for the heck of it, which added a nice little je-ne-sais-quoi to the party. I also added a dab of butter to enrich the braising liquid, and halved the recipe since I was only serving two (and even so, I had enough left over for lunch).
The final verdict? Delicious. It's easy enough for a simple weeknight supper of grilled Italian sausages and a pile of lumpy smashed potatoes, but elegant enough to serve up for a fancier dinner of roast chicken or pork.
It's definitely a grown-up sort of dish, but I think it'll be a great addition to my repertoire of interesting dishes for adventurous eaters.
//
Print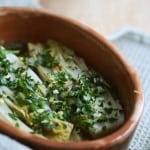 Braised Endive with Herb Gremolata
---
Author:

Total Time:

55 mins

Yield:

4

1

x
Braised Endives:
3

medium to large endives
Salt and pepper

¼ cup

dry white wine

¼ cup

chicken broth

2

cloves garlic, finely sliced

1 tbsp

unsalted butter
Gremolata:
2 tbsp

finely chopped parsley

1 tsp

finely chopped fresh marjoram

1 tsp

grated lemon zest

1

clove garlic, finely minced
---
Instructions
Preheat oven to 425F.
Trim the bottoms from the endives, then slice in half lengthwise.
Lay the endives cut-side down in a baking dish, making sure the endives fit snugly into the dish (I used smallish gratin dishes that were just big enough to hold two endive halves apiece, but a single dish works just as well). Sprinkle generously with salt and pepper.
In a small bowl, stir together white wine and chicken broth. Pour over the endives. Sprinkle in the garlic slices, then top with dots of butter.
Wrap tightly with aluminum foil. Bake in preheated oven for 30 minutes.
After 30 minutes, uncover the baking dish and turn over the endives, then return to the oven to continue baking, uncovered, for another 15 minutes or until most of the liquid has evaporated and top of endives is lightly caramelised. Remove from oven and let cool for 5-10 minutes.
While the endive cools, prepare the gremolata by mixing together the parsley, majoram (if using), lemon zest and garlic in a small bowl until combined.
To serve, transfer the endives to a serving plate and drizzle with any poaching liquid left in the baking dish, then sprinkle with gremolata.
Prep Time:

10 mins

Cook Time:

45 mins

Category:

Side