It's hard to believe, but we're in the home stretch.
Those last few days before the holiday break begins, and I finally breathe a sigh of relief because I have two whole weeks away from the office (even if these days the "office" is technically my kitchen counter).
---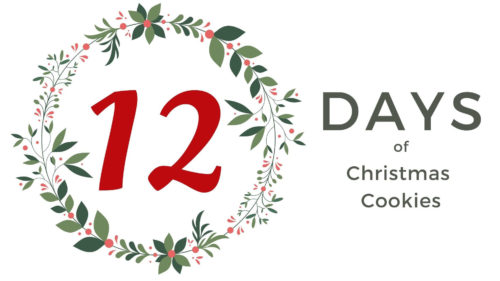 This year, I want to help you get into the holiday spirit with a little something I'm calling the 12 Days of Christmas Cookies.
From December 14 to 25, I'm posting a new holiday cookie recipe each day. Did you miss one? You can catch up on my Christmas Cookies page.
---
Today, I'm kicking off the series with a cookie that's very near and dear to my heart - the old-fashioned hermit bar, a sweet-and-spicy chewy cookie that's dotted with coffee-soaked raisins and finished off with a drizzle of snowy white icing.
What's a Hermit Bar, Anyway?
Hermit bars are best known in New England. How they got their name is a bit of a mystery, though I like to think it's a nod to how long they keep if left in solitude (or perhaps just a good airtight tin). It's said that they were a favourite for sailors, who took them to sea on weeks-long voyages.
Like most old-fashioned recipes, there are dozens of different versions kicking around, all of which start off with a chewy molasses-and-spice dough.
The most common version I found in my research is a drop cookie with dried fruits, nuts and occasionally chopped candied ginger. While the bar version isn't as popular, it's my personal favourite because because a) it's a lot easier to make and b) you end up with the perfect balance of crispy edges and gooey-soft centre.
This is about as easy as it gets - rather than scooping out individual cookies, you just shape the dough into two big logs, then drizzle with a simple icing and slice up into individual bars once cooled.
My version steps things up by plumping the raisins in strong black coffee to add some depth and chewiness to the finished cookies. It's not necessarily traditional, but it is delicious!
A Perfect Cookie for the Holidays (or Any Day!)
While hermits aren't technically a Christmas cookie, they are for me because they're an essential part of my holidays.
That's because for the last decade, we've been travelling down to Rhode Island to spend Christmas at my sister's house, and she always has a bag of hermits on hand for us to dunk in our morning coffee. (What? They're a perfectly valid breakfast food. There's fruit in there, dammit!)
And even if you don't have the same traditions, you have to admit that any cookie with a spicy gingerbread flavour feels wonderfully festive, especially if it's been drizzled with a snowy white icing as I've done here.
While my recipe doesn't quite match the chewy perfection of the hermit bars my sister picks up from her local dairy, they're as close as I could get without hopping on a plane, which probably won't be happening anytime soon.
So as much as it sucks that we won't be spending the holidays in RI this year, at least we know we can have a small piece of that tradition here at home.
More Ways to Get Your Gingerbread Fix This Chrismas
Molasses and spices are a classic combination for the holidays, and while the humble gingerbread man may be the most traditional of all, there are plenty of other ways to enjoy this delicious holiday pairing.
Here are a few more recipes to spice up your Christmas, from breakfast to sweet desserts and everything in between:
//
Print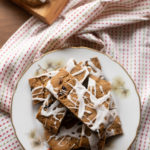 Soft and Chewy Hermit Bars
---
Description
These old-fashioned bar cookies have a sweet molasses-and-spice dough that's generously dotted with raisins and drizzled with a snowy white vanilla icing. They're a classic for a reason!
---
Hermit Bars:
¾ cup

raisins

½ cup

piping-hot black coffee

½ cup

butter, softened

1 cup

packed brown sugar

¼ cup

fancy molasses

1

egg

2 ¾ cups

flour

1 tsp

baking soda

2 tsp

cinnamon

1 tsp

ground ginger

½ tsp

ground cloves

½ tsp

ground nutmeg

½ tsp

salt
Glaze:
1 cup

icing sugar

2 tsp

milk

½ tsp

​ vanilla extract
---
Instructions
In a small bowl, soak the raisins in hot coffee for 1 hour or until the raisins have plumped up and absorbed most of the coffee.
In a large mixing bowl, cream together butter and sugar until fluffy. Add the molasses and egg, stirring until smooth, then fold in the raisins and any coffee remaining in the bowl.
In a second bowl, mix together the flour, baking soda, cinnamon, ginger, cloves, nutmeg, and salt. Add to the wet ingredients, and stir just until a soft dough comes together. Cover tightly with plastic wrap and chill for one hour.
Preheat oven to 375F. Line a large baking sheet with parchment paper.
Divide the dough in half and shape into two 12" logs. Place on the prepared baking sheets, leaving 3" space in between.
Bake for 15 minutes in preheated oven, or until edges are lightly browned and the tops are dry and crackled. Let cool on baking sheet for 5 minutes, then transfer to a wire rack to cool off completely.
While the cookies are cooling, prepare the icing by whisking together icing sugar, milk and vanilla in a small bowl until smooth. Drizzle over the cooled cookies, and allow to set for at least an hour before cutting the logs into one-inch slices.
Notes
Making Ahead: Dough can be made a day or two ahead, then shaped and baked as usual.
Storage: Finished cookies will keep for a week or two in an airtight container, but it's unlikely they'll last that long!